Garbin keeps going
Injuries and mounting losses haven't broken the Baldwin graduate's spirit
NICOLE Garbin makes such a tremendous difference when she is on the field for the Oregon women's soccer team that first-year coach Tara Erickson could hardly believe her ears when she first met the accomplished striker.
"As soon as I got here, I had individual meetings with the players. It was interesting that the first thing Nicole said was that she was interested in playing for another year if I wanted her," said Erickson.
Erickson was familiar with Garbin's exploits having taken the Ducks job after four years as head coach at Portland State.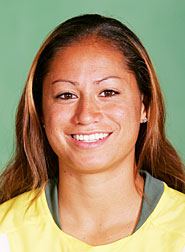 Nicole Garbin
Garbin, who sat out the 2002 and 2004 seasons after suffering ACL injuries to her left and right knees, plans on petitioning the NCAA for a sixth year of eligibility due to medical hardship.
"I told Nicole that I would support her petition and encouraged her to do that," said Erickson.
The numbers only tell part of the reason Erickson would be excited about having the Baldwin graduate for another season.
Garbin is first in career assists (14), game-winning goals (13) and shots (173), and she holds single-season records for goals (10) and game winners (seven), both set this season.
She has 22 career goals, nine behind Chalise Baysa, who was born in Honolulu but attended high school on the mainland. Garbin's 58 career points also are nine behind Baysa.
Applying for a sixth year has been an option for Garbin ever since the second ACL.
"I never stepped on the field (in a match) either time," said Garbin.
"The first time, we arrived in Florida (for a season-opening tournament) and went right to the practice field. I had pulled my left hamstring. When I planted in the turf, my knee just gave out. The second time I was playing in an indoor tournament in the spring at Oregon State.
"I've talked to our compliance people and they say getting a sixth year is a slam dunk."
The 2001 Star-Bulletin Player of the Year, Garbin began her collegiate career that fall with a bang, scoring four game-winning goals in her first seven matches.
She returned in 2003 to set single-season records for assists (eight) and points (22) and tied the record for shots (70). Garbin was named to the All-Pac-10 Conference second team.
After sitting out 2004, she got a head start on the 2005 season by playing with the Seattle Sounders of the United Soccer Leagues last summer. She was reunited with Baysa and was second to her former college teammate in scoring with eight points on three goals and two assists.
"That was a great experience. I got to play against some really good competition and was able to get my rhythm back," said Garbin. "Playing with the Sounders put me in a better mind-set and I didn't lose much of an edge heading into the fall season."
The Ducks finished the 2005 campaign with a 9-9-1 record, just the second .500 year in school history. Her importance is reflected in her seven game-winning goals in nine victories, a school record.
She was named to the All-Pac-10 Conference second team again this season.
"Nicole creates her own goals through her athleticism. When it comes to finishing, she places the ball well with poise and is calm under pressure," said Erickson. "She still feels she is learning her position. She hasn't reached her full potential yet. She would be any coach's dream, a dynamite person.
"We relied on her and we're hoping to take some of that load off next year. I know she looks forward to the challenge. When she is double-teamed, you hope someone else opens up. We didn't have that kind of person this year."
Garbin agrees with her coach.
"It would be nice to have another threat on the team. We need more people to be goal dangerous," she said.
Even though Oregon has not had any winning seasons, Garbin has no regrets about her college choice.
"The experience has been a good one. I've been able to develop as a player," said Garbin. "Even being injured allowed me to have a player's view of the game from the bench. I was able to study good players from other teams."
Earlier this year, Garbin scored the lone goal in a 1-0 win over Washington, the first time the Ducks had beaten the Huskies in 10 attempts. Yet, she does not consider that her most memorable match.
That came in 2003, when the Ducks lost to No. 2 UCLA in overtime 3-2 with Garbin scoring both goals.
Erickson, who ran in Sunday's Honolulu Marathon, talked about the other side of Garbin.
"Nicole strikes an immediate impression off the field. She is the person that everyone gravitates toward and she loves to do impressions for people. She does a great impression of me and our assistant coaches," said Erickson.
"Nicole has a way of bringing the team closer. She hangs out with the freshmen and helps with the recruits."
Garbin looks forward to a sixth season. She wants to help Oregon get into the NCAA tournament.
"It's kind of a bitter feeling to never go. It's my ultimate goal. I'm going to work my butt off to get there next season," she said.
That could lead to an increase in one more set of numbers. When Garbin is on the field, the Ducks are 26-27-3. When she is out with an injury or red card, the Ducks are 5-28-5.
Garbin graduates in June with a degree in history. She has applied to graduate school at Oregon and wants to pursue a masters degree in teaching.
Another Hawaii player, Sarah Yoro, a freshman striker from Mililani, came off the bench in 12 matches for the Ducks. She had one assist but did not score with her nine shots, two of which were on goal.
Her assist came on the first goal in a 2-1 win over Portland State on Sept. 4 when Katie Abrahamson headed Yoro's corner kick into the net.