Gas prices could jump
45 cents by next week
The cost per gallon already
is above $3 under the new
law that sets a ceiling
» Inouye calls for inquiry into 'gouging'
» Companies soak up diesel costs
While gas prices push past $3 a gallon in most parts of the state, reportedly topping $4 on Lanai, prices could increase 45 cents by next week under the latest gasoline price caps calculated by the state Public Utilities Commission.
Price caps published yesterday take effect Monday and use a baseline price of $2.59 a gallon, which represents the weekday average of spot prices in the Gulf Coast, New York and Los Angeles since Tuesday.
The base line is 45 cents higher than the one used for this week's price caps, reflecting the nationwide spike in prices caused by Hurricane Katrina's disruption to Gulf Coast oil production.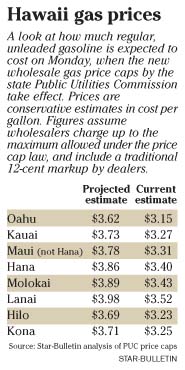 In Hawaii, if wholesalers charge up to the maximum allowed and retailers maintain their usual markups, motorists could be looking at prices of about $3.62 a gallon for regular unleaded on Oahu, $3.78 on Maui and $3.69 in Hilo.
Yesterday's statewide average was a record $3.07 a gallon, according to AAA's Fuel Gauge Report. The price was 3 cents higher than the national average but well below the highest price in the country, $3.38 in Washington, D.C. The auto club bases its index on transactions from the previous day.
Hawaii's average was lower than in 19 other states and the nation's capital.
Supporters of the "gas cap" noted that the price of diesel fuel in Hawaii, which is not regulated under the law, is the second highest in the country at $3.23 a gallon, trailing only California's $3.38, according to AAA.
"What that tells us is that without the cap, Hawaii residents would probably be paying even more at the pump today," said House Majority Leader Marcus Oshiro (D, Poamoho-Wahiawa).
Critics note that Hawaii gets its oil from Alaska and Asia, and prices might not have increased at the same rate as the mainland. They say it is impossible to tell whether that would have happened now because the law, which took effect last Thursday, ties island prices to an average of spot prices on the mainland.
John Tantlinger, a program manager in the Department of Business, Economic Development and Tourism and one of Gov. Linda Lingle's main advisers on the price cap law, said the state continues to monitor the law's effect on the economy.
"At this point, without the data that we are going to be acquiring over more time, it's really tough to see exactly where the trends and patterns might be," he said. "To be able to take one week and look at it when all these different events are occurring is not really going to give us a clear picture of all the effects that are conceivable."
There was no immediate comment from Lingle, who is in Washington, D.C., this week lobbying for the Akaka Bill.
The governor has the power to suspend the gas price caps if they are shown to cause economic hardship or threaten public safety. Lingle has said price increases alone will not be enough to force her to act.
Although prices have gone up, there have been no reported disruptions to supplies in Hawaii.
Sarah Simpson, a spokeswoman for San Antonio-based Tesoro Corp., one of the state's two oil refiners, said the company's Kapolei refinery is operating at normal seasonal capacity, and the price caps have had no impact on its operations in Hawaii.
Albert Chee, a spokesman for Chevron USA Inc., the state's other refinery owner, did not return a telephone message seeking comment yesterday.
Meanwhile, pump prices pushed well into the $3 range in many areas this week.
Stations on Maui topped $3.50 a gallon for regular unleaded in Lahaina, while prices were reportedly at $4.20 a gallon on Lanai.
Sen. J. Kalani English (D, East Maui-Lanai-Molokai) noted that his district traditionally has had the highest gas prices in the state, and there has been no uproar from constituents over current prices.
Supporters of the price cap say it should be given time to work, adding that once prices on the mainland begin to fall, so, too, should Hawaii prices.
The test could come soon, as futures price for crude oil and gasoline began to dip yesterday.
Light sweet crude for October delivery fell $1.59 to settle at $64.37 a barrel on the New York Mercantile Exchange. Nymex oil futures are roughly $6 below the high of $70.85 reached Aug. 30 in the wake of Katrina, but prices are about 50 percent higher than a year ago.
House Republicans called the gas cap a failed "experiment."
"First they told us the gas cap would lower prices, then they told us it would make prices fair, now they're telling us to wait till gas prices fall on the mainland," House Minority Leader Lynn Finnegan (R, Mapunapuna-Foster Village) said in a statement. "It's time for the people of Hawaii to tell the Democrat legislators something: Stop pretending to be experts. Stop experimenting with our wallets. Pull the plug. Now!"
---
The Associated Press contributed to this report.
---
BACK TO TOP
|
Inouye calls for inquiry
into gas 'gouging'
WASHINGTON » The steep increase in gasoline prices across the country could be the result of price gouging, according to U.S. Sen. Daniel Inouye.
As prices across the nation climb above $3 a gallon, the increase should be a source of embarrassment, not profit, Inouye said in an interview.
Hawaii's senior senator joined the call yesterday for a federal investigation into the soaring gasoline prices since Hurricane Katrina damaged much of the Gulf Coast's oil-producing capacity.
"In less than three weeks, these guys went $1.21 higher. Don't tell me it costs that much more to get the gas into the station," Inouye said.
Inouye is the ranking Democrat on the Commerce Committee, which is one of two committees that could conduct the investigation.
While the nation is recovering from the devastating Gulf Coast hurricane, the oil industry should be thinking of ways to help, not increasing prices, Inouye said.
"They should be embarrassed, and we are going to have hearings on gouging," Inouye said.
"Here was an opportunity for them to help. They could have said, 'Ten percent of our profits will go out to help,'" Inouye said.
"If they had done that, do you think Congress would be conducting hearings and an investigation into price gouging? No way," Inouye said.
Fellow Democrat and Commerce Committee member Sen. Byron Dorgan, D-N.D., introduced legislation yesterday targeting the high gasoline prices.
Dorgan is calling for tax rebates to be paid for with a three-year, 50 percent excise tax on oil company windfall profits, which would be defined as the portion of the price of a barrel of oil that exceeds $40 a barrel.
And New York's two Democratic senators, Hillary Rodham Clinton and Charles Schumer, have also called for an investigation into allegations of oil company price increases.
---
BACK TO TOP
|
Truck and bus firms
often cannot pass on
the rising cost of diesel
Trucking companies are trying to save fuel as the price for a gallon of diesel in Hawaii appears to be keeping pace with the rise in gasoline prices.
According to the AAA's Fuel Gauge Report, a survey of credit card transactions, yesterday's average price of $3.23 per gallon for diesel in Hawaii was 1 cent below the statewide average for midgrade gasoline. Diesel cost 6 cents more per gallon than midgrade on Tuesday, 14 cents more a month ago and 3 cents less a year ago.
The increase is putting a squeeze on businesses that rely on diesel, since many do not have the opportunity to pass the increased cost on to customers.
Roberts Hawaii, whose motor coaches, tour and school buses, vans and minibuses use diesel, projects an increase of more than $1 million in its fuel bill for 2005 over last year, said spokeswoman Sam Shenkus.
Imperial Trucking tries to schedule its pickups and deliveries so none of its vehicles travel with an empty load, said operations supervisor Ray Tamashiro.
Both businesses' rates are regulated by the Public Utilities Commission.
In 2003 the PUC established new procedures that allow for annual rate increases up to 10 percent and eliminated fuel surcharges.
Shenkus said Roberts received a 7 percent increase in January and could ask for an additional 3 percent before the end of the year.
Motor carriers can ask for a rate increase exceeding 10 percent, but they must provide detailed financial information supporting the rate change that is not normally required.