[UH FOOTBALL]
---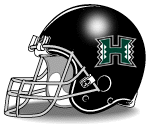 Backup QBs left
standing around
Hawaii senior Rhode admits
disappointment, but says he
is 'not going to complain'
Jeff Rhode and Inoke Funaki are in basically the same situation. The Hawaii backup quarterbacks stand around a lot at practice, not by their own choosing.
After the first five days of preseason camp, it is obvious the competition for starter is not an open one among the five players in orange jerseys.
Coach June Jones said last month that second-year freshman Tyler Graunke and/or sophomore transfer Colt Brennan would likely play in the season opener Sept. 3 against USC. That hasn't changed, since Graunke and Brennan have taken all the snaps so far in team drills.
Meanwhile, Rhode, Funaki and freshman walk-on Anthony Gardner throw during individual drills and then stand in as defensive backs during team plays.
Jones answered with a simple "no" when asked yesterday if there were plans to get Rhode and Funaki into the team drills.
Fifth-year senior Rhode is the only quarterback in camp who has played in a Division I game, making brief appearances once in 2003 and twice last year. He went from not being invited to camp last preseason to No. 2 quarterback in the Hawaii Bowl in December.
Rhode said he is frustrated but will continue to be a team player.
"I'm not going to complain to anybody, you know, but it is probably more frustrating than last year, when I ran the scout team. But I'm here, which is better than some guys have it," he said, referring to fellow veteran quarterbacks Kainoa Akina and Jack Rolovich, who were not invited to camp. "It definitely isn't what I envisioned all summer, finding out a couple days before camp they already have a depth chart, finding out in meetings I'm not even going to do anything. It's not the funnest five days of football practice."
Funaki takes a different view, perhaps at least partly because he is a freshman in eligibility (the 2002 Kahuku graduate went on a two-year religious mission and redshirted last year).
"It's all right. I understand," Funaki said about not getting team reps. "I just try to do whatever the coaches need me to do. I'm happy to be here, even if it means just backing these guys up.
"(Jones is) doing this for a purpose. We have a really important game. They're trying to get some of the boys ready. If they throw everyone in it cuts down on the reps. I understand they're trying to get personnel ready for the games coming up," Funaki added.
When Funaki was recruited, it was as a quarterback first, but with the possibility that he might be moved to another position to take advantage of his athleticism. Receiver could be a possibility.
"It doesn't matter to me. If the coaches want to try me somewhere else, that's fine," Funaki said. "Wherever I can help."
Rhode is trying to maintain that same attitude. But he admits it is difficult with time running out in his college career.
"The last couple days were pretty hard to show up for. I gotta show up, I'm still competing. It's still early in the year. Last year at this time I wasn't even here. For 12 weeks I didn't do a thing. But then at the end of the year, if Timmy (Chang) went down in the bowl game I'm pretty sure I would've been the guy in there," Rhode said. "It's hard to focus on the future sometimes, but that's what I'm really doing now. Every day, do what I can in the individual periods, be accurate as possible with velocity and show them I can do it."
Rhode thought he'd earned a shot at the starting job after a solid spring showing and the invitation to preseason camp.
"I don't yell a lot, but I'm a fierce competitor. I don't lose, that's for damn sure and it's really hard to have that chance to compete taken away from you," he said. "I'm sure (the coaches) know we're frustrated. If we weren't I don't think they'd want us here. We're not supposed to be happy just to be here."