---
[ UH FOOTBALL ]
Big back finally
gets his chance
As a 276-pound freshman, Laupepa Letuli might be a bit light and inexperienced to make a contribution right away on the Hawaii offensive line.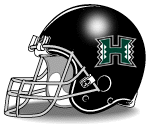 But maybe he can work his way into the Warriors' rotation at running back.
"We need a big back like West (former UH player Keli'ikipi) back there, so we're going to look at him for 10 days or two weeks, see how he looks," coach June Jones said. "He's a very athletic, really physical kid."
He's wearing jersey No. 16, which used to belong to Keli'ikipi.
Running backs coach Mouse Davis said he likes what he sees so far, but Letuli will have to learn the blocking schemes.
"It's a whole new deal for him. But he's a big, talented kid. Will he be West? I don't know about that. But he's the right kind of kid. He just wants to get better," Davis said. "He's looking good in the neighborhood. I know he can play somewhere. It might be running back, even though he's a little lost right now."
The 6-foot-4 Letuli never played running back at North Torrance High School (Calif.).
"He always wanted to in high school," his mother, Malia, said. "He even approached the coaches about it. But they needed him on the line."
Said his father, Tui: "He used to always say, 'Dad, if they could just give me the ball ...' I'm very excited for him."
Letuli is related to former UH players Larry and Leo Goeas, and he is a great-grandson of Malietoa Tanumafili, who is the king of Independent Samoa.
Letuli and the other newcomers are not available for interviews yet at Jones' request.
Peters pitches in: Senior free safety Leonard Peters put his team-best speed to use yesterday. He sprinted back and forth between the defensive side of the field and the offensive, filling in as a scout-team safety for several plays.
No, it wasn't a demotion.
"He knows what to do and they were looking at some other guys (in the defensive formations)," Jones said. "They sent him over with us to get some work."
Peters even scored a "touchdown" against the first offense, as scout-team linebacker Tyson Kafentzis picked off a pass and lateraled it to Peters.
Booster packages sold out: 'Ahahui Koa Anuenue has sold out its three major donor season-ticket packages, according to a release from the UH football booster club.
The 177 packages add an estimated $2.5 million to the 2005-06 athletic department budget.
Short yardage: Wideout Chad Mock made the catch of the day yesterday, jumping and twisting his body in the opposite direction right after making a break 20 yards downfield. ... Slotback Ryan Grice-Mullen returned to full action after dealing with a shoulder sprain and made several nice grabs. ... Freshman running back Mario Cox is among the players waiting for paperwork clearance. ... Former UH receiver Jeremiah Cockheran was cut by the Cincinnati Bengals yesterday.