---
[ MADE IN HAWAII ]
Furikake with a kim-chee kick
It's furikake with a spicy kick and so ono over hot rice or popcorn. Kim chee furikake is a new product by local boy Dayne Rego under his Tan-ta-Dan label.
The furikake is made of basic ingredients such as nori, sesame seeds and bonito flakes, but Rego adds dried shrimp and chili pepper. The nori flakes are also quite large, resembling fish food.
A graduate of Leeward Community College's culinary program, Rego left a 15-year career in the food industry to follow a dream. It started with his grandfather's recipe for a unique type of sashimi sauce. Next came a prune mui recipe from his grandmother, followed by Hawaiian-style chili, steak sauce and various seasonings. His children inspired the kim-chee furikake. They never stop eating the stuff!
Tan-ta-Dan products are available at the KCC, Kailua and Mililani Farmers Markets, Pat's Island Delights or online at tantadan.com.
---
[ BOOKSHELF ]
A cookbook for a cause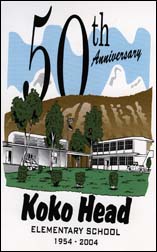 Attention Koko Head Elementary School alumni: Your school is celebrating hitting the half-century mark with a cookbook.
The simply titled "50th Anniversary" is a slim volume, but includes more than 100 recipes contributed by students, their families and the school staff. It's the usual mish-mash of family favorites that tend to make up these community cookbooks, but there are plenty of unusual dishes -- consider third-grader Nicole Kahele's Potato Chip Chicken and second-grader Trevor Yee's Ono Meat Loaf (with minced clams).
Cost is $10, plus $1.75 postage. To order, e-mail paula@hawaii.rr.com. Proceeds benefit Friends of Koko Head Elementary, for arts education and other projects.