Stuffs
STYLE FILE
---
Pen a letter to troops overseas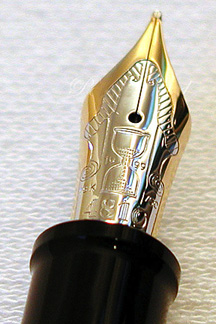 Montblanc, purveyor of fine writing instruments, watches and jewelry, is inviting the public to write letters to soldiers stationed overseas this Father's Day.
The letter-writing recognizes the Department of Defense's "America Supports You" program, a nationwide campaign that communicates America's support of the men and women of the Armed Forces.
Montblanc Ala Moana will provide the paper, envelopes and use of a fountain pen for letters, and handle all mailing and postage details. Call 942-4810 for more information.
Dad's probably wishing for anything but a tie
Ties are not an option for Father's Day in Hawaii, when the opportunity to wear a tie comes up a few times a year, if at all.
The old man's also got tons of aloha shirts in his closet, and T-shirts -- forget it -- he's got more than he could wear out in 20 years. Plus, he says he doesn't want anything -- nothing you could afford anyway. So if you're stumped as to what to get dad, here are a few last-minute ideas:
For the golf dad: Carats & Karats Fine Jewelry is offering a limited supply of 24K gold-plated golf balls with matching gold-plated tee in a little black bag for $24.95. The jewelry store is at 1254 S. King St. Call 593-8122 for more information.
And just in time for Father's Day, the Bobby Jones store has opened on the mall level of Ala Moana Center. Cotton polos in luscious colors run about $150. A zip-front, citrus-colored cotton sweater runs $245 for looking good on or off the greens. Only problem is, when he feels their softness against his skin he'll be spoiled forever, and not so easy to hit up for your luxuries. Call 945-3502.
For the poker-playing dad: Check out "The Professor the Banker and the Suicide King: inside the Richest Poker Game of All Time," Michael Craig's (Warner Books) tale documenting a May 2004 high-stakes game between the "professor" Howard Lederer, a pro with an analytical approach to the game, and the "banker" Andy Beal, a multimillionaire obsessed with beating the world's best players. The "suicide king," a symbol of the nature of the endeavor, is the sword-wielding king of hearts. Dad will be awed by the insights shared through this legendary poker battle that had $20 million at stake. Available at Borders, $24.95. Of course, if dad constantly loses, "Poker for Dummies" ($16.99) might help.
---
---

For the grill chief: The barbecue fanatic may pride himself on instintively knowing when that steak is done, but that involves hovering over the grill while everyone else gets to sit and enjoy beer after beer. The talking Grill Alert promises you won't have to sweat over the smoke. Stick the stainless steel transmitter probe into the center of the meat, and walk away. Awireless belt-clip monitor tells you when it's time to chow. It can be used with ovens or stoves, meaning you may have to wrest it from mom. It's available for $75 at Brookstone, Ward Centre. Call 593-3232.
For the coffee-swilling dad: Like T-shirts and aloha shirts, coffee mugs are ubiquitous, but how could he not love a work hand-painted by his own budding Picasso. Bring the young ones in to Color Me Mine in Ward Village Shops to create a masterpiece by glazing a pre-made mug. If you can make it by 11 p.m. tomorrow, they'll rush your fire your creation so dad can enjoy his gift on his day. The cost of mugs is $20 to $30. Call 591-1816.
For the New Age dad: He may carry quartz in various hues, but he probably doesn't have one of the Maori-inspired chunky jade pendants, each with a symbolic meaning, available at Sedona at Ward Centre, for $89 to $152. Call 591-8010.
For the well-groomed dad: Shaving is elevated into an art form by the Art of Shaving line of men's grooming products that links proper shaving to healthier, smoother skin. New to the line is "The 4 Elements of the Perfect Shave" kit featuring a two-week supply of aromatherapy-based Pre-Shave Oil, Shaving Cream, After-Shave Balm and a Genuine Badger Shaving Brush. The portable package includes step-by-step instructions. Look for the $38 kit at Neiman Marcus.
---
---


Click for online calendars and events.
---
Send questions, stories or other story ideas or comments to:
Features, Honolulu Star-Bulletin,
500 Ala Moana, Suite 7-210,
Honolulu, HI 96802
or E-mail to
features@starbulletin.com
.
Please include your phone number.