SPECIAL
---
Hawaii, Zhongshan share
historical and cultural ties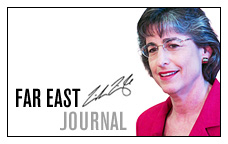 Governor Linda Lingle is sending the Star-Bulletin daily installments of her journal as she travels through China and South Korea.

The 10-day trip is intended to expand Hawaii's business, educational and cultural opportunities.
Zhongshan and Guang-zhou, China »
Day 7: Last night I was proud to represent our state in reaffirming a 20-year sister-state/province relationship between Guangdong Province and the state of Hawaii. During the past two decades the governments and people of Guangdong and Hawaii have worked collaboratively to increase business opportunities, expand tourism, and build cultural and educational exchanges. The vice mayor of Zhongshan, Madame Han Zesheng, today pointed out to me that I was mayor of Maui when this agreement was originally signed.
This reaffirmation was something I was looking forward to because of the strong historical and cultural ties between Guangdong and Hawaii. With about 80 percent of the Chinese in Hawaii tracing their ancestral roots to this southern part of China, we have long shared the bonds of friendship and ohana. The ties are just as strong today, as evidenced by the tremendous hospitality everyone in Guandgong has extended to us. We were treated like relatives, returning home to be reacquainted and to look forward to the future together.
This October we will have the chance to show our aloha to Guangdong for this tremendous hospitality. Guangdong Governor Huang Hua Hua informed me that he will lead a delegation from the province on a goodwill and trade mission to our state.
Hawaii is well known here. Dr. Sun Yat Sen has much to do with that. The few years he spent in Hawaii attending Iolani and Punahou (then Oahu College) have forever linked our history and our hearts. While visiting Zhongshan today, where Dr. Sun was born, we were given a tour of the home he built in 1892 and where he practiced medicine and carried out democratic revolutionary activities that forever changed China. I felt a sense of pride knowing that our island community had such a significant influence on his life and the history of modern China. It was very impressive to hear a three-minute audio tape of one of Sun's most important speeches, from May 1924.
As one of the first areas to benefit from China's economic reform that started in the 1980s, Zhongshan is an affluent city. Zhongshan officials proudly showed us a gated golf community, where new single family homes resemble those that could easily be in Wailea or Ko Olina.
Where farmers once tilled fields just two decades ago now stand high-rise apartments, shopping centers, modern office buildings, wide landscaped highways and, yes, golf links. But as with the other places we have visited in China, Zhongshan is a study in contrast. There is a desire to preserve traditions and culture here, while preparing for the future and improving the quality of life for its people.
---
---
This sentiment was echoed when last night I joined several of the women in our delegation in a roundtable discussion with nearly 20 women leaders from different sectors of Guangdong. Whenever I travel abroad I try to meet with women leaders to hear from their perspective what challenges their communities face, and what opportunities they see for their children. I am also interested to hear their personal stories of what it's like to raise a family and have a career in their country. The Guangdong women were excited to hear about our 2nd Annual International Women's Leadership Conference I am hosting in September. I hope Hawaii women will get a chance to join this important conference to hear these successful leaders from China.
With about 80 percent of the Chinese in Hawaii tracing their ancestral roots to this southern part of China, we have long shared the bonds of friendship and ohana.
The one negative aspect about our visit to China is that it has been too short. Tonight, our last night in this country, will be marked with a celebration that showcases the common bond between Hawaii and China. Our performers from Hawaii will share our culture with the people of Guangzhou and I look forward to enjoying performances by Chinese artists.
It will be difficult to leave China tomorrow because of the friendships and relationships we have made and because there is so much more to learn and experience of China's fascinating culture and history. In a country where relationships are nurtured over time, I feel our delegation has made significant progress toward increasing opportunities for both Hawaii and China in business, tourism, high technology, education, tourism development, and arts and culture.
Tomorrow we leave for Seoul, South Korea, where I will meet with the president of Korean Airlines, as well as with leaders from Korea's tourism and business sectors. We will have three and a half days in Korea, and I know the time our delegation spends there will be equally productive for our state as our time has been in China, and personally enriching for all of us on this vital mission.