---
[ FAST FACTS HAWAII ]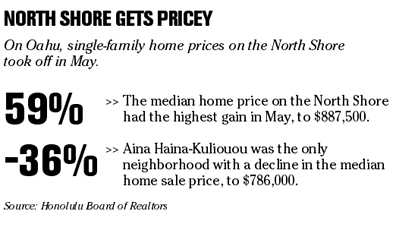 ---
BACK TO TOP


|


Deal solidifies HRPT's industrial presence
Massachusetts company
HRPT Properties Trust
has closed on its $115.5 million purchase of the Estate of James Campbell's industrial properties near Kapolei on Oahu, totaling 188 acres.
The deal, announced earlier this year, makes HRPT the state's largest owner of industrial properties, with nearly a fifth of all industrial lands on Oahu. The company bought the Damon Estate's industrial lands around Mapunapuna in 2003 for $480 million.
HRPT estimates that the Campbell properties will generate approximately $8.7 million in net operating income a year. The properties are 95 percent leased to approximately 60 tenants, with leases that have an average 15 years remaining on them.
Mera to be late in filing financials
Mera Pharmaceuticals Inc.
, a Big Island company that produces nutraceuticals from microalgae, told the Securities and Exchange Commission yesterday that it will file fiscal second-quarter earnings results late because an independent auditor's review wasn't completed by the deadline.
The company said it will file financial results no later than Monday.
Mera is separately seeking a state permit to import California microalgae that has had human proteins added to it. The company wants to begin testing and growing the genetically modified microalgae in enclosed modules on a four-acre outdoor site at the Natural Energy Laboratory of Hawaii Authority north of Kona. The permit was deferred at last month's meeting of the Hawaii Board of Agriculture and will be discussed at a June 28 meeting in Kona.