A LOOK BACK
---
'Idol-mania'
tops local list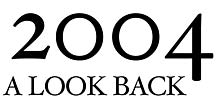 Here are the top events on the local scene in 2004:
1.
American Idol:
If Hawaii's interest in Jasmine Trias and "American Idol" was a 10, local interest in the outcome of the Bush vs. Kerry thing was, maybe, a 2.5. "Idol-mania" gripped Hawaii when three Hawaii residents made it to the finals, and Trias bounced back time and again to become Hawaii's last surviving contestant. Local residents jammed the phones every week, took umbrage any time Simon Cowell questioned any aspect of Trias' performance, and speculated endlessly on whether the voting was being "juiced" in some way to keep Hawaii votes from being tallied. (Jammed phone lines were a problem everywhere.) Trias' luck finally ran out when the final two contestants were named, but Hawaii fans made the three "American Idol" concerts here sellouts anyway, and a local record label got national publicity by offering Trias a $100,000 recording contract. She didn't take the bait, and a different Los Angeles studio project fizzled.
2.
A Grammy for Hawaii:
A "Hawaiian Music Album" category was added to the Grammy Awards after several decades of sporadic campaigning by the local record industry. Local albums were already eligible for Grammys -- a Jawaiian anthology made the final ballot in 2001 -- but the new music category guarantees that a Hawaiian music recording artist will win one each year. Whether that artist comes from Hawaii is yet to be seen as musical expatriates and those who simply love Hawaiian music have settled around the world.
3.
Po'okelas Pau:
The board of directors of the Hawaii State Theatre Council waited more than four months to announce that there would be no Po'okela Awards for the 2004-05 theater season. Insiders quickly took issue with the official explanation that the "hiatus" was a result of questions about the adjudication of theater groups with varying budget sizes or target audiences, although wins by troupes with minimal financial resources have made it clear that money in itself is not the key to winning an award. Some observers suggested the hiatus reflects the dispute over limiting the number of honorees per category to a single winner, as opposed to the two or three named in the past. Others say post-9/11 financial cutbacks have made it impossible for the HSTC to send unpaid adjudicators to see neighbor island productions that should be included. The only thing certain is that there is now no credible awards program that recognizes excellence in local theater.
4.
Moffatt's 40th:
Concert promoter "Uncle Tom" Moffatt celebrated 40 years of presenting events in Blaisdell Arena with a schedule that included the sold-out "American Idol" three-nighter in September; concerts by the Who, UB40, the triple bill of Dion, the Diamonds and Bobby Vee, the "British Invasion" with Chad & Jeremy, Gerry Marsden and Peter Noone; and "Elvis -- The Concert," a powerful multimedia event featuring the musicians who were Elvis' core band in the early '70s. Moffatt also presented Michelle Branch in a semi-acoustic show at the Waikiki Shell, and Neil Sedaka in a sold-out two-nighter at Hawaii Theatre, entertained oldies fans with "Uncle Tom's Drive-in" on Oldies 107.9 and released a long-awaited anthology of mid-'60s local garage bands, "Hawaii's Rock & Roll -- The '60s."
5.
Gussie's closes:
A rent increase at the end of his 20-year lease and uncertainty about long-term plans for the property caused Dennis Smith to close Gussie L'Amour's, Honolulu's only rock 'n' roll roadhouse, in October. Among its most memorable acts over the years were the Stray Cats, WAR, Tower of Power, Gary U.S. Bonds, Eric Burdon and Brian Auger, Ratt, Quiet Riot, Tiffany and Nancy Sinatra.
6.
SKYLiNE Takes Off:
Flash Hansen, Matty "Matty Boy" Hazelgrove and Komo Low teamed up with Hanohano Room general manager Keith Mallini to make SKYLiNE at the Hanohano Room the most credible new high-profile nightclub party event.
7.
Where's Frankie B?:
Frank B. Shaner returned from vacation in January to discover he'd been fired from his 10-year stint as the "morning drive" guy on Hawaiian 105 KINE. Station management wouldn't give a reason, other than to say it was not "for cause," and Shaner received a paycheck until his contract expired in November. The future of the 10th Annual Frank B. Shaner Hawaiian Falsetto Contest appeared iffy for a while but went off perfectly in September.
8.
The Hokus Go Traditional, Again!:
Perennially popular Keali'i Reichel was the big winner as seven Hoku Awards went to his album "Ke'alaokamaile" when the Hawai'i Academy of Recording Arts presented the 27th Annual Na Hoku Hanohano Awards in May. Traditionalist Hawaiian music prevailed over all the other genres of music recorded here, and Jawaiian, reggae, jazz, hapa-haole, pop and rock artists won only in the genre categories created for them.
9.
2004 Po'okela Awards:
Diamond Head Theatre's big-budget productions of "The Wizard of Oz" and "Ragtime the Musical" accounted for 12 of DHT's pace-setting tally of 15 "Pokies" at the 21st annual Po'okela Awards in July, but the Actors Group, which operates on practically no budget, placed second overall with seven -- including three for its co-production of "Two Trains Running" with Leonard Piggee's Honolulu African-American Repertory Theatre. Paliku Theatre won three awards for "Noises Off."
10.
Hilary Duff Rocks Blaisdell:
The multimedia pop star's October concert thrilled teenage fans and proved to adults open-minded enough to give her a chance that the girl can rock.