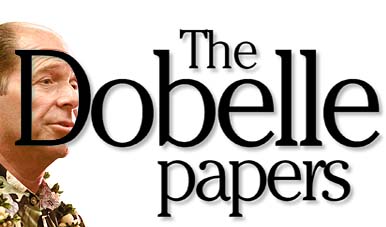 UH documents show
heavy expenditures but
no clear cause for firing
---
University of Hawaii President Evan Dobelle spent lavishly to renovate his home and office and conduct polls on local politicians -- all at the expense of the university or the nonprofit UH Foundation, documents show.
But an attorney for Dobelle said criticisms regarding Dobelle's spending do not amount to cause for his firing.
"I think you're all going to find that there are no smoking guns here," said Rick Fried, Dobelle's attorney. "There was no finding of wrongdoing."
Yesterday, the university released thousands of pages of documents requested by the Honolulu Star-Bulletin and other local media regarding last month's firing of Dobelle. The documents included copies of an audit by the accounting firm of Deloitte & Touche over Dobelle's use of his $200,000-a-year protocol fund, his $1 million renovation of the president's residence at College Hill in 2001, the renovation of his office at Bachman Hall, his use of nonprofit UH Foundation money to pay for polls in 2001 and 2003, and various e-mails and correspondence regarding the June 15 Board of Regents meeting that resulted in Dobelle's firing.
Dobelle initially was fired for cause at that meeting, meaning that he stood to lose $2.26 million in severance pay. After Dobelle threatened to sue, he and the university reached a settlement last week in which he will resign on Aug. 14 and receive $1.05 million in severance pay and other benefits. In return, the Board of Regents rescinds its "fired for cause" decision.
---
---
While the records paint an unflattering portrait of Dobelle's stewardship of UH and foundation money, they do not offer a clear picture of the board's rationale for firing Dobelle from his $442,000-a-year post for cause.
The university did not release minutes of the June 2 and 15 regents meetings, which might shed more light on the board's reasoning. UH attorney Presley Pang said the university will release those minutes after the regents adopt them at their next meeting. But Pang added that portions of the meetings are protected by attorney-client privilege and will remain confidential.
According to Fried, most of the materials released yesterday by the UH had already been disclosed.
However, the board did include some new material such as a telephone log, which noted that the regents left 10 unanswered telephone messages with Dobelle on June 15 when they fired him. Dobelle was on a mainland vacation on June 15.
The university also provided extensive records about polls conducted with about $90,000 in UH Foundation money. Those polls included questions gauging the public attitudes about local politicians such as U.S. Sen. Daniel Inouye, U.S. Rep. Ed Case, Mayor Jeremy Harris and former Gov. Ben Cayetano.
---
---
The board also provided records regarding Dobelle's use of more than $100,000 of UH Foundation money to furnish and decorate the president's house at College Hill.
Those purchase records were among thousands of pages of College Hill documents and were a key reason that the price tag for the controversial renovation soared to about $1 million from $170,000.
The 2001 renovations came a year before Dobelle purchased a five-bedroom home in Portlock for about $1.4 million. He sold the home in August 2003 for $1.28 million.
Correspondence from UH administrators show that Dobelle's wife, Kit, worked with the local interior design firm of Philpotts & Associates Inc. on the furnishings. Items purchased with UH Foundation money include $2,800 for Hawaiian quilts, $4,300 for teak dining and coffee tables, $8,000 for window shades and wall coverings, and $14,575 for wicker sofas and lounge chairs.
According to Fried, the furniture purchases were made within budget, and the decisions to spend the foundation's money for the College Hill furniture were made before Dobelle was hired by the university.
Fried added that most of the furnishings were for use in sections within College Hill that are used for public meetings and that they will remain as university property. University records also showed that Philpotts & Associates billed the university $4,500 for staff time and donated about $30,000 of its own time. Company President Mary Philpotts could not be reached for immediate comment.
"If you were a CPA (certified public accountant), it probably could have been kept a little neater," Fried said. "But at no point did somebody at the foundation say, 'Hey, you are doing something inappropriate.'"
---
BACK TO TOP
|



DEFINITION OF CAUSE

On June 15, the University of Hawaii Board of Regents fired Evan Dobelle "for cause."

Firing for cause meant that they would not have to pay him a $2.26 million severance package.

The regents have never explained what the cause was and, as part of a mediated settlement, rescinded his termination.

According to Dobelle's contract, cause is defined as: Conviction for a felony offense; A determination by doctors that the president is mentally unstable or otherwise unable to perform the duties of his office; Conduct of the president that (a) constitutes moral turpitude, (b) brings public disrespect and contempt or ridicule upon the university, and (c) proven in a court of law, would constitute grounds for criminal conviction of the president or civil liability of the university.

As part of the settlement, Dobelle was allowed to resign effective Aug. 14. Both sides agreed that there was no wrongdoing on either side.

---




PAPERS RELEASED

Documents released yesterday included:

>> Correspondence between Evan Dobelle or his staff with the Board of Regents concerning his attendance at the regents' June 15 meeting. Dobelle was out of town during the meeting after which regents announced his firing.

>> Phone records regarding contact between board members and Dobelle between June 15 and June 20.

>> Correspondence between Dobelle and his staff over his use of the protocol and support fund and other university funds.

>> Documents, purchase orders, management reports and other records related to renovations of the president's College Hill residence and Bachman Hall office. Portions of those records that included Social Security numbers and home addresses of employees also were exempt from being made public.

>> Documents related to the agreement allowing Dobelle to stay on at the university as a professor.

Source: Associated Press