---
Saturday, July 19, 2003


The Bloomberg /
Star-Bulletin Index



The Bloomberg Honolulu Star-Bulletin Index is a price-weighted index designed to measure the performance of Hawaii-based companies. The index was developed with a base value of 100 as of December 31, 1999. A chart of the index which shows the weekly performance of its members is published weekly in the Honolulu Star-Bulletin.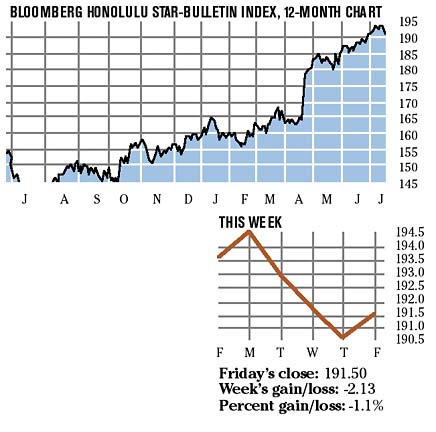 ---




Ceatech sees spurt

---

Ceatech USA Inc., the lightest-traded stock in the Bloomberg Honolulu Star-Bulletin index, hit a 10-month high this week after shares exchanged hands for an uncharacteristic three straight days. The Kauai shrimp producer jumped 50 percent to close yesterday at 45 cents.

Mera Pharmaceuticals Inc., the lowest-priced stock in the index, gained 18.2 percent to 6.5 cents after a one-cent rise.

Hawaiian Holdings Inc., the parent company of Hawaiian Airlines, advanced 2.6 percent to 80 cents before trading was halted with two hours to go Monday over an unpaid bill. The airline is in bankruptcy reorganization.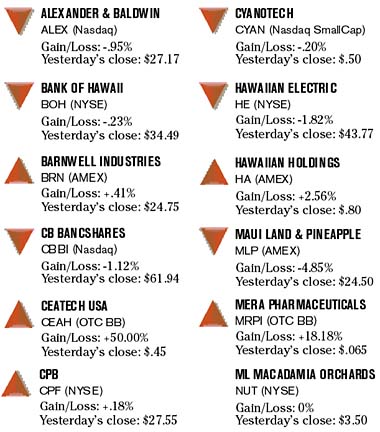 | | |
| --- | --- |
| Source: Bloomberg News | STAR-BULLETIN GRAPHIC |
| | | PRINTER-FRIENDLY VERSION
E-mail to Business Editor
---
© 2003 Honolulu Star-Bulletin -- http://archives.starbulletin.com
---
-Advertisement-