CLICK TO SUPPORT OUR SPONSORS

---

---
Sunday, February 3, 2002
[ SUNDAY TRAVEL ]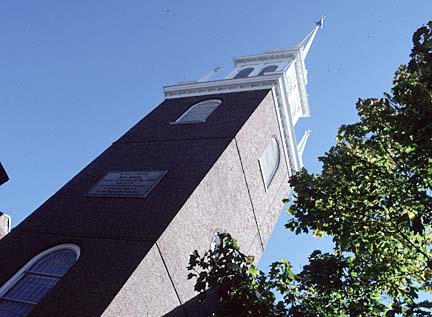 DENNIS CALLAN / SPECIAL TO THE STAR-BULLETIN
"One if by land, two if by sea," was the message flashed by lanterns hanging from the steeple of the old North Church on April 18, 1775, warning Paul Revere about the British attack. It is now Boston's oldest church, whose real name is Christ Church.
---
3 DAYS IN BOSTON

Cheers!


The historical city offers a patriotic
way to experience a wide cultural array

---

By Dennis Callan
Special to the Star-Bulletin

Boston is a great town, ranking in the top five American cities to visit, according to recent travel magazine polls. The 10 million tourists who arrive each year experience a variety of delights, including historic sites, contemporary shops, restaurants, culture and the arts. The city possesses a quaint European atmosphere, with an abundance of old brick buildings strung along narrow lanes, and yet it is the most American of places.

Boston is a city of neighborhoods, featuring a mosaic of the ancient and modern. The Financial Center is packed with new skyscrapers, yet the charming streets of Beacon Hill and Back Bay date back hundreds of years.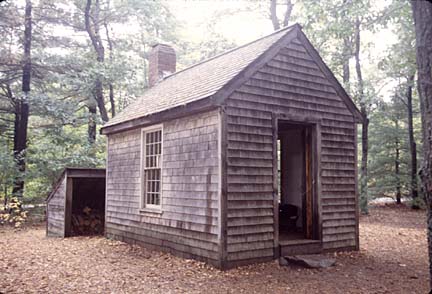 DENNIS CALLAN / SPECIAL TO THE STAR-BULLETIN
A replica of Henry David Thoreau's cabin can be found at Walden Pond, where he lived the simple life and developed his interests in nature and self-reliance.
---
The economy has taken off in the last decade, as evident in glitzy storefronts, crowds of sharply dressed young professionals, an explosion of gourmet restaurants, and high rents. An economic slump and population exodus hit during the 1950s-1970s, which saw Boston's population drop from 800,000 to today's 500,000 or so, but ironically this helped to preserve the many historic neighborhoods. There was no money or pressure to knock down old buildings.

By the time skyscraper development began in earnest during the booming '90s, the historic-preservation movement had taken a firm hold. No other city has this many 18th-century sites directly associated with the American Revolution and the origins of our nation. Plus, Beacon Hill and Back Bay are so 19th century that we could declare Boston to be America's Most Historic City, with Philadelphia a close second.

With America's most universities per capita, Boston is a young, hip town bursting with high-tech companies. A recent urban anthropology study found that Boston has the fastest pace of life in America: People walk, talk and eat faster, they count their change faster, and generally hustle more than the rest of us.

And yet, with the fast pace, Boston's residents still enjoy a high quality of life: The education levels are good, the cost of living is reasonable for a big city and there are many cultural attractions.

This is a great town for walking, so be sure to wear comfortable shoes and carry your map. Boston is amazingly compact, but the traffic's a mess, so don't even think about driving. Your feet and public transportation will get you most places quickly.

Here is a summary of things to do:

Day 1: Downtown, Faneuil Hall Marketplace, Freedom Trail, North End

Day 2: Beacon Hill, Boston Common, Public Garden, Newbury Street, Boylston Avenue, Prudential Center, Hancock Tower, Museum of Fine Art, Gardner Museum

Day 3: Lexington, Concord, Walden Pond, Cambridge, Harvard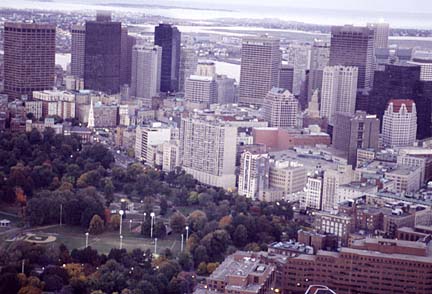 DENNIS CALLAN / SPECIAL TO THE STAR-BULLETIN
The Hancock Tower, the tallest building in New England, has a public observation deck with a clear view looking toward downtown. The tower, designed by I.M. Pei, reaches 740 feet into the sky.
---
Day 1

Park Street subway station, between Boston Common and downtown, is an excellent place to begin. This original station of America's first subway line still functions. Look around to see Boston summarized in a glance -- the Commons, America's first public park; Park St. Church, where Hawaii's missionaries originated; and narrow Winter Street leading into the pedestrian zone of the city center.

Downtown Crossing is one of Boston's busiest crossroads, where the two biggest department stores, Macy's and Filene's, face each other on a five-block pedestrian mall along Washington Street. At lunch hour, workers step out into the fresh air, offering many people-watching opportunities.

The busy Financial District has many modern bank skyscrapers and insurance towers clustered in a tight zone that is easy to walk through. You can reach its center by walking five blocks along Franklin Street to Post Office Square, a peaceful patch of green, with benches, fountains, a cafe and wonderful buildings all around.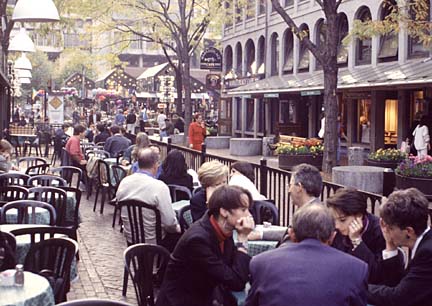 DENNIS CALLAN / SPECIAL TO THE STAR-BULLETIN
Quincy Market is the most popular gathering spot in town, for locals and for visitors, so this is a mandatory stop that you will return to several times for shopping and dining.
---
Several of Boston's notable Art Deco buildings are on the square, including the Bell Atlantic Building, which has a lobby museum that recreates the laboratory of Alexander Graham Bell, who invented the telephone here in 1875.

Boston claims the third-largest Chinatown in America, which you could reach from here with a six-block walk to the southwest. Skip it unless you are especially interested, because the walk is through a rather bleak industrial warehouse section, and the payoff is mediocre.

Wander from Post Office Square in an easterly direction along Franklin and Milk streets, heading toward the Custom House Tower, which is easy to find if you look up. It once was New England's tallest building at 495 feet.

First constructed in 1847 at what was then the water's edge, it has classical columns going around all four sides of the foundation, making it look like an ancient Greek temple on the bottom.

Faneuil Hall Marketplace: In the heart of downtown, you will find Faneuil Hall Marketplace, Boston's liveliest gathering place, its food markets and shops set in a restored brick complex of Colonial buildings. Inside Quincy Market, with its neoclassical façade, and in the two other flanking brick pavilions, you can count 50 different shops, 40 food stalls and 14 restaurants. When the weather is fair, people sit outside at one of the many cafes for a complete meal, drinks or light snacks.

This area has been an important market center since Boston's beginnings. It's located next to the docks where all the goods changed hands, but had fallen on hard times by the mid-20th century. Abandoned and dilapidated, the old brick warehouse buildings were ready to be torn down until architect Benjamin Thompson, working with the Rouse Co. in the 1970s, stepped in with some ideas borrowed from Europe to completely renovate the complex, which became the new center of town for both locals and visitors. This was the first urban market in modern America to be rebuilt, and set the tone for others to follow, including our own Aloha Tower Marketplace.

Freedom Trail: Now is a good time to join the Freedom Trail tour, conducted by National Park Service Rangers. This is one of the town's premier activities. The walk visits many of the sites important to the beginning of the Revolutionary War and our independence from Great Britain.

Principal trail sites include the Old South Meeting House, the Old State House, Boston Massacre site, Faneuil Hall, the Paul Revere House and statue, and finally, Old North Church. The only interior visit with the ranger is at Faneuil Hall. You could do the walk on your own, which would give you more time to enter the different sites, which charge admission, but you'd miss out on one of the great all-time travel bargains: knowledgeable ranger lectures for free.

The National Park Service office and shop are located in a storefront next to the Old State House on State Street, where the walking tours begin daily. Show up at least 30 minutes before the tour to sign up, because they don't take reservations, and group sizes are limited to 30. The Freedom Trail walk is 3 miles long and takes two hours.

The Old State House, where the ranger walk begins, is an example of Colonial architectural style, with a Georgian brick design, dormered windows and topped by a multilevel wooden tower.

It was the headquarters of the British government from 1713 until they were kicked out in 1776, and it later went through a variety of uses, including a fire station, wine cellar, offices and men's clothing store. Now it's a private museum with a restored interior and basement subway station. The Boston Massacre occurred at the front corner of this building in 1770, when a rowdy group of colonists taunted some British soldiers, who fired on the mob, killing five. It was the first bloodshed leading to war.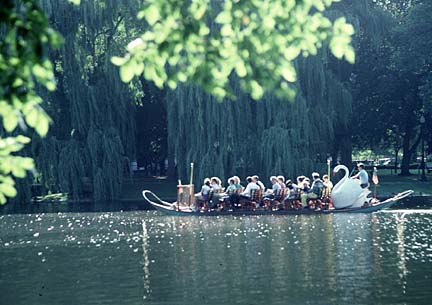 DENNIS CALLAN / SPECIAL TO THE STAR-BULLETIN
During the summer you can enjoy swan boats gliding along in the pond of the Public Garden.
---
The Freedom Trail continues a few blocks along Washington Street to the Old South Meeting House, built in 1729 as a Puritan church. It is best known as the place where the colonists gathered on Dec. 16, 1773, to discuss the problems of the tea tax, which led later that night to the Boston Tea Party, the first major act of insurrection against the British.

A block away, the Old Corner Bookstore on Washington Street began life as a pharmacy in 1718 and became a bookstore and publisher in the 1830s. Literary giants like Emerson, Thoreau, Hawthorne, Melville and Longfellow gathered here to shoot the breeze. Currently operated by the Boston Globe as a historic bookshop, it is one of America's oldest stores.

A few blocks away, you are back at Faneuil Hall, first built in 1742 by a wealthy merchant who got the brilliant idea of financing a public meetinghouse upstairs by renting out ground-floor shops. This was such a good plan that it is still working today. Since Revolutionary days, important town meetings were held at Faneuil Hall. Citizens met to vote on issues, protest British rule and strategize about the future. Samuel Adams and other rebel leaders made such fiery speeches, the hall became known as the "Cradle of Liberty." Today, the hall is still used for political gatherings, literary readings and civic functions, such as swearing in new citizens.

The Freedom Trail continues a few blocks into the North End. Along the way you will cross through the middle of "The Big Dig," a $15 billion underground freeway project.

Paul Revere House: This is the oldest surviving wooden dwelling in Boston, built in 1680 in an early cobbled-street residential neighborhood, North Square. A century later, Revere moved in while working as a silversmith.

The house was later used as a cigar factory, general store, candy factory and tenement, but early in the 20th century, it was restored and became a private museum with many original furnishings.

Three blocks north along Hanover Street, you reach the Paul Revere statue, which commemorates his "Midnight Ride" on April 18, 1775, when he galloped off shouting, "The British are coming!" Just behind the statue is the Old North Church, the oldest surviving church in town, which hung lanterns -- "One if by land, two if by sea" -- to warn about the British landing. The ranger will leave you here, so have a look around the North End, and enjoy a nice Italian meal.

You can get a delicious meal with three kinds of pasta for about $5 at La Familia Giorgio, a small chain with a few other branches around town, including one on Newbury Street. Look around on Salem and Hanover streets, and you will find several family-operated restaurants, like Lo Conte, with home-style cooking in the same rock-bottom price range. If you want to splurge on the North End's best dining, find Mamma Maria, at 3 North Square.

Mama mia! Bostonians don't call its Italian neighborhood Little Italy, but that's what it is. This is one of the oldest parts of town, with quaint cobbled streets, historic old buildings and delectable Italian cuisine.

"Old Ironsides," one more major Freedom Trail attraction, awaits you a mile across the river in the Charlestown Naval Shipyard. It's a bit far to walk, so you could take a taxi or public transportation. A good way to reach this display is by MBTA ferry from Long Wharf at the end of State Street, or city bus from the Haymarket, which will get you close for $1.25 each way.

The USS Constitution is the world's oldest commissioned warship, originally built in a shipyard along the edge of Boston Harbor back in 1797, and still on active duty in the U.S. Navy. After the Revolutionary War, America disbanded its navy but started rebuilding a few years later, starting with the Constitution. The vessel was designed to protect American shipping from pirates along the Barbary Coast.

Admission to the ship and museum are free because they are owned by us and operated by the National Parks Service.

That's enough excitement for your first day. Find a nice restaurant and get some rest.

Day 2

Beacon Hill: Start with a morning walk in this peaceful, elegant residential section consisting mostly of old brick townhouses, along with a nice shopping area on Charles Street, famous for little grocery stores, antique shops, furniture restorers and restaurants.

Located across the Boston Common, Beacon Hill has a noble history that goes back 200 years to when the state capitol was constructed here, in 1795. These streets are reminiscent of some older parts of London, with small brick buildings, beautiful trees planted as landscaping and old-fashioned lamps to light the way.

Stroll a few blocks along Chestnut and Mt. Vernon streets, between Charles and Joy, passing quaint early-American-style townhouses, on charming lanes lined with trees ablaze with color if you are here in October, the best time to visit.

Boston Common and Public Garden: The Common is the oldest public park in America, set aside in the mid-17th century for public use, and it has been open every day since. Walk through the Common, heading west to the adjacent Public Garden -- a real oasis. This park is beautifully landscaped, with 24 acres of ponds, lawns, trees, flower beds and walking paths.

Back Bay: At the beginning of Newbury, on the corner overlooking the gardens, you will find the Ritz-Carlton Hotel -- not just any old Ritz, but the original that set the tone for luxury in America.

Even if you are not a guest, drop in to admire the ambience and perhaps enjoy some refreshments. Afternoon tea is served daily, and there is an excellent restaurant.

Newbury Street is one of the trendiest places to be, with its collection of boutiques, art galleries and restaurants. The Victorian townhouse architecture in this formerly residential street has been embellished and gentrified to become an upscale shopping district. The Back Bay neighborhood includes a large, elegant residential section covering an area eight blocks long and five blocks wide, with the grand boulevard of Commonwealth Avenue running through the middle. To explore the residential atmosphere, detour along Marlborough Street, where you can appreciate the 19th-century townhouse architecture at its best.

Boylston Street, another of the nice shopping strips in the center of town, is parallel to Newbury, one block over.

Copley Square: Surrounded on all sides by fascinating buildings, with a pleasant urban oasis in the center, this piazza is a fine place to soak up some architectural history, starting with the Neo-Romanesque Trinity Church, opened in 1877.

Facing Trinity across the square is another of the city's most celebrated buildings, the Public Library, built in the style of an Italian Renaissance palace and completed in 1895 as the first major Beaux Arts structure in America.

The most spectacular of landmark buildings at Copley Square, in stark modern contrast to the others, is the Hancock Tower -- at 740 feet, the tallest building in New England. Designed by I.M. Pei in his bold signature style of sharply angled steel and glass, the building features the most dramatic observation deck in town, giving you a breathtaking sensation of flying over the city.

The other giant tower in this neighborhood, three blocks away, is the Prudential Center, which contains another one of the town's biggest shopping malls and a 360-degree panoramic viewing deck.

A sky bridge connects the mall across busy Huntington Avenue, to the Copley Place Shopping Center, anchored by Neiman Marcus and the Marriott Hotel, with many more upscale shops and a wonderful atrium cocktail lounge. Recharge over lunch, then the second half of the day kicks in with a trip to two excellent museums.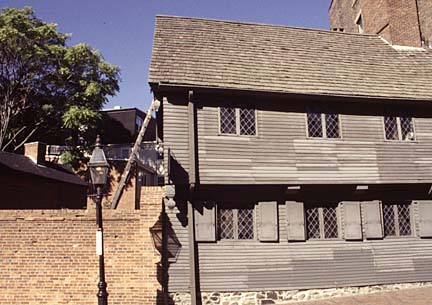 DENNIS CALLAN / SPECIAL TO THE STAR-BULLETIN
This is the oldest wooden home in Boston, and was already 100 years old when Paul Revere moved in, lived and raised 14 children here.
---
Museum of Fine Arts: You can conveniently get from Copley Square to the museum by public transportation -- either with the frequent bus service along Huntington Avenue, or take the "E" train, from the Copley Square T station, which becomes a surface trolley on the way out to the museum station.

The museum is housed in a lovely neoclassical structure that looks like it belongs in ancient Athens, with marble columns, triangular pediments and bronze statues, supplemented with a new wing designed by I.M. Pei. Inside is a collection of over 1 million objects, including the largest collection of paintings by Monet outside of France, with 38 works, and several more rooms of Impressionist paintings. The museum also has a strong group of Italian Renaissance paintings, Egyptian mummies, Picasso, El Greco, many classical statues, Pre-Columbian, and other ethnic arts from around the world. They are especially strong in Asian arts, with a collection that includes a Japanese garden. Naturally, there is a major section for early American art, decor and furnishings, including paintings by Winslow Homer, John Copley, Gilbert Stuart, Charles Wilson Peale, Thomas Eakins, Albert Bierstadt and Sargent. The modern wing features works by Jackson Pollock, Edward Hopper, Andrew Wyeth and Georgia O'Keeffe. A cafeteria and gift shop makes it possible to stay all day.

Just two blocks behind the Museum of Fine Arts, you will find the Isabella Stuart Gardner Museum, containing paintings and sculptures by many European masters, but the most appealing thing about the collection is the building itself, which looks like a Venetian palace decorated with hundreds of architectural fragments from different periods that have been deftly combined. Gardner, an extremely wealthy connoisseur of the arts, was quite the character back in the late 19th century, one who loved to travel through Europe collecting art. She purchased pieces of separate palaces in Venice and shipped them back to Boston to be incorporated into this mansion, which looks like it should be on the Grand Canal. The effect is striking, especially in the central courtyard and ground-level arcades that make you believe you are back in Renaissance Italy. Museum highlights include paintings by Manet, Matisse, Whistler, Turner, Sargent, Corot, Mantegna, Bellini, Botticelli and Raphael, and many statues from ancient Greece and Rome.

It has been a long couple of days, but you have now seen the best of Boston. Now hop that bus or trolley back to your hotel, or flag down a taxi. Rest, then head out for a memorable dinner. If you have the energy, consider one of the many evening cultural attractions, ranging from major Broadway productions to little jazz clubs or the Boston Symphony.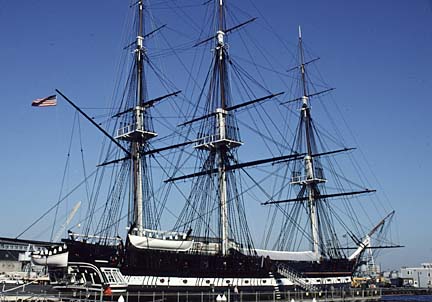 DENNIS CALLAN / SPECIAL TO THE STAR-BULLETIN
The world's oldest commissioned warship, Old Ironsides, still floats at the Charlestown Naval Shipyard, staffed by sailors who provide an informative free tour.
---
Day 3

In the first two days, we have covered all the main sites, which frees time for an excursion out of town. The following trip can be made with an organized tour group or by renting a car.

Day trip: Walden, Concord and Lexington

These historic towns and beautiful landscapes are less than 15 miles from Boston and are especially wonderful in the fall when the leaves are turning, usually peaking during two weeks around Oct. 15. The "shot heard 'round the world" was fired here back in April 1775, when the British marched on Lexington and Concord and the Colonials fought back for the first time. The National Park Service and local historical societies have preserved the sites of these important events, so you will get a vivid feeling about those long-ago clashes by walking across the battlefields, into the old taverns, across the bridge and through the towns. Informative displays and guides bring the events back to life.

The countryside is pleasant between these two towns, especially around Walden Pond, where Henry David Thoreau lived in a small cabin from 1845 to 1847 while developing his philosophy of transcendental love for nature and the simple life. He called Walden "a perfect forest mirror."

Cambridge and Harvard: On the way back into town, stop in Cambridge, the home of America's oldest and most prestigious university, Harvard, founded in 1636, and another great school, MIT. Harvard's campus is beautiful, sprinkled with 18th-century Georgian buildings that are complemented by a rich variety of modern architecture. The Harvard Yard is the central lawn of the magnificent campus, surrounded by freshman dormitories built, like many of the structures on campus, in Colonial brick, covered in ivy. Campus buildings worth a look, including the Widener Memorial Library, third largest in the world with 3 million volumes, and Massachusetts Hall, a building that dates back to 1720.

This wraps up our three days in Boston. Now pick one of the best restaurants in town to reward yourself for stamina and patriotism.

IF YOU GO ...Tours

>> Original Red Trolley Tours, 617-236-2148: Hop-on, hop-off service; ticket good all day; convenient service with 21 stops around town at historic sites and hotels. Buy your tickets on board.

>> Boston Duck Tours, 800-226-7442; www.bostonducktours.com: Departs every half-hour from the Prudential Center, from April through November. Ride past many of the sights in this open-air WWII amphibious vehicle. The bus then turns into a boat and plunges into the Charles River for another view of the skyline. Tickets, at $22 per person, are available in the Prudential Center from 8:30 a.m. to 8 p.m. The day's tours are usually sold out by noon, but you can buy tickets two days in advance, so plan ahead.

>> Harvard University campus: 10 a.m. and 2 p.m. Mondays to Fridays from September through May; and 10 a.m., 11:15 a.m., 2 p.m., 3:15 p.m. Mondays to Saturdays and 1:30 p.m. Sundays from June through August. Tours begin at the Holyoke Center, 1350 Massachusetts Ave.

>> National Park Service, 15 State St., 617-242-5642: Freedom Trail walks begin at the storefront next to the Old State House. No reservations taken for two-hour tour of historic sites with park rangers.

Restaurants

>> Top of the Hub, Prudential Center, 52nd Floor
>> Aujourd'hui, 200 Boylston St., 617-351-2071 (Back Bay): American
>> Hamersley's Bistro, 553 Tremont St., 617-423-2700 (South End): American-French
>> L'Espalier, 30 Glouster St., 617-262-3023 (Back Bay): French
>> Radius, 8 High St., 617-426-1234 (Downtown): French
>> Legal Seafoods, many locations: Fish
>> No. 9 Park, 9 Park St., 617-742-9991 (Beacon Hill): French-Italian-American
>> Clio, 370-A Commonwealth Ave., 617-536-7200 (Back Bay): French
>> Grill 23, 161 Berkley St., 617-542-2255 (Back Bay): American
>> Ambrosia, 116 Huntington Ave., 617-247-2400 (Back Bay): Asian-French
>> Biba, 272 Boylston St., 617-426-7878 (Back Bay): New American
>> Bristol Lounge, 200 Boylston St., 617-351-2053 (Back Bay): American
>> Maison Robert, 45 School St., 617-227-3370 (Downtown): French (cheaper downstairs)
>> Prezza, 24 Fleet St., 617-227-1577 (North End): Italian
>> Julien, 250 Franklin St., 617-451-1900 (Downtown): French
>> Mamma Maria, 3 North Square, 617-523-0077 (North End): Italian

Hotels

Better prices available on weekends

>> Copley Square Hotel, 47 Huntington Ave. (Back Bay), 800-225-7062 (our favorite): Convenient and reasonable price.

>> Omni Parker House, 60 School St. (Downtown), 800-THE-OMNI: The oldest hotel in America, recently renovated and quite comfortable.

>> Harborside Inn, 185 State St. (Faneuil Hall Marketplace area), 723-7500: A good value in the heart of town.

>> Newbury Guest House, 261 Newbury St. (Back Bay), 437-7666: An upscale bed and breakfast.

For big spenders

>> Le Meridien, 250 Franklin St. (Financial Center), 800-543-4300: Superdeluxe accommodations in the heart of downtown, on Post Office Square.

>> Ritz-Carlton, 15 Arlington St. (Back Bay), 800-241-3333: The first hotel in this luxury chain.

>> Fairmont Copley Plaza, on Copley Square, 800-527-4727: Boston's other top hotel.

---

Dennis Callan is the president of the Hawaii Geographic Society and produces the "World Traveler" TV series, shown at 7 p.m. Tuesdays, and repeating 9 a.m. Wednesdays on 'Olelo, channel 52. He frequently leads tours through Europe, and writes "Three Days in ..." in the Star-Bulletin the first Sunday of each month explaining how to get the most out of a minimum of three days in the world's great cities. View the companion TV episode this week.
E-mail to City Desk
---
---
© 2001 Honolulu Star-Bulletin
http://archives.starbulletin.com