CLICK TO SUPPORT OUR SPONSORS

---

---
Friday, January 4, 2002


[ STUFFS ]
---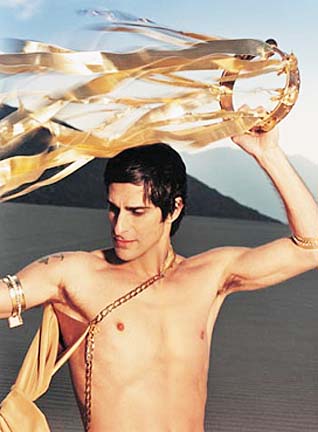 PERRY-FARRELL.COM
Tickets to see Perry Farrell a k a DJ Peretz at Wave Waikiki will be available tomorrow.
Perry Farrell to perform at Wave Waikiki

Perry Farrell can't stay away. The former Jane's Addiction and Porno for Pyros singer, and Lollapalooza founder now reinvented as DJ Peretz, will perform Jan. 19 at Wave Waikiki.

One of modern music's most provocative personalities, Farrell released "Song Yet to Be Sung" last year. The disc marked a spiritual departure from his former self as he continues to push the boundaries in a musical journey that began with punk, funk and metal outfit Jane's Addiction. Local audiences may remember the strip show he performed here on the eve of that band's demise in 1991.

He returned as the front man for Porno for Pyros. In between gigs, the music visionary started the Lollapalooza Music Festival, taking his post-punk carnival -- complete with tattoo and body-piercing booths, new technology and sideshow acts -- across the nation.

The second Lollapalooza tour, in the summer of '92, paved the way for the grunge era, as performers included Pearl Jam, Soundgarden and Ministry.

Opening for Farrell will be New York's DJ Alika, G-Spot, Daniel J, KSM and Quadrophonix.

A limited number of pre-sale tickets will be available at all Tower Records and Video stores, Jelly's, Hungry Ear, Cheapo Music, the Wave Waikiki, the Inside (outside the Wave) and Virus Afterhours.

Tickets are $10, and admission is for 18 and older. Doors will open at 9 p.m., and what time he shows up is anyone's guess.

The Wave Waikiki is at 1877 Kalakaua Ave. For more information, call 941-0424.

---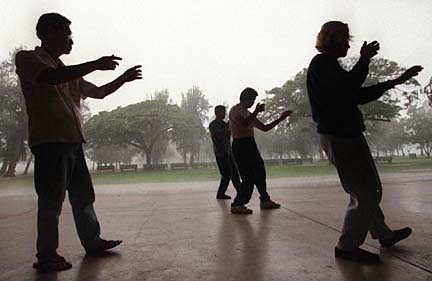 STAR-BULLETIN FILE
Outdoor tai chi practitioners will have lots of company when Exercise Honolulu starts up at tomorrow at McCoy Pavilion.
New Year's workout

A new program challenges Oahu residents to become healthier through good nutrition and exercise. Exercise Honolulu will have its kickoff at Ala Moana Beach Park's McCoy Pavilion from 6:30 a.m. to 12:30 p.m. tomorrow.

There is no charge for participating, and scheduled activities will include a fun walk around Ala Moana Park as well as free weight checks, blood pressure screening and entertainment.

A collaborative effort by the Honolulu County Medical Society, the Hawaii State Department of Health and the city and county of Honolulu, Exercise Honolulu coincides with typical New Year's resolutions to lose weight and stay in shape.

While Hawaii is known as the "Health State," in reality its citizens rank high in obesity, hypertension, diabetes and arthritis. Furthermore, many on Oahu lead sedentary lives filled with fast food and stress.

For more information on Exercise Honolulu, call 536-6988 or visit www.exercisehonolulu.com.






Click for online
calendars and events.





---





Send WatDat? questions, stories
or any other story ideas or comments to:
Features, Honolulu Star-Bulletin, P.O. Box 3080,
Honolulu, HI 96802 or send a fax to 523-8509
or E-mail to features@starbulletin.com.
Please include your phone number.
E-mail to Features Editor
---
---
© 2002 Honolulu Star-Bulletin
http://archives.starbulletin.com