CLICK TO SUPPORT OUR SPONSORS

---

---
Friday, January 4, 2002
Wobegon daze


Garrison Keillor casts his spell

---

By Stephanie Kendrick
skendrick@starbulletin.com

The first show sold out in six days. The second show in two and a half. Tickets never even went on sale to the general public.

We're not talking about Janet Jackson or the Backstreet Boys.

We're talking about "A Prairie Home Companion." The public radio show broadcasts from the Hawaii Theatre tomorrow night.

The radio variety show features Garrison Keillor as host to musical guests, dramatic serials, commercials and the news from Lake Wobegon, a small Minnesota community he created.

The show was first broadcast in July 1974. Keillor called it quits in 1987, but was back two years later with The American Radio Company of the Air. In October of 1992, the show moved back to St. Paul from New York City and reclaimed the name "A Prairie Home Companion." It's been a fund-raising champ on public radio stations nationwide ever since.

Hawaii ticket sales were restricted to members of Hawaii Public Radio, who leaped at the chance to see the show live for the first time in 15 years.




Prairie Home Companion

When and where: On the air 6 to 8 p.m. on KHPR 88.1 FM tomorrow, repeating Sunday on KIPO 89.3 FM and KIFO 1380 AM

Note: A performance at 7:30 p.m. Saturday at Hawaii Theatre is sold out




The fervor is slightly masochistic.

Keillor has long held that people who live in cold climates are inherently smarter than those who do not. He'll even go so far as to say "hot weather makes a person stupid."

So does this guy even like Hawaii?

"I loved it every time I went," said Keillor. Though he concedes it is a foreign place to the denizens of Minnesota he refers to as "my people."

"We're not born to live in paradise, but I hope that we're born to appreciate it and to take as much pleasure from it as we possibly can.

"When we leave Minnesota in January and go to Oahu, I think we're under some obligation to let our spirits lift and to be buoyant. And if we can't do that then something is wrong somewhere in our makeup."

For Keillor, the Honolulu show is about the music.

"The show we will do there, you see, is really to get Hawaiian music, Hawaiian arts, on the radio. And ship it back to the 48," he said.

Slack-key guitar masters Ledward Kaapana and George Kahumoku Jr. were the first two artists tapped to appear on the show. "They sing in a style that melts the heart of someone from Minnesota," said Keillor. "They have very lyric, beautiful tenor voices that break easily into falsetto."

The Leo Nahenahe Singers quartet, with Noelani Mahoe, Lynette Paglinawan, Ethelynne Teves and Mona Teves, has been added to the lineup.

Keillor has the final say on all musicians signed for the show. "I go into a little room and listen to tapes or CDs of them and I kind of know instantly who I want," he said. His Minnesota audience is at the top of his mind when making those decisions.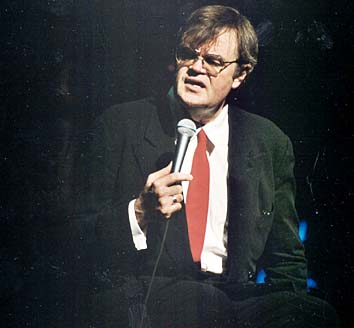 NATIONAL PUBLIC RADIO
Garrison Keillor's only teasing when he says warm weather makes people stupid. He's just trying to make himself feel better about being stuck in the frozen North.
---
Keillor doesn't read much into two sold-out shows when asked why he thinks "A Prairie Home Companion" is popular in a place so far from Lake Woebegon. ("If you do the show in a small enough theater, you'll be able to claim to be sold out.") But chocks up whatever interest there is to a combination of curiosity and nostalgic Midwesterners.

And how are prairie expatriates in Hawaii regarded back in the Frozen North?

"We assume that they have health problems, that's why they're there. They're consumptive," he said. Quarter is also given for ill spouses or ministers called to a Hawaii church.

"When I say that hot weather makes a person stupid, that it's winter that keeps us from being trashy, I am enunciating a deeply held belief of Northern people that they would not dare express themselves," he said.

Keillor also sees himself as a booster for the north.

"I, of course, have to stand up for the part of the country I come from," he said. "We've undergone a hundred years of subtle propaganda on behalf of the Sun Belt in California and all. And most of the propaganda really originated with real estate promoters wanting to sell chunks of the desert.

"The propaganda for the Sun Belt is really rather similar to the propaganda that was sent over to Scandinavia and Germany and Ireland. Propaganda about America and how you could come here and within a few years you'd be rich," he said.

"We have to stand up for ourselves and for our culture. There is a northern culture. Southern culture has had all of the attention and the romance and mythology attached to it. So it's my obligation to stand up for the north."

Keillor, who writes the entire show, will be working while in Hawaii, but plans to fit in some rest and relaxation during a two-week stay.

"We can lounge and look out across the water; put on our dark glasses and put on shirts that we would not wear in St. Paul," he said.

Keillor will be joined by his wife, Jenny, and 4-year-old daughter Maya Grace.

"My daughter adores swimming, so I think she'll need to swim twice a day," he said.

"I like to go out to dinner with my wife. The last time we were in Hawaii we had dinner almost every night at a restaurant sitting outdoors, with candle light and these balmy breezes coming in off the sea and eating wonderful fish and fruit and vegetables," said Keillor. "What's not to like?"

In addition to "A Prairie Home Companion," Keillor hosts a daily 5-minute radio program, "The Writer's Almanac," and has published 13 books, that latest being "Lake Wobegon Summer 1956."

More than 500 public radio stations nationwide broadcast the show, which boasts more than 3 million listeners a week, according to prairiehome.org.





Click for online
calendars and events.
E-mail to Features Editor
---
---
© 2002 Honolulu Star-Bulletin
http://archives.starbulletin.com