CLICK TO SUPPORT OUR SPONSORS

---

---
Hawaii Beat
By Star-Bulletin Staff
Saturday, November 10, 2001
---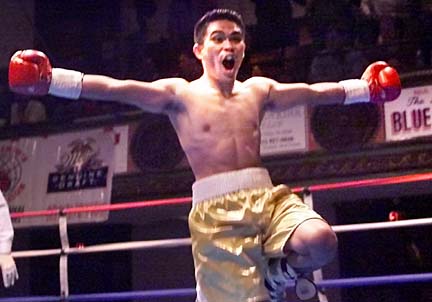 ASSOCIATED PRESS
Waipahu's Brian Viloria celebrates after beating Sheldon
Wile in a flyweight bout in Philadelphia. The referee stopped
the fight in the first round after Viloria scored three knockdowns.
---
Viloria wins in first

PHILADELPHIA >> Brian Viloria, a former Olympian from Waipahu, scored a first-round technical knockout over Sheldon Wile in a four-round flyweight bout last night at the Blue Horizon.

Viloria, a 112-pound right-hander, looked sharp and successfully landed three turnover left hooks to the body that scored all three first-round knockdowns.

He pinned Wile, of Halifax, Nova Scotia, against the ropes for most of the fight with solid right jabs that set up his left hooks.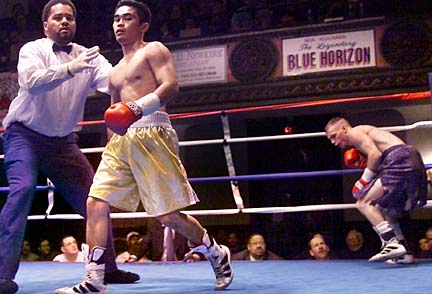 ASSOCIATED PRESS
Brian Viloria is led away to a neutral corner after knocking
down Sheldon Wile in their flyweight bout in Philadelphia.
---
The TKO came when Wile left himself open after missing a jab. Viloria, now 3-0 with two knockouts, followed up with two lefts, the second of which put his opponent down for the third time. The TKO came 1:55 into the bout.

Wile dropped to 2-2 as a flyweight.

Semifinalists named for Mosi Tatupu Award

The Hula Bowl Maui and the Maui Quarterback Club announced today the semi-finalists for the 2001 Mosi Tatupu Special Teams Player of the Year Award.

This prestigious award is given annually to the top special teams player nominated by Sports Information Directors, local and national media and the Hula Bowl Maui Coaches Selection Committee.

The recipient of this award will participate in the 2002 Hula Bowl Maui on Feb. 2, and receive the prominent trophy at half-time of the game on national television.

The winner will initially be announced at the 2001 Home Depot Awards Show broadcast live on ESPN December 4.

The semifinalists are Phillip Buchannon (Miami), Kelly Campbell (Georgia Tech), Keyuo Craver (Nebraska), Andre Davis (Virginia Tech), Nick Davis (Wisconsin), Travis Dorsch (Purdue), Kahlil Hill (Iowa), Aaron Locket (Kansas St.), Freddie Milons (Alabama) and Pete Rebstock (Colorado St.).

UH men's golf team hosts Turtle Bay Intercollegiate

The Hawaii men's golf team will host the UH/Turtle Bay Intercollegiate Monday and Tuesday at the Turtle Bay Golf Course.

Ten teams, including two from Japan and Australia, will participate. Hawaii-Hilo will also compete.

Tee time on both days is 7 a.m. The first two rounds are Monday and the final round will be played Tuesday.
---
See line scores and results in
the [Scoreboard] section.
E-mail to Sports Editor
---
---
© 2001 Honolulu Star-Bulletin
http://archives.starbulletin.com