Advertisement - Click to support our sponsors.

---

---
Monday, November 13, 2000
WELCOME HOME, MISS AMERICA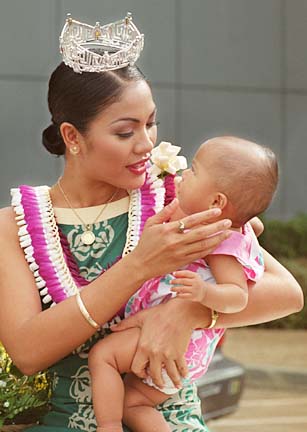 By Dennis Oda, Star-Bulletin
Before the parade through Waikiki yesterday, Miss
America Angela Baraquio cuddles her niece, Echo,
9 months. She says her homecoming has been "awesome."
---
'Everywhere I go,
I am Hawaii'


She's 'really proud' when
people tell her she has
broken down stereotypes

---

By Treena Shapiro
Star-Bulletin

Watching her pose in a white replica of the gown she wore when crowned, you wouldn't guess that Miss America 2001 Angela Perez Baraquio is a certified termite inspector.

Termite control is a family business, she explained to others at the photo shoot for her sponsors at Nate's Photography yesterday afternoon.

"I was in the field. I was patching holes. I still have my jeans and my work shirt and gloves," she said as she moved in front of the camera.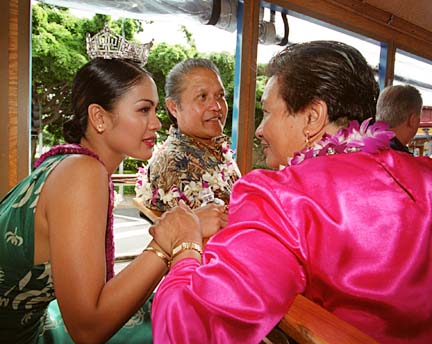 By Dennis Oda, Star-Bulletin
After the parade, Baraquio is taken by trolley to the
Hilton Hawaiian Village and is able to spend some
quiet moments with her mom, Rigolette, and dad,
Claudio. She regrets not having much time with
them on this short visit.
---
But asked whether she planned to renew her license, Baraquio laughed and said: "I don't think so. But I really wish my dad the best. And I will help them out the best that I can."

With the opportunities ahead of her, she hopes to be able to retire her parents in style, she said.

Back home for just a few days, Baraquio says her homecoming has been "awesome," but she regrets not being able to spend much time with her family. She's not even bunking at the house she shares with her brother and is staying at the Hilton Hawaiian Village instead.

That's OK, she said, because her house isn't big enough to hold her.

"My house is filled with all the junk I sent home. I got new luggage when I won, so all my other ones went back," she said. "I don't have a huge house, so I would have had nowhere to sleep if I went home."

Anyway, after living out of hotels for the last five weeks or so, she said she's getting used to the lifestyle.

In between a parade through Waikiki and the late afternoon photo shoot, Baraquio did have some quiet time in her hotel room with her sisters.

By Dennis Oda, Star-Bulletin
On the way back to her hotel, Angela Baraquio gets
her hair fixed by stylist Dennis Guillermo and
makeup refreshed by Pattie Kuamoo. She says
she is amazed by the admiration of strangers,
but some are too aggressive.
---
Whipping a half-eaten bag of li hing mui from her purse, she announced happily that they had brought her a care package.

With a news conference at the airport and an appearance at the football game Saturday, a parade and luau yesterday, and visits to schools and sponsoring agencies before a public reception scheduled for tonight, Baraquio doesn't have much time to herself. She even had to hide out in a dressing room at the photography studio just to have a few minutes to talk story with her dress designer, Lisa Schienle of Mona Lisa Designs.

While she has no regrets, Baraquio admits she misses her privacy. "I don't mind being in the public eye as long as they give me time to recuperate, replenish my energy, because I'm no good to anyone if I'm in a bad mood, and I am human," she said.

And although she loves the recognition and support for herself and her family, the swarming crowds can get overwhelming. During yesterday's parade, the convertible she rode in moved in stops and starts down the length of Kalakaua as friends and strangers rushed in to take photos, get autographs and touch Miss America. All the familiar faces brought tears to her eyes, but a few fans were too aggressive, she said.

"It was a little frustrating when people would pull my body, you know, left and right," she said. "People were actually pulling my arms. I didn't feel that great about that simply because I like to be in control of my body. When people are pulling, it just kind of is a lack of respect for my space, which I didn't appreciate."

During a rushed interview in between dress changes and photo-taking, however, Baraquio mentioned several times her amazement at the admiration of strangers.

After taping an interview with David Letterman, for example, Baraquio said she left the studio to be greeted by several fans who had been waiting for 12 hours for the chance to meet the first Asian Miss America.

"They said, 'I'm Thai' or 'Korean' or 'Japanese,' or 'I'm so proud of you because you're a pioneer for our culture, and you've broken down a lot of doors and stereotypes that you can't make it in this world,'" she said. "That was something I was really proud of."

Baraquio said she is also very aware that she will be representing Hawaii for the rest of her life. When she walked the runway after winning the Miss Hawaii pageant, Baraquio said she realized, "Anywhere I go people will look at me and they will see Hawaii in me, and I have to represent that everywhere I go from now on for the rest of my life. Everywhere I go now, I am Hawaii."

During the Miss America talent competition, Baraquio -- eighth-grade May Day queen -- danced hula to distinguish herself from the other contestants. When searching for a song, someone suggested "Come Follow Me, I Am Hawaii," a medley from the films "Hawaii" and "Mutiny on the Bounty," sung by Miss Hawaii 1975 Cathy Foy.

"I thought, the title alone -- I don't even know what the song sounded like, but that's exactly what I felt when I won," she said.




Public reception

Baraquio will make one last public appearance today from 6:30 to 9 p.m. at the Miss America Public Reception at the Hilton Hawaiian Village's Tapa Ballroom. Miss California, Miss Kentucky, Miss Louisiana and Miss Mississippi will attend, and the new Miss Hawaii, Billie Takaki, will be crowned. Admission is $5 per person. Children under 12 are admitted free.



E-mail to City Desk
---
---
© 2000 Honolulu Star-Bulletin
http://archives.starbulletin.com