Advertisement - Click to support our sponsors.

---

---
Friday, September 29, 2000



W A H I N E _ S O C C E R
---



Wahine, Spartans
in 2OT tie

---

By Al Chase
Star-Bulletin

The air was heavy and humid. The flying termites were out in force. Rock rap music blared from four loudspeakers just above the assembled fans, making friendly conservation difficult.

It was 7 p.m. and the University of Hawaii Wahine were the only team on the Waipio Peninsula Soccer Stadium field.

Was there going to be a Western Athletic Conference women's soccer match or not?

At 7:03 p.m. the blue and gold clad Spartans from San Jose State sprinted out on the field and commenced quick warmups.

It wasn't a ploy by the visitors, just wrong directions.

The Spartans, picked to finish third in the WAC, brought a four-game losing streak to Honolulu.

The Wahine, tabbed to end up fourth in the league, were trying to end a seven-game losing skid.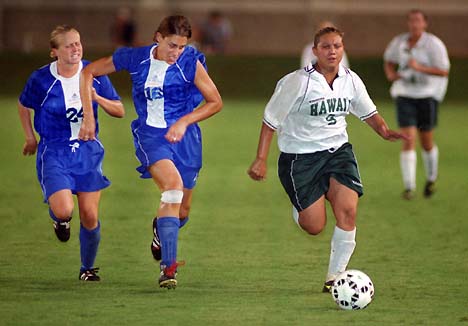 By George F. Lee, Star-Bulletin
UH's Veronica Flores, right, speeds forward while being chased by
San Jose's Kristyn Mescher, left, and Cynthia Harrah. The two WAC
teams tied 1-1 at the Waipio Peninsula Soccer Stadium last night.
---
Perhaps it was fitting, that after 120 minutes of back and forth soccer, 33 shots and missed opportunities, the match ended 1-1 in double overtime.

And who knows what the final would have been if San Jose State's Kristina Jacob had not been red carded at 74:25, leaving the Spartans one player short.

Although the Wahine tied the score four minutes later, Hawaii head coach Pinsoom Tenzing said it wasn't to UH's advantage to have the Spartans down to 10 players on the field.

"The reason being, the kids, at this age, don't know how to play (with a man advantage). Why can't they take advantage of it? Not only do they not see the field, they don't use the field, so where is the advantage? There is no advantage," Tenzing said.

"At the level they're playing, they just don't use it. They forget they have to stroke the ball around and make them (Spartans) run. You can't do that if you're just booting the ball up field and playing like your playing 11 vs. 11."

When the Wahine did locate an open teammate, all too often the pass was served 10-12 yards ahead and intercepted.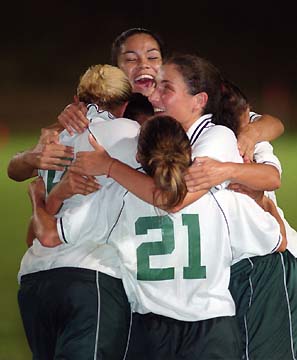 By George F. Lee, Star-Bulletin
Wahine players celebrate Tiffany Makue's goal in the 1-1 tie.
---
Through balls had a way of going straight to a Spartan or, if they went through, no one was there to benefit from an accurate pass.

UH midfielders Tiffany Makue, Kalena Eaton and Megan Lytle did have moments when they were able to organize the attack.

The UH goal came when Makue took a ball from the left, moved forward in the middle and passed back to Veronica Flores on the left just inside the 18-yard line.

Flores beat a defender and sent a square pass toward the center on the ground that Makue knocked home from six yards out.

That offset a tremendous goal by Jacob at 54:34.

The Spartan midfielder, waiting on the left side 23 yards out, one-timed a Brandy Apodaca pass with her left foot that skimmed the inside of the near post to reach the net past a diving Demarre Sanchez.

Sanchez made her return to the UH goal after missing five matches, and she made nine saves.

She was tested early. At the 6:11 mark, Jennifer Mescher moved in on the right and sent a hard, low shot toward the far post that Sanchez saved with a diving grab.

The Wahine outshot the Spartans, 9-3, in overtime. Hawaii's best chance at breaking the tie came on a Camille Kalama free kick from 19 yards out at 7:48 of the first extra period.

She drove a ball that caught just enough of the bottom half of the cross bar to bounce down and out.

"We're not getting down because this is only the beginning of the WAC," said Kalama. "I don't think the losing streak has gotten to us, especially with Demarre back in the goal and Veronica (who filled in for Demarre) back up front."

The Wahine leave today for a Sunday match at Fresno State.

WAHINE 1, SPARTANS 1 (2 OT)

| | | | | |
| --- | --- | --- | --- | --- |
| San Jose State | 0 | 1 | 0 | 0 - 1 |
| Hawaii | 0 | 1 | 0 | 0 - 1 |

SJS: Kristina Jacob (Brandy Apodaca), 54:34.

UH: Tiffany Makue (Veronica Flores), 78:50.

Shots--SJS 17, UH 16. Saves--UH 10, SJS 6. Corner kicks--UH 5, SJS 5. Fouls--UH 11, SJS 19. Offsides--SJS 4, UH 2. A--511.

Yellow Cards--UH: Makue. SJS: Jackie Ostdiek. Red Card--SJS: Jacob.

---




UH Athletics
Ka Leo O Hawaii
E-mail to Sports Editor
---
---
© 2000 Honolulu Star-Bulletin
http://archives.starbulletin.com