Advertisement - Click to support our sponsors.

---

---
Tuesday, August 29, 2000
Alaska Natives
praise federal
recognition


They testify at a hearing
on the Akaka bill that it helped
strengthen their culture
and traditions

---

By Pat Omandam
Star-Bulletin

Alaska Natives told a Congressional committee in Honolulu this morning that federal recognition has helped strengthen their culture, traditions and language.

And, it has not stopped them from working at the international level on issues of self-determination and native rights, a major concern for some Hawaiians.

"Federal recognition of Alaska Natives do not preclude our participation in the international arena," said Julie Kitka, president of the Alaska Federation of Natives in Anchorage. "It does gives us a place at the table."

Kitka, whose federation is made up of 110,000 Alaska Natives, Eskimos and Inuit people, told a joint House-Senate committee meeting at the Blaisdell Center that there are many similarities between the native people of Hawaii and Alaska. But what's foremost for Alaska Natives is the need to hold together their indigenous cultures, no matter what.

Federal recognition would give Hawaiians the tool to do so, she said.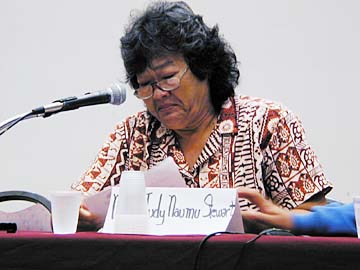 By Ken Ige, Star-Bulletin
Judy Naumu Stewart displayed emotion as she testified
at hearings on the Akaka Hawaiian Recognition bill
at Blaisdell Center.
---
"Our federal recognition is a legal tool we use to protect our way of life," Kitka said.

Edward Thomas, president of the Tlingit Haida Central Council, the largest federally recognized tribe in Alaska with 23,000 people, said U.S. recognition is not a granting of sovereignty but an opportunity to preserve indigenous rights and culture.

"I think a strong legal framework is vital to aboriginal people," Thomas said.

Witnesses from Kauai, Molokai and Oahu testified today on a bill that sets up a government-to-government relationship between Hawaiians and the U.S. government.

Judy Naumu Stewart, who has homestead lands in Kekaha and Kokee, Kauai, favors the bill and hopes it will be the answer to the problems facing Hawaiians.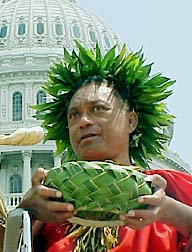 'We will not vanish into the sunset.
We will resist to our last breath the wrongs
that were done to us.'
Butch Kekahu
HAWAIIAN NATIONALIST
"I hope that this bill will be the last bill to testify on for the Hawaiian people," Naumu Stewart said.

Collette Puaoi, a homesteader from Hoolehua, Molokai, urged Hawaii's Congressional delegation to ensure the bill protects the rights of her children. "It is being native that is good," Puaoi said. "That is what I want to keep for my children today and my grandchildren tomorrow."

Yesterday, Kauai residents gave mixed and often emotional testimony. Kapaa resident Robin J. Puanani Danner, a Hawaiian who spent 35 years living among American Indians and Alaska natives, views the so-called Akaka bill as a step toward a greater degree of independence.

Nevertheless, many Kauai residents strongly opposed the bill. Kekane Pa of Lihue said the United States and Congress didn't have the authority to annex Hawaii in 1898 but did so illegally.

Butch Kekahu, who organized marches in Washington, D.C., in 1998 and this past month to raise awareness of the plight of Hawaiians, also opposed the bill. Rather than establishing an office within the U.S. Interior Department, there should be government-to-government talks between Hawaiians and the State Department, he said.

"We will not vanish into the sunset," Kekahu said. "We will resist to our last breath the wrongs that were done to us."

The delegation hopes to pass the bill before Congress adjourns in early October. Hawaii Sens. Daniel Akaka and Daniel Inouye remain confident of its approval this year, although U.S. Rep. Patsy Mink has reserved comment on her position until the end of week-long hearings.
E-mail to City Desk
---
---
© 2000 Honolulu Star-Bulletin
http://archives.starbulletin.com