Advertisement - Click to support our sponsors.

---

---
Friday, May 19, 2000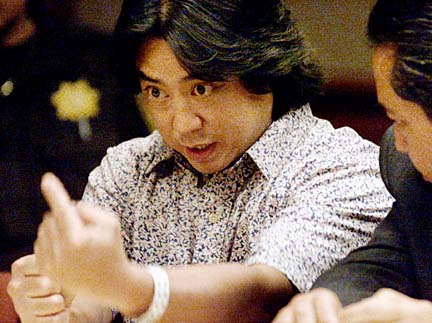 By Ronen Zilberman, Associated Press
Defendant Byran Uyesugi talks to his lawyer Jerel
Fonseca during a recess in his trial yesterday.
---
3 Xerox victims
were shot four
to five times


The shooter aimed for the heart,
and one man was on his back
on the floor when he was
shot, the examiner says

By Debra Barayuga
and Suzanne Tswei
Star-Bulletin

Multiple gunshot wounds, particularly those to the heart, were what caused the deaths of three of the seven victims in the Xerox slayings, according to the city medical examiner.

At least one victim was shot five times; two others, four times. And at least one was on his back on the ground when he was shot, said Dr. Alvin Omori, Honolulu's chief medical examiner, testifying today in the Byran Uyesugi murder trial.

The wives of John Sakamoto, Ron Kataoka and Ford Kanehira hugged each other as Omori, who conducted autopsies on three of the victims in Hawaii's worst multiple slaying, described in detail the gunshot wounds that resulted in the men's deaths.

Sakamoto suffered three gunshot wounds from bullets entering his back and another entering his upper chest. The most severe injury was caused by a bullet entering just below his right armpit. It went through his lungs and heart and lodged in his left chest, Omori said.

A second bullet, which entered his left upper chest, went entirely through his body and was found in his shirt near the exit wound. Abrasions on the edges of the exit wound indicated that Sakamoto was most likely lying on his back on the floor, preventing the bullet from going further, Omori said.

Prosecutors earlier have said that the gunman shot Sakamoto before turning him face up and firing again.

Kataoka was also shot four times from behind, and all four bullets were recovered from his body. Two of the bullets that entered from the back were probably fired when he was face down on the ground because they were still embedded in his chest, Omori said. A bullet that entered his left buttock may have caused Kataoka to trip because it went through his pelvis, Omori said.

Kanehira was shot five times in the back, and all five bullets were still lodged in his body. The fatal shot struck him in the heart, the examiner testified.

Also today, former Xerox co-workers Jerry Watanabe and Roy Ogawa testified about Uyesugi's problems with customers.

Ogawa, who sometimes rode to work with Uyesugi, said he understood from dispatchers at Xerox that customers would ask for someone else to service their machines.

He said he offered Uyesugi advice because he was afraid Uyesugi would lose his job.

"I was concerned that the company would go after him. I was concerned for him," Ogawa said.

Yesterday, other Xerox employees testified that Uyesugi had a temper and threatened to kill his coworkers.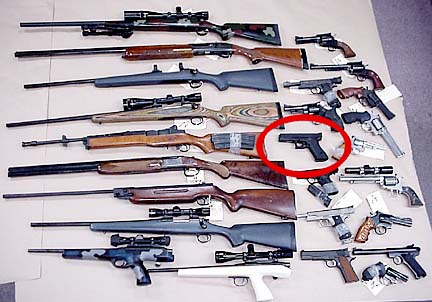 Honolulu Prosecutor's Office
This is the collection of guns found by law enforcement officers
in Byran Uyesugi's house. Circled is the semi-automatic
Glock, the alleged death weapon.
---
"I'll take care of them. I'll shoot all of them," Uyesugi one day told co-worker Clyde Nitta.

Nitta and Uyesugi had worked on the same team servicing low-volume copier machines. "I got along with him," Nitta said.

After Uyesugi was transferred to the team supervised by Melvin Lee, "he kind of changed," Nitta said. Lee's team serviced medium-volume copy machines.

Uyesugi's co-workers ostracized him, causing him to become increasing isolated and withdrawn, Nitta said.

"Don't isolate him," Nitta told the others, suggesting that they be more considerate of Uyesugi's feelings and take him out to lunch once in a while. But Uyesugi's co-workers became upset themselves "because they couldn't understand why (Uyesugi) was feeling that way," Nitta said.

After Uyesugi said he would kill his co-workers, Nitta became scared and backed away. "That really got me. That's crazy. Who would do that?" Nitta said.

Russell Inaba, another repair technician, testified he stayed home from work for a week in 1993 after Uyesugi's boss notified him that Uyesugi had made threats on his life.

Another employee, Clifford Barroga, recalled Uyesugi's foul-languaged resistance to being trained on a new copy machine.

"Hey, no f---ing way, no f---ing way I'm going to be trained on this machine," Barroga said Uyesugi told him.

City Prosecutor Peter Carlisle contends Uyesugi committed the multiple killing in part because he did not want to be trained on the newer, more sophisticated 5100 machines, which also required him to maintain more parts in his inventory.

A dispatcher, Michelle Arelliano, testified that she relayed a message to Uyesugi the day before the shooting that he would go into training for the new machine after the morning work team meeting. She said there was a long pause on the other of the end of the line.

"He finally told me, yeah," after she repeated the message, Arelliano said.

Police firearms experts yesterday said they found 25 firearms belonging to Uyesugi and that one of the guns, a 9mm semiautomatic Glock, was used in the killings.

Defense attorneys say Uyesugi suffers from a delusional disorder and could not appreciate the wrongfulness of his actions.




WHAT'S NEXT

Today: Jerry Watanabe and Roy Ogawa, retired Xerox employees who once worked with Byran Uyesugi, were to testify today.

Also: Alvin Omori, chief medical examiner and Sheryl Sunia, police negotiator.

On Monday: Psychiatrist Denis Mee-Lee of Castle Hospital and Dr. Marvin Mathews of Kaiser are to testify.



E-mail to City Desk
---
---
© 2000 Honolulu Star-Bulletin
http://archives.starbulletin.com