---
Tuesday, November 2, 1999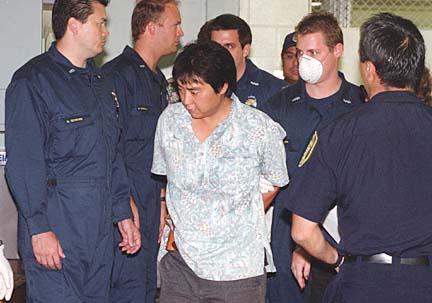 By George F. Lee, Star-Bulletin
Suspect Bryan Uyesugi is escorted into the main police
cellblock after his surrender around 3:00 p.m. today..
---

The worst mass murder in
state history touches off a massive
manhunt. The suspect surrenders
near the Hawai'i Nature Center
By Jaymes K. Song
Star-Bulletin
A gunman shot and killed seven people at a Nimitz Highway office this morning in Hawaii's worst mass murder ever.

A man believed to be Bryan K. Uyesugi, 40, also known as "Byran," arrived at the Xerox Engineering Systems office at 1200 N. Nimitz Highway shortly after 8 a.m., went to the second floor and then shot employees, police said.

The dead were identified as Ronald Kataoka, Ford Kanehira, Peter Mark, Melvin Lee, Christopher Balatico, Ronald Kawamae and John Sakamoto.




THE VICTIMS

Ronald Kawamae, 54, worked at Xerox for 30 years. Lived alone in Makiki. Survived by one son, Reid, 34, of Hawaii Kai, and one grandson, Reinton, 4. Recently lost his 75-year-old father to a stroke. Loved his job, liked golf.

Melvin Lee, 58, of Waipahu. Wife Ann. Worked at Xerox for close to 30 years. Field manager in customer service. Considering retirement. A manager with a big heart, soft-spoken, nonconfrontational. Family members did not want to comment.

Ronald Kataoka, 50, of Mililani. Worked at Xerox for at least 10 years. Had an 11-year-old daughter who played basketball with him in the driveway. Nice guy, upbeat, never raised voice.

John Sakamoto, 36, of Honolulu. Wife Susan. Had a daughter about 4 and son about 2. A good family man and neighbor.

Ford Kanehira, 41, of Kaneohe. Wife Lorna, 5-year-old son Brice. Cheerful, child-like and innocent, happy-go-lucky. Worked with a team on newer equipment.

Christopher "Jason" Balatico, 33, of Honolulu. Farrington High School class of 1984. Handsome, very popular in school, winter prom court junior escort.

Peter Mark, 46. No other information available.




After the shooting, he fled in a van. By midmorning, police had him surrounded near the Hawaii Nature Center in Makiki.

Uyesugi, of 2835 Easy St. in Nuuanu, is a Xerox employee. His father, Hiro Uyesugi, said he saw his son this morning, and there was no indication that anything was wrong.

"He must have got fired. I don't know. He never said anything this morning," Hiro Uyesugi said.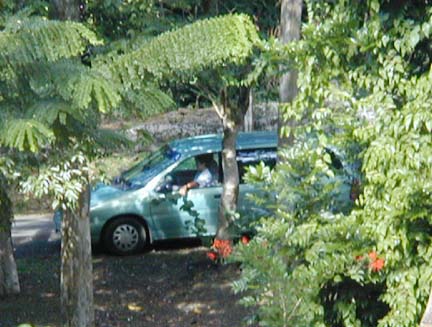 By Craig T. Kojima, Star-Bulletin
Suspect Bryan Uyesugi sits in a van near the Hawaii Nature Center
in Makiki. Police surrounded him there following a massive manhunt.
He surrendered to police around 3:00 p.m. today.
---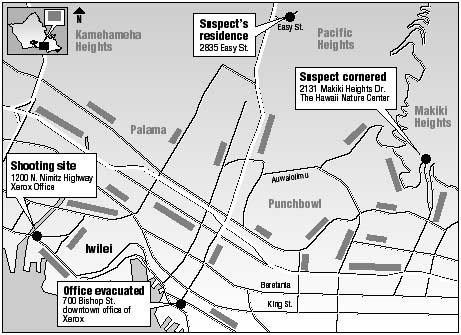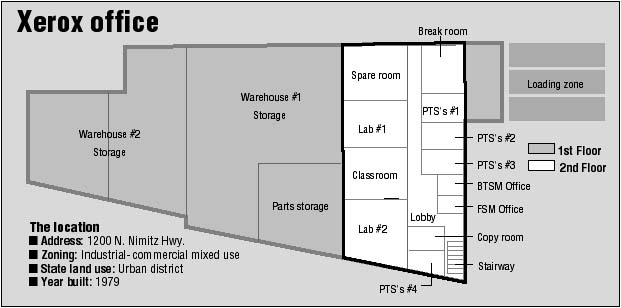 Police said Bryan Uyesugi was the registered owner of 17 guns, including a 9mm handgun believed to have been used in this morning's shooting. He was turned down for a firearms permit in 1994, after he was arrested for criminal property damage at work, said police Sgt. John Kamai. That arrest followed an argument with co-workers at Xerox, Kamai said.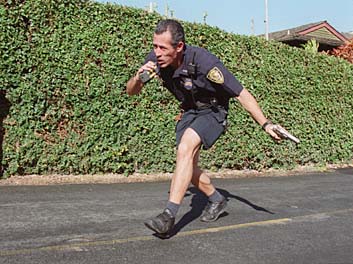 By Ken Sakamoto, Star-Bulletin
A police officer runs with his gun drawn near the suspect's
house in Nuuanu. This was after a shooting at the Xerox
office building on North Nimitz Highway.
---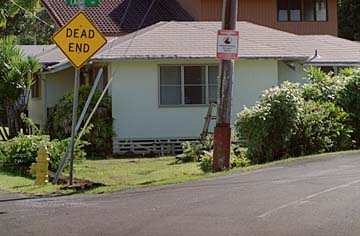 By Ken Sakamoto, Star-Bulletin
Police surrounded Bryan K. Uyesugi's home on Easy Street
and Laimi Road in Nuuanu after the shooting.
---
After today's shooting, employees were evacuated from the company's sales office at 700 Bishop St. Later, streets were closed in Makiki Heights after the suspect was spotted in the area.

Dozens of police swarmed the Xerox office on Nimitz Highway while crisis counselors comforted company employees at the Eagle Cafe next door.

A two-block stretch of the Ewa-bound lanes of Nimitz Highway from Alakawa to Waiakamilo Road was closed, and the bumper-to-bumper traffic was being rerouted to Dillingham.

Bystander Christine Conn said her neighbor had given her a ride into the city. After dropping off Conn, the woman entered the Xerox building to see her son, a Xerox employee.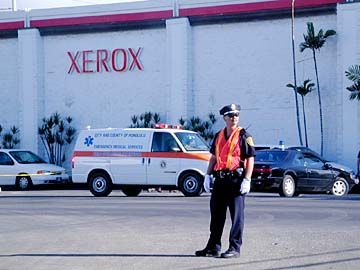 By Craig T. Kojima, Star-Bulletin
Police and emergency crews were on scene after a shooting
at the Xerox Building on North Nimitz Highway.
---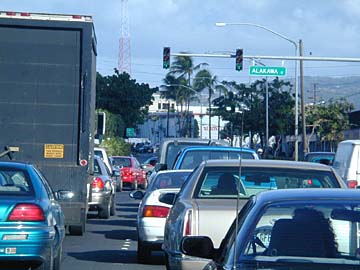 By Craig T. Kojima, Star-Bulletin
Traffic on Nimitz Highway was brought to a halt when police
closed traffic lanes in the vicinity of the Xerox
building in Kalihi-kai. The Xerox building
---
"I'm praying to God she's not in there and her son's not one of the victims," said Conn.

The seven people who were killed in the shooting were believed to be all men. No ages or identities were available at press time.

Edith Nakamura, a parking attendant for Xerox and other businesses, said she was going to work when she saw Uyesugi headed toward town. He had just left the building. "He wasn't speeding. He just drove past calmly," said Nakamura. He was driving a green Aerostar company van, she said.

"I'm shook up, very shook up," said Nakamura. I know a lot of people there," she said.

Mayor Jeremy Harris gave a statement from the scene of the shootings this morning.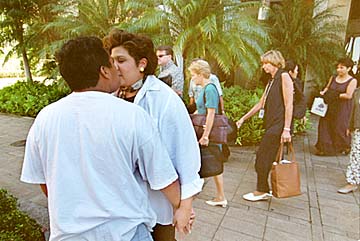 By Dennis Oda, Star-Bulletin
The husband of a co-worker of the shooter gives his wife a
kiss after she was let out of the Amfac building by police
this morning.
---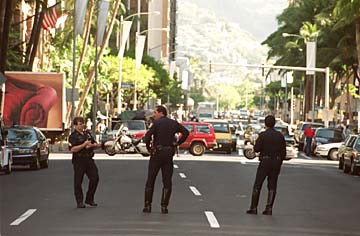 By Dennis Oda, Star-Bulletin
Police close off streets near 700 Bishop Street, Xerox's downtown office.
---
"This is tragedy," Harris said. "We live in the safest city in the United States. A mass murder like this is a shock to everybody."

"It shows this violence permeates in the entire culture."

Xerox Corp. headquarters in Rochester, N.Y., issued a statement this morning saying the company's foremost concern is for the safety and security of its employees: "Xerox CEO Rick Thoman has been informed of the situation and expressed his deep concern for the victims and their families."

---

Writers Rod Ohira, Gregg K. Kakesako, Debra Barayuga,
Gordon Y.K. Pang, June Watanabe, Crystal Kua and
Rick Daysog contributed to this report.




Xerox slayings top story
on CNN's Web site

The slaying of seven men at the Xerox offices on Nimitz Highway was the lead story today on CNN's Web site, complete with a photo of the building where the shootings took place. Also featured was audio from Robin McColloch, chief of the Honolulu Emergency Medical Center.

A similar story was carried by the CBS.com Web site.

---

Star-Bulletin staff




---

Pair of schools in the area
button up, keep all students
inside during the
lengthy standoff

The kids were not at risk, but
officials took no chances

By Rick Daysog
Star-Bulletin

Today's standoff between police and a mass murder suspect occurred near one of the most densely populated areas in Honolulu and raised concerns at nearby schools.

Alerted by the sound of sirens, an overhead helicopter and radio reports, teachers and administrators at Hanahauoli School, at the corner of Makiki and Nehoa streets, locked the school's gates and brought all students to their classrooms, said Jane Carney, the school's director of operations and finances.

In a telephone interview while the standoff was occurring at the nearby Hawaii Nature Center, Carney said she didn't believe students were at risk since the standoff is farther up the hill.

But as a precaution, she said, school officials have locked them in their classrooms, where they will remain until the danger is over.

Officials at nearby Montessori Community School, which has about 180 preschool through sixth-grade students, were taking similar precautions. Kathy Shirakawa, assistant director, said school officials are keeping students indoors and ensuring that they eat lunch in their classrooms.

At Hanahauoli, Carney said school officials' telephones have been ringing nonstop with calls from concerned parents.

Hanahauoli has about 200 students from pre-kindergarten through sixth grade.

"We're all aware of our present-day situation, that these things happen, but we also have taken steps to make sure that we are well-trained and prepared to take care of any crisis situation that comes up," she said.

---

PREVIOUS WORST MASS
MURDER IN HAWAII'S HISTORY

Today's slaying of seven people at the Xerox building on Nimitz Highway is the worst mass murder in Hawaii history.

Hawaii's most notorious previous mass murder took place Aug. 25, 1991, when Orlando Ganal Sr. shot his wife's parents in a jealous rage and then torched the Kailua home where his wife's lover lived.

Five people died, including two children.

One of the longest stand-offs with police occurred Feb. 6, 1996, when John Miranda held police at bay for over six hours with his hand duct-taped to a semi-automatic shotgun that he held to a hostage's head. Miranda was eventually cut down by police sharpshooters.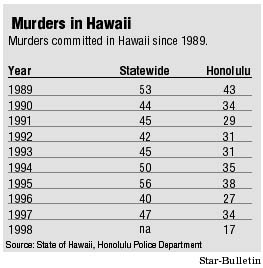 Gregg K. Kakesako, Star-Bulletin
E-mail to City Desk
---
---
© 1999 Honolulu Star-Bulletin
https://archives.starbulletin.com