Advertisement - Click to support our sponsors.

---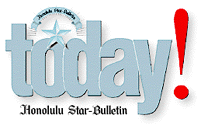 ---
Wednesday, November 17, 1999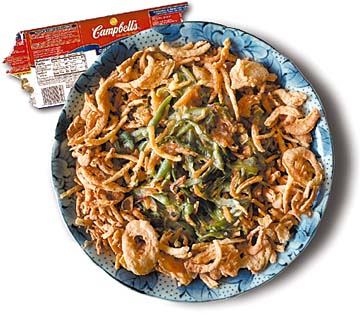 By Ken Sakamoto, Star-Bulletin
Above is the classic Green Bean Bake, made with Campbell's
Cream of Mushroom Soup, French's French Fried Onion Rings
-- and green beans. For the first time in the 45-year history of the
recipe, Campbell's has issued some variations
on the Green Bean Bake.
---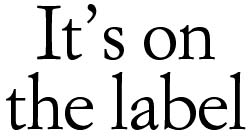 Build an easy and traditional
Thanksgiving meal using recipes
found on the side of the can
and the back of the box
By Betty Shimabukuro
Star-Bulletin
OF some things we can always be certain: Death. Taxes. You'll never have to keep a pumpkin pie recipe in the house because there will always be one on the side of the Libby's can.

Likewise, as Thanksgiving approaches, you can be sure, in a house somewhere on your street, someone will be serving a Green Bean Bake made with Campbell's Cream of Mushroom Soup and French's French Fried Onion Rings.

It's the law.

In the test kitchens of America's brand-name foods, the holy grail is a recipe that becomes a national tradition. Printed on the side of the can or the back of the box, it becomes a perpetual selling machine for the product, whatever it may be.

Take the Toll House Cookie, a back-of-the-bag recipe that has been a jackpot for Nestle, says Lisa McCue of the Grocery Manufacturers of America, the nation's largest association of food companies. "They only make one ingredient in the cookie, but they have managed to coin the quintessential American chocolate-chip cookie. They've made that the cookie of all cookies."

The Green Bean Bake, invented in the Campbell Soup Co. test kitchen in 1955, is the Thanksgiving Day equivalent of the Toll House Cookie. Campbell's estimates 20 million of the casseroles will be whipped up next week. In countless American homes, the creamy-crunchy old reliable is on the table every Thanksgiving. And on the dessert table, a pumpkin pie made with Libby's solid-pack pumpkin, a can of Carnation evaporated milk -- and the recipe off the Libby's can.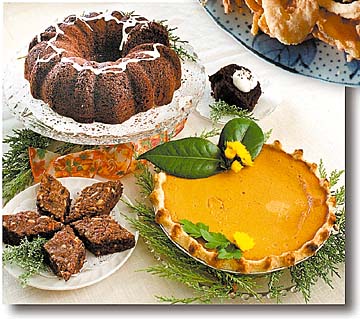 By Ken Sakamoto, Star-Bulletin
The dessert table features a vintage Chocolate Mayonnaise Cake,
Ghirardelli Award Winning Double Chocolate Brownies
and Libby's Famous Pumpkin Pie.
---
"The company that comes up with a recipe and helps it become a mainstay on the Thanksgiving dinner table is always going to have that brand-name recognition to the consumer. And they're going to pass it down to their children and grandchildren," McCue says.

"It's a huge, huge win for the brand name if they can do that."

These words have been a warm-up, a justification, for a morning spent conjuring up an array of Thanksgiving side dishes, all from recipes found on the box, bag or can.

Disclaimer: Jeffrey Steingarten's "The Man Who Ate Everything" (Alfred A. Knopf, 1997) includes an article, "Back of the Box," which catalogs the writer's week spent eating only such foods, from the California Dip made with Lipton's Onion Soup Mix, to Kellogg's Rice Krispies Marshmallow Treats. That amazing diary was the inspiration for this Thanksgiving foray, but then, all the best ideas are stolen. That line was stolen from someone around this newsroom, I forget who.

If you think about it, the centerpiece of Thanksgiving dinner is a back-of-the-bag recipe -- just about all turkeys come with roasting instructions. And so do bags of stuffing. Our side-dish buffet is simply an extension of that.

It's reality cooking. And leading us on this excursion is Muriel Miura Kaminaka, local cookbook author, who wrote the classic "Cook Japanese Hawaiian Style" in 1974 and followed it up with a series of recipe collections that sold 50,000 to 60,000 copies each.

Kaminaka spent 33 years as a home economist with the Gas Co. beginning 40 years ago, teaching cooking and developing recipes. She also had a cooking show on public television.




BRAND-NAME BASICS

Among best-loved recipes:

Toll House Cookie: Created in the 1930s by Ruth Wakefield, owner of the Toll House Inn in Massachusetts, using pieces from a Nestle Semi-Sweet Chocolate bar. The recipe was eventually printed on the candy wrapper and sales skyrocketed. At one point, the candy bar was packaged with a chopper to make it easier to cut into bits; in 1939 Semi-Sweet Morsels were introduced.

Green Bean Bake: Invented in 1955 by Dorcas Reilly, manager of the Campbell Soup Co. test kitchen. Reilly had been tasked with creating a quick dish out of convenience foods common in most kitchens, in this case frozen or canned green beans and Condensed Cream of Mushroom Soup. It remains the second most requested recipe from Campbell's (the most requested is a spice cake made with Cream of Tomato soup).

Rice Krispies Treats: A.k.a. Marshmallow Treats, by far the most famous item made with this cereal, according to Kellogg's. They were first promoted as a "thrilling new homemade treat" more than 50 years ago.




She has long been an advocate of using convenience foods to make everyday life easier and especially likes recipes put out by the food companies. By nature they are reliable, Kaminaka says, because the company's reputation is at stake. And while they're not gourmet, they'll "always be decent."

Her personal favorite: Streusel Coffee Cake, from the Bisquick box, a good way to start things off on Thanksgiving, because it's a long way until dinner and the family does have to eat breakfast.

She's been making it since her college days. "There was a period when I didn't see it on the box -- I really missed it. When it came back I thought, 'Wow, what a relief.' I never thought of writing it down. I just assumed it would always be on the box."

After that we move to the dessert table and a pair of Kaminaka's time-tested favorites, brownies made with Ghirardelli ground chocolate and a Chocolate Mayonnaise Cake. The Ghirardelli Award Winning Double Chocolate Brownie recipe comes on the back of the can; the mayo cake -- made with a devil's food prepared mix -- is a product of another time and can no longer be found on the Best Foods or Hellman's jars.

And, of course, we have pumpkin pie a la Libby's. The company estimates that 50 million pies are made with the recipe every Thanksgiving. That's a lot of pie, historically, considering that canned pumpkin has been around since 1929.

On the main buffet table we have a few newer recipes, culled from a walk down supermarket aisles. In the bread basket, White Cornbread, made with a can of Del Monte cream-style white corn, and muffins off the Post Raisin Bran box. Also, Praline Yams, off the Sugary Sam Cut Yams can, made with coconut and chopped pecans.

These are less successful than the old favorites, although the cornbread is quite nice. Del Monte puts recipes on the labels of nearly all its canned fruits and vegetables -- an advantage you get buying a brand name over a store brand. But here's a glitch: The labels differ, so you won't find the same recipes on every can. It took an examination of Del Monte creamed corn at three groceries to find the cornbread recipe. (And they say there's no investigative journalism in food stories.)

As for the Green Bean Bake, Kaminaka -- despite all her years of cooking and her declared acceptance of convenience foods -- has never tasted this dish, and she refuses to do so on this day. It is plainly unappetizing, she says.

In this, however, she is virtually alone among Americans.

Desiree Fish, spokeswoman for Campbell's, says the recipe came about because people were looking for convenience in the kitchen and were primed for a recipe that used common ingredients and came together in 10 minutes of prep time; 25 minutes of baking. "It's just become this favorite holiday thing."

The recipe has been a boon not just to Campbell's, but also to French's, the principal manufacturer of the onion rings that are the true key to the dish. The recipe comes with both products (it's on the inside of the soup label). In fact, few people can think of another use for the onions.

"I can't," Fish says. "The only time I ever see ads for French's onions is combined with the Campbell's Green Bean Bake."

---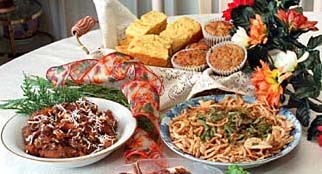 By Ken Sakamoto, Star-Bulletin
Thanksgiving side dishes made from recipes taken off brand-name
labels are, in the foreground, Praline Yams, from Sugary Sam Cut Yams;
and the Green Bean Bake. In the basket are White Cornbread, made
with Del Monte cream-style white corn; and Raisin Bran muffins.
---
These dishes are
label-'icious

At first it seemed silly to print recipes that anyone can get by picking up a can of ingredients, but it could be that you'll want to make, say, the Green Bean Bake using a generic soup rather than Campbell's. It's not against the law. So here are the favorites from our side-dish session:

White Cornbread

1 14-3/4 ounce can cream-style white corn
1 egg, beaten
1/4 cup milk
1-1/2 cups biscuit baking mix (such as Bisquick)
3/4 cup cornmeal
1/4 cup sugar

Blend corn, egg and milk.

Combine baking mix, cornmeal and sugar; add to corn mixture. Stir until just blended; spoon into 12 greased muffin cups or a 9-by-9-inch baking pan. Bake at 400 degrees, 18-20 minutes or until golden brown. Serves 12.

Approximate nutritional information per serving (using 3 teaspoons shortening to grease cups or pan): 155 calories, 4.5 g total fat, 1.5 g saturated fat, 20 mg cholesterol, 260 mg sodium.*

Praline Yams

23 ounce can yams, drained
1/3 cup chopped pecans
1/3 cup shredded coconut
1/3 cup firmly packed brown sugar
3 tablespoons flour
3 tablespoons margarine or butter, melted

Place yams in ungreased 1-1/2 quart casserole or baking dish. Combine remaining ingredients and sprinkle over yams. Bake at 350 degrees for 35-40 minutes or until bubbly. Serves 7.

Approximate nutritional information per serving 250 calories, 11 g total fat, 5 g saturated fat, 15 mg cholesterol, 140 mg sodium.*

Green Bean Bake

10-3/4 ounce can condensed cream of mushroom soup
1/2 cup milk
1 teaspoon soy sauce
Dash pepper
4 cups cooked cut green beans (see note)
2.8-ounce can french fried onions

Mix soup, milk, soy, pepper, beans and 1/2 can onions in 1-1/2 quart casserole. Bake at 350 degrees for 25 minutes. Stir. Sprinkle with remaining onions. Bake 5 minutes. Serves 6.

Note: 4 cups green beans equals 2 9-ounce packages frozen green beans, 2 16-ounce cans or about 1-1/2 pounds fresh.

Approximate nutritional information per serving: 140 calories, 7 g total fat, 1.5 g saturated fat, 5 mg cholesterol, 540 mg sodium.*

Green Bean Bake Variations

Italian Bake: Substitute 4 cups cooked Italian green beans. Prepare as directed, adding 1 small tomato (chopped) and 1/8 teaspoon each dried oregano and basil leaves (crushed) with remaining onions.

Roasted Garlic: Substitute Roasted Garlic for Cream of Mushroom Soup.

Golden Mushroom: Substitute Condensed Golden Mushroom Soup for Cream of Mushroom. Omit soy sauce. Prepare as directed, adding 1/2 red pepper (chopped).

Cheesy Bake: Omit soy sauce. Prepare as directed, adding 1/2 cup shredded Cheddar cheese. Sprinkle 1/4 cup cheese with remaining onions.

Ghirardelli Award Winning Double Chocolate Brownies

2 eggs
3/4 cup sugar
1 teaspoon vanilla
1/2 cup butter or margarine, melted
3/4 cup ground chocolate
2/3 cup unsifted flour
1/4 teaspoon baking powder
1/4 teaspoon salt
1/2 cup chopped pecans

Stir eggs with sugar and vanilla; add butter. Sift chocolate with flour, baking powder and salt. Stir into egg mixture; add nuts.

Spread into greased square pan: For extra chewy brownies, use 8-inch pan; for cake-like, use 9-inch pan. Bake at 350 degrees, 20 minutes for chewy; 30 for cakelike.

For double chocolate flavor, stir in 1 cup of chocolate chips.

Nutritional information unavailable.

Chocolate Mayonnaise Cake

'Favorite Brand Name Recipe Cookbook,' (Beekman House, 1981)

1 package devil's food cake mix
3 eggs
1 cup water
1/2 cup mayonnaise

Combine ingredients in a large bowl and beat at low speed until blended. Increase speed to medium and beat 2 minutes.

Pour into greased and floured bundt pan and bake at 350 degrees for 40-45 minutes, or until a cake tester comes out clean. Cool in pan 20 minutes; remove and cool on wire rack.

Nutritional information unavailable.




Click for online
calendars and events.
E-mail to Features Editor
---
---
© 1999 Honolulu Star-Bulletin
http://archives.starbulletin.com