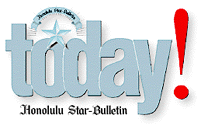 ---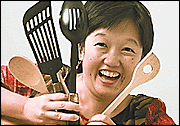 By Request

By Betty Shimabukuro
Wednesday, November 17, 1999
---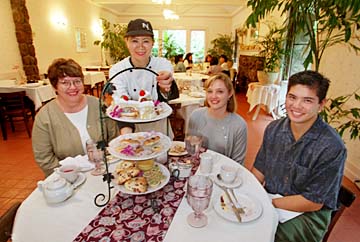 By Dennis Oda, Star-Bulletin
Julia Nakano serves Waioli Tea Room high tea to Phyliss
Rehling, Sally Rehling and Daryl Manullang. Nakano is
the bakery chef at Waioli Tea Room.
---
High time for
tea and cakes

THERE'S something so civilized about Sunday afternoon tea. A pretty table, real china, tiny sandwiches and sweets.

The way Lisa Tam-Hoy Robbins remembers Sunday tea is picking up tea cakes at a bakery after delivering the newspaper with her father.

Robbins is in Hampton, Va., now, but hungers for local-style tea cakes. "I am a world away from the islands and yet I can recall the tea cakes at a bakery in Kapalama and in Kaimuki. Both were so ono," she said in an e-mail message. "Tea cakes will always be my favorites."

At the Wai'oli Tea Room in Manoa, manager Rebecca Walker hosts high tea every Sunday at 2:30 p.m. (call 988-5800 for reservations; only 20 seats are available at each seating). Finger sandwiches, pastries, scones and 16 kinds of tea are served for $16.25.

Among the recipes of baker Julia Nakano is this Ginger Tea Cake, which she credits to the pages of Chocolatier magazine. Other tropically flavored tea items come from "Tropical Fruit Cookbook," by Mary Rittenhouse Harris (University of Hawaii Press, 1993)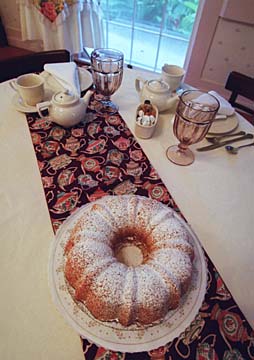 By Dennis Oda, Star-Bulletin
Ginger Tea Cake is served at the Wai'oli Tea Room as part of
its Sunday high tea, along with sandwiches, pastries and scones.
---
Ginger Tea Cake

2-3/4 cups flour
1/4 cup cake flour
3 teaspoons baking powder
3/4 teaspoon salt
2-1/2 teaspoons ground ginger
1/2 teaspoon ground nutmeg
1 cup finely chopped crystalized ginger
1/2 pound unsalted butter, softened
2 cups sugar
5 large eggs
2 teaspoons vanilla
1-1/4 cups heavy cream
3 large egg whites
Pinch cream of tartar
2 tablespoons sugar
Powdered sugar for garnish

Sift together dry ingredients and spices. Toss crystalized ginger with 1-1/2 teaspoons of the sifted mixture.

Cream butter, then add sugar and beat until light and fluffy. Add eggs one at a time and beat at medium speed until well-incorporated.

On low speed, add sifted mixture and cream in 3 parts. Stir in crystallized ginger.

Beat egg whites in a clean, dry bowl until frothy. Add cream of tartar and continue beating until soft peaks form. Add final 2 tablespoons of sugar and continue beating at high speak until firm peaks form. Fold whites into batter.

Pour batter into a generously buttered bundt pan. Smooth top. Bake at 350 degrees 45-50 minutes until a toothpick inserted into the cake comes out clean. Cool 15 minutes and invert. Dust with powdered sugar.

Macadamia Tea Balls

1/4 cup butter
1/2 cup sifted powdered sugar
1/4 cup sour cream
2 teaspoons vanilla
1-1/4 cups flour
1/3 cup macadamia nuts, crushed

Cream butter with 6 tablespoons of sugar. Beat at medium speed until light and fluffy. Add sour cream and vanilla and beat. Stir in flour and nuts. Form dough into a ball, wrap in foil and chill an hour or overnight.

Roll dough into 1-inch balls and place 2 inches apart on a cookie sheet lightly coated with vegetable cooking spray. Bake at 350 degrees for 14 minutes or until lightly brown. Cool on rack.

Sift remaining sugar over cookies before they completely cool. Makes 3 dozen. May be frozen up to 6 months.

Mango Chutney Biscuits

1-1/2 cups flour
1 tablespoon baking powder
1/4 teaspoon baking soda
1 tablespoon sugar
3 tablespoons margarine
2 egg whites, lightly beaten
1/2 cup mango chutney
2 tablespoons orange zest

Combine flour, baking powder, baking soda and sugar. Cut in margarine to resemble coarse meal.

In a separate bowl, combine remaining ingredients. Add to flour mixture and stir to moisten.

Drop by tablespoons onto a baking sheet coated with vegetable cooking spray. Bake at 400 degrees 15 minutes. Makes 1 dozen.

Nutritional information unavailable.



Send queries along with name and phone number to:
By Request, Honolulu Star-Bulletin Food Section,
P.O. Box 3080, Honolulu 96802.
Or send e-mail to bshimabukuro@starbulletin.com




Asterisk (*) after nutritional analyses in the
Body & Soul section indicates calculations by
Joannie Dobbs of Exploring New Concepts,
a nutritional consulting firm.







E-mail to Features Editor
---
---
© 1999 Honolulu Star-Bulletin
http://archives.starbulletin.com