---
Tuesday, November 16, 1999
St. Louis'
Fr. Pariante may
lose his job


Supporters say some trustees
disapprove of his emphasis on
scholastics over football

By Mary Adamski
Star-Bulletin

A week after St. Louis School won its 14th consecutive Interscholastic League of Honolulu football championship, the school president may face losing his job.

The St. Louis board of trustees meets tomorrow to discuss an evaluation of the Rev. Mario Pariante, who is in his third year as head of the 900-student Catholic boys' school.

Supporters say the Marianist priest's attempt to put the accent on academic programs has put him at odds with football coach and athletic director Cal Lee and his backers on the board.

The board paid a Honolulu polling company to survey more than 1,000 alumni, parents and others last summer and Pariante did not get good marks for performance, according to board members who spoke on the condition of anonymity.

The written questionnaire also asked about what kind of school St. Louis should be and about school-community relations, according to a board member.

The results of the written survey were discussed at a special off-campus session of the board Oct. 23. Pariante was given an opportunity to respond, trustees said.

Pariante said he will attend the regular board of trustees meeting tomorrow. "I don't want to make a statement," he said to questions following a television news report claiming his ouster is imminent.

One opponent on the board said that even if the president isn't ousted early, his contract will definitely not be renewed after this school year.

Another trustee, Walter Tagawa, said: "We have only done a survey, it cannot be the basis for a serious action at this point."

Tagawa said Pariante's contract continues through the school year and "evaluation has been a continued process. The trustees have to exercise due diligence in our responsibilities, we will have to discuss all aspects. In general we are continuing to evaluate the position of the school as regards its Marianist philosophy, the education it provides," Tagawa said.

Board Chairman Walter Kirimitsu and Lee could not be reached for comment.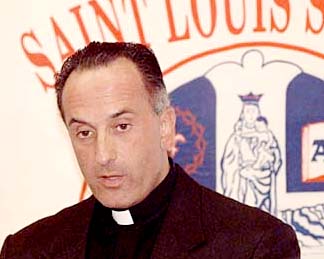 "I don't want to
make a statement."

Rev. Mario Pariante
IN HIS THIRD YEAR AT ST. LOUIS

Another board member said Pariante angered some trustees with comments in the cover story of a recent Midweek publication. The priest said that while the school has been tops in football for 13 years, it has 153 years' reputation as an educational institution.

"The emphasis should first be on the moral and ethical, education and then extracurricular," said Army Maj. Fred Britton, who has two sons at St. Louis. "Why else do people bring children to a Catholic high school? I think they have been slipping away from those values for a long time."

Britton is a Pariante fan dating to 1976 when he was a high school freshman in an algebra class taught by then-Brother Mario Pariante. "He is the same person, he has not compromised his standards, morals or ethics."

John Beresiwsky, who has put four sons through St. Louis, said: "It looks like a big power struggle. Cal Lee has become much too powerful. We have a football team with a school instead of a school with a football team."

Beresiwsky said the differences between the president and the athletic director came to a head last year after St. Louis football players damaged property during a post-game drinking party in a Las Vegas hotel. Pariante suspended about 60 players for one day, forfeited a game against Kamehameha Schools and docked the pay of coaches.

"A lot of parents were disappointed that the punishment was not strong enough," said Beresiwsky. He said he believes Lee prevailed over Pariante in getting leniency for the team and coaching staff. "They violated Nevada state law and got away with slap on the wrist."

Britton said: "I know that half the board supports him. It's important for the board to look inside themselves and say, 'Is it something I don't like and can I get past this?' then ask, 'is it good for the school?' "

Beresiwsky said that at the recent junior class ring ceremony, Pariante spoke about what students can give back to the community.

"He said seniors now get privileges. He said seniors should be out doing community service ... developing their character.

"He is trying to bring back academic excellence," Beresiwsky said.

"It hasn't existed at St. Louis in many years."
E-mail to City Desk
---
---
© 1999 Honolulu Star-Bulletin
http://archives.starbulletin.com