Advertisement - Click to support our sponsors.

---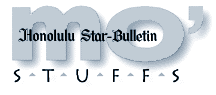 ---
Tuesday, November 16, 1999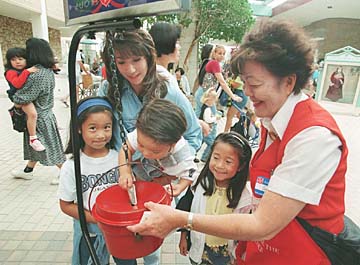 File photo
The Salvation Army needs more volunteers
to help with its fund-raising kettles.
---
Lend a hand, and arm to
good cause for holidays
There's no need to head out to the gym. Not when you can flex your biceps and brachioradialis for a good cause.

The annual Salvation Army Christmas kettles will begin appearing this weekend in shopping malls to raise funds for those in need. But the organization still needs volunteers to watch the pots and ring the accompanying bells.

Last year more than 40,000 men, women and children received assistance from the Salvation Army during the holiday season. Funds raised provided toys for underprivileged children, food for needy families, gifts for forgotten seniors, hospital patients and more.

To sign up to be a bell ringer, call 988-2136 for more information.
---
Cho's the one on stage
Comedian Margaret Cho brings her critically acclaimed, autobiographical comedy, "I'm the One That I

Want." to Diamond Head Theatre for three 8 p.m. performances Jan. 20 to 22.

Tickets, at $45 Golden Circle and $35, go on sale 10 a.m. Friday at Hula's, all Ticket Plus outlets, including all Oahu Tempo Music stores and University of Hawai'i Campus Center. Tickets are also available online at http://www.ticketslive.com.

Based on her experiences as the first Asian-american to star in her own sitcom, "All-American Girl," the work describes her journey "to hell and back" during the controversial series, and her tailspin after the show's cancellation.

Cho, 30, has brought "I'm the One That I Want" to standing-room only audiences across the nation.

For information, call 526-4400.
---
Preview
Coming to the big screen

These movies are scheduled to begin their Oahu run on Friday:
SLEEPY HOLLOW
Rated R
Johnny Depp, Christina Ricci, Miranda Richardson star in this Washington Irving classic, which is a mixture of horror, fantasy, and romance about the legendary Headless Horseman. See story at right.
THE WORLD IS NOT ENOUGH
Rated PG-13
The 19th Bond film finds Agent 007 -- Pierce Brosnan -- assigned to protect Electra King, whose father was killed in a bombing at M16. Bond soon finds out about a plot to take over the world's oil supply and enlists the help of a nuclear weapons expert to stop it. Co stars Denise Richards, Sophie Marceau and Robert Carlyle.


Click for online
calendars and events.
---
Send WatDat? questions, stories
or any other story ideas or comments to:
Features, Honolulu Star-Bulletin, P.O. Box 3080,
Honolulu, HI 96802 or send a fax to 523-8509
or E-mail to features@starbulletin.com.
Please include your phone number.
E-mail to Features Editor
---
---
© 1999 Honolulu Star-Bulletin
http://archives.starbulletin.com