Advertisement - Click to support our sponsors.

---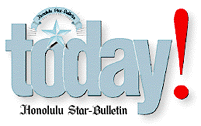 ---
Tuesday, November 16, 1999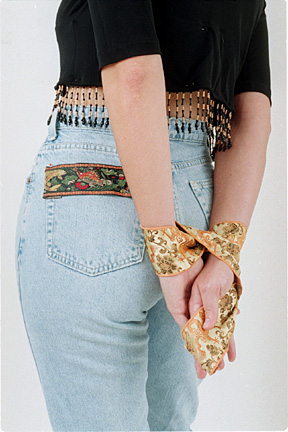 By Kathryn Bender, Star-Bulletin
Just a bit of inexpensive trim bought from crafts supply stores
can transform clothing you already own and give your wardrobe
the 'Bohemian' look that's all the rage again.
---
Style fanatics are trimmed
from head to toe, wrapped up
in a trend that could be pricey
but doesn't have to be
By Cynthia Oi
Star-Bulletin
BALANCING on the cutting edge of fashion usually means financial peril. Not this time. The latest trend can be had with a trim budget and a few fringe benefits.

The hot look these days is retro-hippie with touches of Nehru and dashiki. Shirts, tees, leggings, skirts, cropped pant and even old 501s are treated with embroidered or ribbon trim, multiple rows of rick rack or fabric or beaded fringe.

A pair of vintage jeans with embroidered trim around the hems was selling for $130 in a local store recently, while a trimmed cord crop pant was priced at $196 in the California-based Allen.Allen catalog. The catalog also lists an $88 trimmed V-neck jersey top. Ouch.

Paying those prices is even more painful when you realize that with a few yards of trim -- some as inexpensive as 50 cents a yard -- and a little sewing, the clothes you own can be transformed.

And teens short on cash can put their creativity work on gifts for their friends this Christmas.

Already, some smart souls are apparently taking up needle and thread to create their own decorated duds.

At Kaimuki Dry Goods, clerk Misa Kawakami said the store has been selling more trims than usual.

"I was wondering why," said Kawakami, who said she doesn't usually cruise the malls to see what's new in the clothing stores.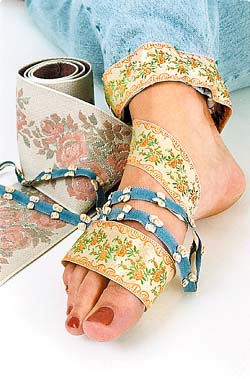 By Kathryn Bender, Star-Bulletin
A look-see through stores and catalogs reveals trims that skim the cuffs and necklines of tops and fringes edged along the hem of a skirt. Old demin jackets find new life with multiple strips of colorful fabric remnants on the cuffs and higher up on the sleeves.

At Musashiya in Ala Moana Center, a sewing clerk too shy to give her name said the needle work involved isn't difficult.

"You just pin the trim where you want it and sew it down with the machine." The more delicate fringes may require hand sewing, she said, "but even that won't take you too long."

If the trim is sewn on by hand, it is easily removed "when the fashion changes, no?" said Frances Toyama at Craft Supply of Honolulu.

Toyama suggests checking if the trims you choose are made for use on apparel. Some ribbons and fabrics won't take the wear and tear, others may require dry cleaning. It's also a good idea to bring along the garment you'll be trimming when you go to the store to match colors and proportions.

Craft Supply in Moiliili has a variety of trims. Some pricier examples: 2-3/4-inch gold satin with woven dragons and edging in burnt orange ($7.44 a yard); 3/8-inch demin ribbon laced with delicate ivory bows ($6.67); and wood-toned and black-beaded fringe ($6). Rick rack in many colors and widths as well as fancier versions in silver, gold and bronze run from about 55 cents to $1.40.

Kaimuki Dry Goods on 10th Avenue also carries a wealth of trims and fringes, from about $1.50 to $12 a yard. On one ribbon reminiscent of a Japanese scroll, red, gold and green fish swim across a black background; dusty roses climb over 3-1/2 inch widths of champagne embroidery; and blue, purple, red and yellow geometrics take their inspiration from American Southwest designs.

Fabric and bead fringes in an array of colors and compositions abound at the Kaimuki and Moiliili stores. Fabric Mart on Kalakaua Avenue also carries many types of fringes, some with ruffles and lace.

Another alternative to updating a piece is using vintage fabric from kimonos, cheong-sams or obis, or using Hawaiian-print fabric.

The shy clerk at Musashiya said it isn't necessary to cut the fabrics on a bias. She suggested using different widths of contrasting textures and colors and laying them on the garment before sewing.

"That way you can see if it looks good together," she said.






Click for online
calendars and events.
E-mail to Features Editor
---
---
© 1999 Honolulu Star-Bulletin
http://archives.starbulletin.com