---
Monday, Nov. 1, 1999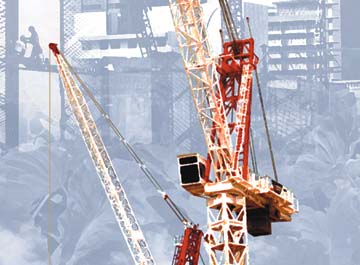 Photo by George F. Lee, graphic by Bryant Fukutomi, Star-Bulletin

---




Building boom
fuels economy


Tourists didn't want quaint
isle villages, but rather shopping
and nightlife, and they came in droves

By Richard Borreca
Star-Bulletin

Boom. Hawaii became a state in 1959 and suddenly everything turned green.

"The 1960s were the years when Hawaii, and especially Honolulu, went from rural to urban, from small-town to big city, from low-rise to high-rise, from modest to gaudy, and slow-paced to hyperkinetic," wrote authors Gavan Daws and George Cooper in their book "Land and Power."

The sugar and pineapple plantations were announcing larger returns every year. Farmers were talking about the next big crop: macadamia nuts and coffee were being marketed 40 years ago much as they are today, as a special gourmet treat.

Although the ILWU had transformed plantation workers into a stable class of skilled workers, as labor historian Ed Beechert notes, "if local people were able to remain in Hawaii, there would have to be a considerable expansion of employment."

Forty years ago, that expansion was a regular happening. New construction would provide much of the fuel to drive the economic engine.

In the years right after statehood, construction started on the IBM building on Ala Moana Boulevard, the East-West Center on the University of Hawaii campus, and the huge Ala Moana Center.

Workers also were building the Ilikai Hotel in Waikiki, the Kahala Hilton on the other side of Diamond Head, and Castle Hospital on the Windward side. Safeway announced it was coming to town with five stores.

Hotels were a big part of the new construction boom. Planners, investors, tourist marketers and hotel owners were all calculating hundreds of thousands of new visitors, with most of them coming to Waikiki.

In 1959, 243,000 came to visit Hawaii. Few could envision a time when 5 million a year would come to Hawaii.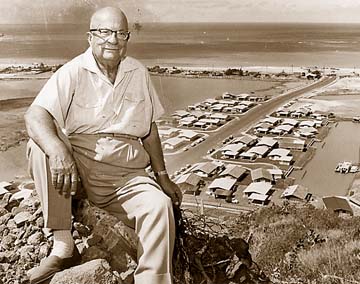 Star-Bulletin file photo
Henry J. Kaiser, an industrial visionary who led
the development of Oahu, including Waikiki and
Hawaii Kai, shown here in April 1963.
---
Industrialist Henry J. Kaiser was one who saw the potential.

Kaiser bought the 8-acre John Ena estate in Waikiki, then added another 6-acre parcel, at a total price of $2.5 million. He turned the property into the Kaiser Hawaiian Village Hotel; today, it is the Hilton Hawaiian Village.

Kaiser's visionary action changed Hawaii's economic boom into a continuing roar of prosperity that rumbled through Waikiki for two decades.

Donald Johnson, who wrote a history of Honolulu, explained that the lure was the New Hawaii.

"Many of them (tourists) showed no strong desire to wander lonely beaches or view quaint rural villages, to see the "old Hawaii'," Johnson said.

"They wanted to be where the action was, with night life and shopping."

He added: "Demands or problems kept growth one jump ahead of effective city planning."

By 1968, Honolulu's new mayor, maverick Democrat Frank Fasi, would become a critic of progress that disregarded planning.

"We have permitted the building of instant slums and of concrete canyons of high rises jammed too closely together with inadequate access and inadequate parking," Fasi said then.

"Not all of our growth has been good," he said.

The growth, however, was plentiful. In 1964, for instance, Hawaii got another tourism boost when Japan eased travel restrictions. The increased traffic from Asia meant that when the U.S. recessions hit in 1970 and 1974, they were tempered here with increased travel from Japan.

Then in December 1969, Pan Am flew the first Boeing 747 to Honolulu. Again, tourism officials would see hundreds of thousands of new visitors arriving each year.

Another group coming to Hawaii at that time: American soldiers fighting in the Vietnam War.

Congress had said that all combat soldiers were to be given a week of rest and recuperation at a location of their choosing. Many picked Waikiki, and Fort DeRussy became a meeting place for GI families.








About this Series

The Honolulu Star-Bulletin is counting down to year 2000 with this special series. Each installment will chronicle important eras in Hawaii's history, featuring a timeline of that particular period. Next installment: November 8.


Project Editor: Lucy Young-Oda
Chief Photographer:Dean Sensui



E-mail to City Desk
---
---
© 1999 Honolulu Star-Bulletin
http://archives.starbulletin.com