---
Monday, November 1, 1999
Mary Kawena Pukui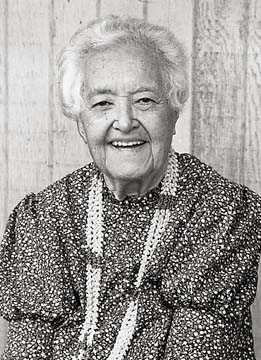 Star-Bulletin file photo
Educator Mary Kawena Pukui co-wrote the
definitive Hawaiian dictionary.
---
Author aided revival
of Hawaiian tongue

By Burl Burlingame
Star-Bulletin

HAWAIIAN culture, largely repressed at the beginning of the century in favor of Western education, began a comeback in the 1960s and is in full flower today.

The "Hawaiian Renaissance" would have had trouble getting off the ground, however, if it had not been for the tools provided by educator Mary Kawena Pukui.

Pukui wrote or co-authored more than 50 books, as well as more than 150 songs.

Along with collaborator Samuel Elbert, Pukui authored "The Hawaiian Dictionary," the must-have, final-word handbook on the subject of Hawaiian language and culture.

A shorter version, "The Pocket Hawaiian Dictionary" (with Esther Mookini), plus "Place Names of Hawaii" and "Olelo No'eau" -- a collection of Hawaiian proverbs -- all, ironically, succeeded in making an oral culture into a literary one.

Born to a Hawaiian mother and Caucasian father in Kau on the Big Island in the last century, Pukui was raised hanai style by her Hawaiian grandparents.

She taught for a while at various schools before landing at Bishop Museum, where she worked for more than a quarter-century as "associate emeritus in Hawaiian culture."

For her work in placing Hawaiian cultural history into a Western, scholarly format that could be shared worldwide, Pukui was recognized as one of Hawaii's "Living Treasures" in 1976 and was twice honored by awards from the Hawaii Book Publishers Association.

---

Conrad von Hamm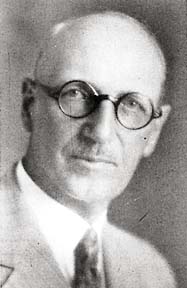 Star-Bulletin file photo
Conrad von Hamm became a business partner with
his father- and brother-in-law.
---
Partners launched many
businesses: cars, electronics,
machinery, textiles

By Russ Lynch
Star-Bulletin

A romance with Hawaii that began with a correspondence about Hawaiian postage stamps led Conrad von Hamm to travel halfway round the world from Bremen, Germany, and spend the rest of his 95 years developing a business empire.

The romance was sealed by his marriage to the daughter of Alexander Young, a Scottish engineer who had beaten von Hamm to the islands by 25 years, developed a foundry business and invested in sugar.

Von Hamm was to make his mark on Hawaii's business history with his partnership with Young and Young's son, Archibald, to form the Von Hamm-Young Corp. and branch out into automobile sales, textiles, wholesale sales, machinery and a host of other businesses.

Von Hamm moved to the islands in 1890 at age 20 and took a $60-a-month clerking job with an importing firm. In 1899, the firm offered him a partnership but by then he had married Ida Bernice Young and was ready to go out on his own. He formed the partnership with the Youngs and a long history of business success began.

Alexander Young, who arrived in 1865, had already made his mark as a partner in a Hilo foundry, a major investor in Honolulu Iron Works and an owner in several sugar companies -- and even was a member of the Cabinet in both the monarchy days and under President Sanford Dole after the revolution of 1893.

Young later developed hotels and launched Young Laundry but it was his partnership with his son-in-law that brought the biggest changes. They moved from selling goods imported by sailing ship; to selling Nash and other leading automobile brands in the 1920s; to air conditioning, electronics and other fields.

Alexander Young died in 1910 and Archibald in 1925, leaving von Hamm in charge. In 1964, the firm became the Hawaii Corp.

Von Hamm died in 1965 and the firm he founded would be snapped up in a stock market battle, merged with others to become Hawaii's first conglomerate and eventually overreach itself and be carved into pieces in a bankruptcy liquidation starting in the late 1970s. Many major pieces are still in business under other names, however, and the legacy of von Hamm and the Youngs remains.
E-mail to City Desk
---
---
© 1999 Honolulu Star-Bulletin
http://archives.starbulletin.com