---
Friday, October 22, 1999
John M. Kelly Jr.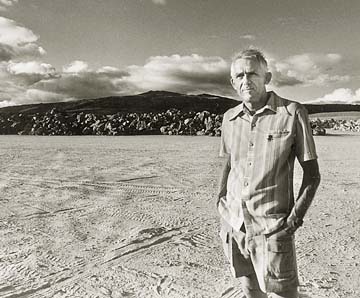 Star-Bulletin file photo
One of activist John M. Kelly Jr.'s legacies was the
formation of the Save Our Surf movement.
---
Save Our Surf was
his battle cry

By Treena Shapiro
Special to the Star-Bulletin

ENVIRONMENTAL activist John M. Kelly Jr. has spent his life fighting for Hawaii's coastal preservation.

In 1964, at age 45, Kelly founded Hawaii's Save Our Surf movement to prevent offshore development at such sites as Magic Island. The goal of SOS, Kelly said then, was to advocate for surfers by preserving surfing sites, promoting surfer safety and creating a positive image of the sport.

One of his key accomplishments was serving on the advisory committee for the establishment of Sand Island State Park.

In 1968, the park legislation prevented the building of a freeway from Honolulu Airport to downtown Honolulu. The plan had called for tunnels under Honolulu Harbor, which would have meant dredging and filling 280 submerged fishing and surfing reefs off Sand Island.

SOS also was instrumental in preserving 140 surfing sites between Pearl Harbor and Koko Head, where hotels, parking lots and other developments would have destroyed the reef.

For his preservation efforts, Kelly was inducted into the Surfrider Foundation's Environmental Hall of Fame in 1990. In 1997, he was awarded the Surf Industry Manufacturers Association's Environmental Award in Costa Mesa, Calif.

Kelly served in the Navy during World War II and was on duty when the bombs fell on Pearl Harbor in December 1941. During the war, Kelly volunteered for a series of solo skin dives off Kahoolawe, where he retrieved one of three torpedoes fired at the island's submerged windward cliffs.

Naval officers said these dives significantly impacted the course of the war in the Pacific. Adm. Chester Nimitz, commander in chief of Pacific Naval Forces, awarded Kelly the Navy's and Marine Corps' medal for heroism for this action.

In 1959, Kelly served as a delegate to the Fifth World Conference Against Atomic and Hydrogen Bombs in Hiroshima.

---

Lincoln L. McCandless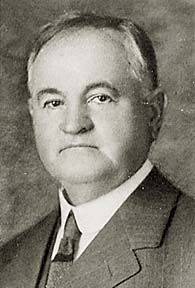 Star-Bulletin file photo
Lincoln L. McCandless, the youngest of three brothers,
bored wells for irrigating plantations.
---
Water drilling led to
political career

By Gordon Y.K. Pang
Star-Bulletin

IT is said that Lincoln Loy McCandless arrived in Honolulu from the mainland in 1882 with $140 in his pocket.

When he died in 1940 at 81, he left an estate valued at $1.6 million and a political legacy.

"Link" McCandless was the youngest of three brothers who made their mark after coming to Hawaii.

It was James McCandless who arrived in Hawaii first and recognized that artesian water wells were essential for the sugar industry.

John and Link soon joined him and together the trio dived headlong into the water-drilling business and bored more than 700 wells in Ewa and Central Oahu, providing irrigation for Hawaii's sugar plantations.

Link McCandless later amassed acres of land both on Oahu and the Big Island and also invested in sugar, cattle and horses. Part of the property wound up with his daughter, Elizabeth Marks, who sold 600 acres of Waiahole-Waikane land to the state in 1977.

A Democrat for most of his life, he began a checkered, but resilient career in 1898 as an elected member of the Territorial House of Representatives and later in the Senate.

But for 24 years beginning with a defeat at the hands of Prince Jonah Kuhio in 1908, McCandless hit a string of eight defeats in his attempt to become Hawaii's delegate to Congress.

McCandless finally won in 1932 but almost immediately became embroiled with influential Democratic Mayor Johnny Wilson in a fight over which of them should be appointed governor by President Franklin D. Roosevelt. Both lost out to Joseph Poindexter. In 1934, McCandless lost a re-election bid for delegate to Republican Samuel King. He was drafted to run as delegate, for the 11th time, in 1940, but was forced to withdraw after a heart attack.

As a delegate, territorial legislator and leading Democrat, McCandless fought for air mail to Hawaii, statehood, inclusion of Hawaii in U.S. farm aid programs and monies for flood control.

---

Anna C. Rice and Charles M. Cooke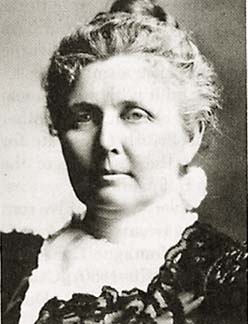 Star-Bulletin file photo
Anna Charlotte Rice, who married Charles M. Cooke,
was generous to many causes in Hawaii.
---
Couple spent lives
giving to Hawaii

By Lori Tighe
Star-Bulletin

ALL heads turned when Anna Charlotte Rice married Charles Montague Cooke in Lihue on April 29, 1874. The event marked the union of two historical families in Hawaii.

The couple lived up to their billing. They bore goodwill, community works and a flock of children who carried on in the same vein.

Heads still turn more than a century later at what the Cookes left Hawaii: the world-famous Waikiki Aquarium, Punahou School's Cooke Library and the Honolulu Academy of Arts.

The Cookes once lived in the house where the art museum now calls home on Beretania Street. Anna Cooke gave birth to seven children and raised them there.

Critics have called the Honolulu Academy of Arts one of the finest structures of its kind on Earth. The Cookes collected much of the museum's treasured art on their trips around the world during their marriage.

The urge to travel and give was innate in both Anna and Charles, descended from missionaries. Anna's family went back to the first missionaries of American Indians near Buffalo, N.Y.; Cooke's family came to Hawaii with the eighth company of missionaries in 1837.

Charles M. Cooke was the second son of Amos Cooke, one of the founders of Castle & Cooke, an influential developer who paved much of the state's early progress.

Charles was a partner in the firm of Lewers & Cooke, and later founder and president of the Bank of Hawaii.

His courage and ability as an organizer and financier helped usher in the modern era of the sugar industry. He devoted his entire life to Hawaii as a recognized leader in the business and financial world.

Anna, who for many years belonged to Central Union Church, will be most remembered by Hawaii as an inspiring influence. She closely guarded her complete list of philanthropies and beautified Oahu with the Outdoor Circle. Above all, she made her home permanently Hawaii's.
E-mail to City Desk
---
---
© 1999 Honolulu Star-Bulletin
http://archives.starbulletin.com