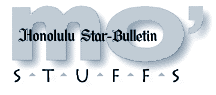 ---
Wednesday, August 11, 1999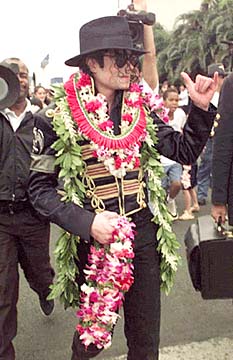 Dean Sensui, Star-Bulletin
Michael Jackson, during his Jan. 1997 Hawaii visit.
---
Details on Jackson show
coming Aug. 29
Will Michael Jackson perform at Aloha Stadium New Year's Eve as his promoter said earlier this year?

Marcel Avram, Jackson's promoter, told the Star-Bulletin that Jackson would perform two New Year's Eve concerts: first in Sydney, Australia, then at Aloha Stadium. After the Australia concert, Jackson will jet across the International Dateline, sources confirmed.

Avram said the "King of Pop" will announce his "millennium plans" Aug. 29 -- Jackson's 41st birthday -- at a New York City news conference.

Sources at both Mama Concerts and the German company of Marek Lieberberg, Avram's partner, said Jackson's Hawaii concert is "most definitely" a go. Aloha Stadium officials said no contract has been signed with the promoters or for any other concert at the stadium New Year's Eve.

Avram declined to discuss the specifics of any Jackson concert, including ticket prices.

At the "Michael Jackson & Friends" benefit concert in June in Munich, however, top ticket prices were $525. Jackson's yet untitled new album is scheduled for release Nov. 9.
---
Cool cats croon carols
Matt Catingub's Big Kahuna and the Copa Cat Pack has landed a spot on Rosie O'Donnell's Christmas album. The record's producers heard the Hawaii ensemble at the Concord Jazz Festival last week and asked Catingub and group to be a part of the album. Other artists to be featured include Elton John, Celine Dion and Rosemary Clooney.

Big Kahuna and the Copa Cat Pack were due to wrap up recording on the album in time to make their regularly scheduled gig at the Hilton Hawaiian Village Tropics Showroom tonight. They perform there Wednesdays through Sundays until Aug. 29.

Call 947-7877 for ticket information.






Click for online
calendars and events.
---
Send WatDat? questions, stories
or any other story ideas or comments to:
Features, Honolulu Star-Bulletin, P.O. Box 3080,
Honolulu, HI 96802 or send a fax to 523-8509
or E-mail to features@starbulletin.com.
Please include your phone number.
E-mail to Features Editor
---
---
© 1999 Honolulu Star-Bulletin
http://archives.starbulletin.com