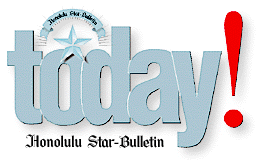 ---
Friday, July 23, 1999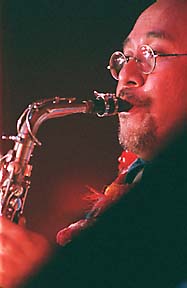 By Kathryn Bender, Star-Bulletin
Matt Catingub, alias The Big Kahuna, on sax.
---

Graphic from 'Hawaiian Swing'


With a new CD, a gig at the Tropics Showroom, and a
stint with Count Basie Band, Symphony pops conductor
Matt Catingub -- a k a The Big Kahuna -- aims for
integrity on the swing shift

By John Berger
Special to the Star-Bulletin

MATT Catingub -- musician, singer, recording artist, principal pops conductor of the Honolulu Symphony -- has another persona these days. For the next six weeks Catingub is presiding over the rebirth of swing in Waikiki with his 13-piece band, Big Kahuna & The Copa Cat Pack, in the Tropics Showroom at the Hilton Hawaiian Village.

Catingub, a k a Big Kahuna is celebrating the release of a new album, "Hawaiian Swing," and plans on taking the music from Waikiki to the world. He and his band flew in to open the Tropics Wednesday night after playing a jazz festival in Germany.

They'll take two nights off to play opposite the Count Basie Band at the Concord Jazz Festival Aug. 5 and 6. Other than that, there will be big band swing five nights a week at Tropics through Aug. 28. After the 28th, Catingub will be in rehearsals for Kenny Rogers' Sept. 3 and 4 performances with the symphony.

"I think we're bringing integrity into the neo-swing thing," Catingub says. He describes the Brian Setzer Orchestra as "actually pretty cool," and says ska-based neo-swing bands like the Big Bad Voodoo Daddies and Cherry Poppin' Daddies also have their place, but adds there's more to neo-swing than the quirkiness of a fad.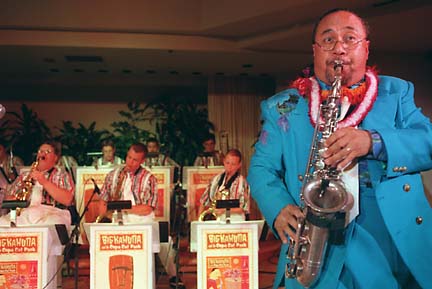 By Kathryn Bender, Star-Bulletin
Matt Catingub with his group the Copa Cat Pack
at the Tropics in the Hilton Hawaiian Hotel.
---
"We're bringing the integrity back and the authenticity back to what swing is supposed to be and then laying ultra-fun nutty kinds of stuff on top of it," Catingub said. "I've never seen guys work as hard as this band. They're being asked to play very hard music, and then at the same time they're doing all these fancy moves on top of it.

"I've been doing this since I was 21 so I'm not some guy off the block who's (suddenly) turning to swing. What we want to do is say, 'Here is what you love to dance to and love to listen to but kind of done right."

He recalls the market for big band swing as "nowhere" when he recorded his first big band album in 1983, but the music was already in his blood. He'd grown up listening to his mother, Polynesian jazz singer Mavis Rivers, and family friends like Louis Prima, whose music has since been worked over by young ska-based neo-swing bands.

Catingub had been doing more than just listening. He was playing the piano at 7. He later took up drums and clarinet but eventually settled on the alto sax as his primary instrument. He went professional at 17 and formed the Matt Catingub Big Band at 21.

"I started right at the end of the Woody Herman/Buddy Rich scene when the bands were still alive but fading away. My first records were on the hipper side, the more jazzier-oriented swing that was slightly less accessible than what you hear now.

"I put out about five records and they did pretty much nothing. We played a lot in L.A., but it was pretty much the end of the scene and that's why I folded up shop for a while."

Catingub watched interest rekindle as adventurous young musicians discovered swing music and jaded ska fans embraced it. Catingub and the Cats include in their repertoire songs by Benny Goodman, Count Basie and other jazz and swing greats whose music may still be unfamiliar to younger fans.

"We're showing that all this (neo-swing) music came from somewhere. The hapa-haole songs we do are something else that is kind of untapped. Many people may not associate the fact that many of the hapa-haole songs are absolutely perfect to be doing in this genre, pumped up a little bit with a band."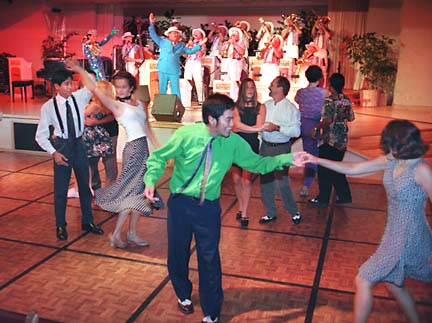 By Kathryn Bender, Star-Bulletin
The crowd gets into the music at the Tropics. There are slower
numbers for the more mainstream and dance instructions for
those who want to learn on the scene.
---
It's been years at least, maybe decades, since there was a 13-piece big band playing dance music in Waikiki five nights a week. The Tropics was comfortably full on opening night, and Catingub is hoping the "if we play it they will come" engagement will gain support from the local swing set.

"It's unheard of on the mainland but I would like to think we could make it a yearly thing or maybe a twice-yearly thing, and with the symphony there might be something we could do with them too. We'll see what happens."

Married with two step-children, the 38-year-old Catingub looks forward to spending more time at home.

"This is more than just doing swing for me. It's almost like we're opening a nightclub in Waikiki. That's half my goal too. I'm obviously a supporter of Hawaiian and local entertainment, and that's another reason I wanted to do this.

"Trappers was such a fabulous place to go -- as a nightclub and a place to be -- and that's kind of what we're hoping this can turn into."




COOL, MAN

Who: Big Kahuna & The Copa Cat Pack
Where: Tropics Showroom, Hilton Hawaiian Village
When: 8 p.m. to midnight Wednesdays to Saturdays (except Aug. 5 and 6). Also, 6 to 10 p.m. Sundays through Aug. 28
Cover: $11.50 Fridays and Saturdays; $10 other nights. One drink minimum. Validated parking.
Call: 947-7877




---

The Big Kahuna and his
cool Cats have got the
joint jumping

Big Kahuna & The Copa Cat Pack By John Berger
Special to the Star-Bulletin

POWER, energy and authentic big band swing. Big Kahuna & The Copa Cat Pack lives up to its credentials as it opens a six-week engagement at the Tropics Showroom in the Hilton Hawaiian Village.

The music is hot. Fans of the frenetic neo-swing versions of the old-time African-American acrobatic aerial dances have plenty of opportunity to show off athletic prowess, but band leader Matt Catingub also includes enough slower romantic numbers for more conventional dancing.

Catingub and his Cats have gone 100 percent live with a five-man brass section, acoustic bass, drums, and four or five saxophones. Catingub, the band's pianist and vocalist, sometimes adds his alto sax to the mix. The sultry and animated Ginai (a k a Gin Rummy of Hula Joe & The Hutjumpers) completes the lineup.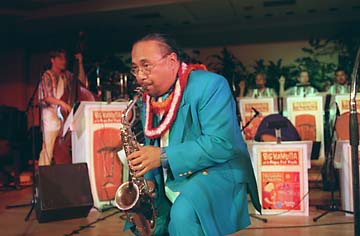 By Kathryn Bender, Star-Bulletin
Matt Catingub performs as "The Big Kahuna" with his group
The Copa Cat Pack at the Tropics Showroom in the Hilton Hawaiian
Village from 8 p.m. to midnight Wednesdays to Saturdays
(except Aug. 5 and 6). Also, 6 to 10 p.m. Sundays
through Aug. 28.
---
Ginai adds a bit of camp to "Princess Pupule," and Dan Peranti is a casual character on acoustic bass. Overall, the Cats show the music the respect it deserves while still giving fans a show. Neatly dressed in informal but matching attire, the Cats provide a striking contrast to Catingub's dramatic cobalt suit and Ginai's sequins.

The crowd was a diverse mix of acrobatic, young, neo-swing dancers, local entertainers -- singer Sonya Mendez, wearing a fedora and neat double-breasted man's suit, danced with Anita Hall, whose hair was slicked down in the flat curls popular in the 1930s -- and at least a few people who looked old enough to have listened to the big bands of the late '40s and '50s.

It wasn't a costume party. For every swing kid in baggy pants and suspenders, and every woman wearing retro-Lindy Hop styles, there were at least one or two people dressed in business attire or aloha wear.

The serious swing acrobats did most of the dancing. Catingub also included enough slower numbers to make mainstream dancers feel welcome.

There is also free instruction on the basics of swing dancing. The most popular group dance experience will likely be attempting to learn and then perform basic hula moves to Catingub's big-band rendition of "The Hukilau Song."

The sets feature songs from the new "Hawaiian Swing" album, but Catingub has been adding more Hawaiian and hapa-haole songs to the repertoire since the recording sessions. He and the band did three different sets with only a few songs repeated on Wednesday.

It's been more than six years since Del Courtney retired and regular big-band "tea dancing" ended at the Royal. No one since Courtney, a veteran bandleader of the original big band boom in the '30s, has done it with the verve of Catingub and his Cats.

Every local swing fan, and every local band-leader or musician who plays swing for any reason, should visit the Tropics while Big Kahuna & The Copa Cat Pack are in the house. These Cats do swing!

---

'Hawaiian Swing'
done the right way

Hawaiian Swing:
By Big Kahuna & the Copa Cat Pack
(Concord Jazz) By John Berger
Special to the Star-Bulletin

MULTI-FACETED Matt Catingub reintroduces the sound of big band Hawaiian swing with his cross-cultural collection of old-time jazz standards, originals and hapa-haole classics.

He's doing it the right way, eschewing modern synthetic studio shortcuts with a Copa Cat Pack band that includes four saxes, three trumpets, two trombones, acoustic bass, drums and female vocalist Linda Harmon.

Bandleader/arranger Catingub sings on some songs, plays acoustic piano on others, and occasionally adds a fifth sax to the reed section.

There are no "filler" or throw-away tracks. The familiar big band numbers are served up in fine style, but the Hawaiian and hapa-haole songs are the most interesting.

Hawaii has an old-time big band tradition, and so Catingub's take on "Hawaiian War Chant" may be compared to other arrangements. His big band arrangement of Kui Lee's "I'll Remember You" stands as a fresh and soulful interpretation of a modern hapa-haole classic. It certainly merits mainstream pop music airplay.

Catingub's lightly swinging instrumental makeover of "Pearly Shells," and softly romantic arrangement of "Blue Hawaii," are also memorable.

"In the Copa Room" is a Catingub original that sets the theme of the collection. "After Hours" likewise shows his stuff as a traditional pop song writer.






Click for online
calendars and events.
E-mail to Features Editor
---
---
© 1999 Honolulu Star-Bulletin
https://archives.starbulletin.com