---
Monday, June 21, 1999



H A W A I I _ S P O R T S
---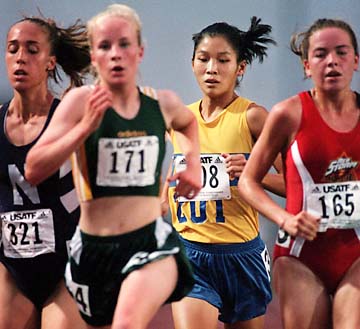 AP special to Star-Bulletin
Victoria Chang (yellow jersey) broke from this pack to finish
second in the 3,000 meters and qualify for the Pan American
Junior Championships.
---
Clay, Chang on
U.S. team


The pair will be the first from
Hawaii to represent the U.S.
at the Pan Ams since 1984

By Pat Bigold
Star-Bulletin

For the first time in 15 years, Hawaii will have representation at the Pan American Junior Championships.

Two local athletes made the grade yesterday at the USA Track and Field Junior National Championships in Denton, Texas.

Castle High alumnus Bryan Clay, now an Azusa Pacific College (Calif.) freshman, won the Junior National decathlon with a meet record 7,312 points to secure his Pan Am team berth.

"I'd say he's going into the Pan Ams as a favorite," said Azusa Pacific coach Kevin Reid.

Reid, who coached Olympic decathlete Dave Johnson, said he has looked at what Canada and South America have to offer this year and doesn't see Clay seriously challenged.

"I am not thinking of that," said an exhausted Clay after a long night of celebrating with his coaches. "If God gives me the strength to get through all 10 events, then that's how I do it."

Meanwhile, Punahou junior Victoria Chang suffered her first career loss at 3,000 meters but rallied to run a strong second and earn her place on the U.S. team.

Chang, who clocked 9:47.71 to winner Sara Gorton's (Mountain Pointe, Ariz.) 9:36.29, finished about 10 seconds ahead of collegian Danielle Eckartz (St. John's).

Only the top two finishers in each event at the USATF Junior Nationals go to the multi-nation Pan Am event July 9-11 in Tampa, Fla.

The only other Hawaii athlete to win honors in the Junior Nationals was Joey Bunch, who won the 800-meter title in 1984.

Bunch went on to win the Pan Am 800 championship.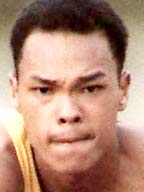 Bryan Clay
CASTLE ALUMNUS SET MEET
RECORD IN THE DECATHLON
---
Clay came back from a 66-point deficit through the first five events on Saturday to win the decathlon.

En route to the win, Clay won the 100 meters in a USATF decathlon record 10.58 seconds, as well as the long jump and the discus.

A critical performance for Clay was in the 110-meter high hurdles, where he had struggled earlier this year. Clay clocked 14.60 seconds for second place in the event.

"I'd been having trouble with the timing getting over the hurdles, but today I ran my best in the event by four- or five-tenths of a second," he said.

Chang, who hugged Clay after his victory, said she didn't anticipate the fast start by the field. It was her ability to get out in front early that allowed Chang to win the prestigious Golden West Invitational 3,200 meters in Sacramento the previous weekend.

Chang wasn't where she wanted to be over the first few laps.

When Gorton made a dramatic surge to separate from the field, Chang was taken by surprise.

"I was in fifth at the time and had to make my way up," she said. "It was a new experience for me."

Chang said she didn't follow her race plan very well and forgot advice about how to run from behind given her by coach Dacre Bowen via telephone on Friday.

"But she kept her calm and handled having a bunch of people running with her," said Duncan Macdonald, a Punahou coach who made the trip to Denton.

Chang had the fastest prep time for the 3,000 coming into the meet (9:38.03), but Gorton's winning time now ranks No. 1 among America's female prep runners.

Both Hawaii athletes were overwhelmed when meet officials immediately ushered them to drug testing and fitting for their Pan Am gear.

"There was so much of it," said Clay. "But, wow, to have two Hawaii athletes going to the Pan Ams is so sweet!" he said.
E-mail to Sports Editor
---
---
© 1999 Honolulu Star-Bulletin
http://archives.starbulletin.com