He's way beyond Normal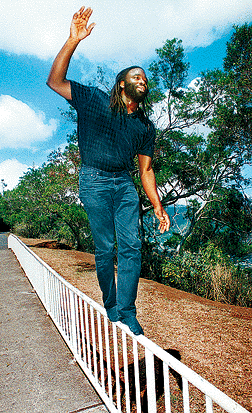 Awadagin Pratt is the only student at the Peabody Conservatory to earn certificates in violin, piano and conducting. Photo by Dennis Oda, Star-Bulletin
---
Pianist Awadagin Pratt plays on an
extraordinary plane
By Elisabeth A. Crean
Special to the Star-Bulletin
---

"Long Way From Normal" is the title of classical pianist Awadagin Pratt's debut CD. It also describes the journey that has taken him, by age 30, from a small Midwestern town to concert stages around the world.

Pratt grew up in Normal, Ill., and he has come a long way this week to play Johannes Brahms' Piano Concerto No. 1 with the Honolulu Symphony Orchestra.

It's normal for a gifted virtuoso to devote his life to perfecting one instrument, but Pratt pursued three performing disciplines all the way through graduate school.

In his six years at Baltimore's Peabody Conservatory, he earned certificates in violin, piano and conducting - the first student in Peabody's history to do so.

Winning the prestigious Naumburg Competition in 1992 cemented his decision to go with the piano. He still plays violin from time to time, and conducting is definitely in his future plans. With such a record of early achievement, the role-model issue inevitably emerges. It seems to be a question addressed with particular urgency to young African-Americans.

"If someone looks at me as a role model so that a young black male can see that he can be a piano player instead of a basketball player, that's fine, but it's barely scratching the surface," Pratt said in a phone conversation from his home in Albuquerque, N.M.

"I think the aspects about me which might be more of a role model, besides being a black male, and young and a pianist, have to do with decisions I made along the way, and those are less obvious."

Pratt has found many standard music outreach programs for kids "somewhat deficient." He aims to develop programs that will allow him "to be a stronger role model for a smaller group of people, but to be more effective."
---
The facts
What: Pianist Awadagin Pratt with the Honolulu Symphony Orchestra
When: 4 p.m. Sunday, 7:30 p.m. Tuesday
Where: Blaisdell Concert Hall
Cost: $10-$50, $5 seats available
Call: 524-0815
---

The idea of establishing an arts center is "poking around in the brain," he said. "I'd like to have a type of music festival, something akin to an Aspen or a Tanglewood, but that happens in the city and happens year-round." Teaching would go hand-in-hand with performing, and the center would be integrated into city life. With many public schools cutting music education altogether, such a center becomes even more imperative.

"We're either paying the price for it now, or we will 10, 15 years hence, because it's a fundamental crime of omission." The cuts tell children that music is not important.

On cuts in the arts, especially their impact on the survival of regional orchestras like the Honolulu Symphony, Pratt has a different perspective.

"From what I've seen, the bulk of the problems that have happened to the orchestras have happened because of bad management or a bad board.

"I don't believe that, in spite of the cuts and in spite of the problems in education, it's not possible for orchestras to be successful. I've seen enough evidence in some small communities in the Midwest even, where their halls are full and ... they're making it work."

Pratt was glad to hear of the HSO's new efforts to expand its audience, particularly among younger and less wealthy patrons, with promotions like the 200 $5 tickets available the week of each concert. He also is pleased to hear that many of the orchestra members he played with back in March 1993 have survived the organization's near-death experience.

"My memory of the orchestra is that the quality was really high.I loved playing with them. I was surprised at the level and size."

Pratt looks forward to tackling the Brahms concerto, although he admits playing this "massive" piece is a draining experience. "A lot of works can span a range of human expression or feeling. But I think this not only spans a great range, but also delves far into many more of those planes than a lot of music does."

"It doesn't just sort of hint at something, or go there briefly. It really lives in many different planes at a very deep level." The same can be said for Awadagin Pratt as a performer.
---
Elisabeth A. Crean has bachelor's and master's degrees in European history with an emphasis in music, and has performed and taught music.
---
---