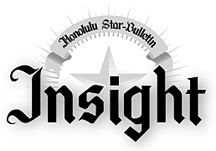 ---
Editorial
Special Edition - Saturday, August 9, 1997

Four Bishop Estate
trustees should resign

THE bulk of today's Insight section is devoted to a remarkable attack on the Bishop Estate trustees bearing the names of five prominent members of the community, four of them of Hawaiian ancestry. That such distinguished persons -- Gladys Brandt, Walter Heen, Msgr. Charles Kekumano, Samuel P. King and Randall Roth -- should contribute their names to this criticism is in itself a major blow to the trustees, a devastating vote of no confidence. It is the strongest sign yet that the trustees have alienated much of the Hawaiian as well as the wider community with their arrogant refusal to listen to complaints about their policies and practices.

The article focuses on the process by which the trustees are appointed and the way it has been politicized, particularly when John Waihee was governor. In order to sever the trustees' link with politics, the article urges the justices of the Hawaii Supreme Court to refuse to appoint the trustees, as they have done in accordance with the will of Princess Bernice Pauahi Bishop.

The authors declare that the problem has become so acute that "the web of relationships between the judiciary and our beloved Kamehameha Schools/Bishop Estate has pushed two great institutions to an absolute critical point."

Other recommendations include development of procedures for the selection of future trustees, a review of trustee conduct by the attorney general with a view to prosecution if warranted, and repeal of the current law determining trustee compensation.

There are of course other issues swirling around the trustees in addition to the political process of their appointment -- particularly their outrageously arbitrary handling of the Kamehameha Schools and their policies regarding the conversion of their leasehold residential properties to fee simple. In particular, the controversy over the schools has inflamed the Hawaiian community against the trustees to an unprecedented degree.

The behavior of four present trustees has caused us to regret that we did not object to their appointment. We did not anticipate that they would behave so egregiously.

We hope that the recommendations made by this distinguished group will be accepted; they are clearly meritorious. We urge the Supreme Court justices, the attorney general and the Legislature to consider them seriously, but aren't certain that they will. We are certain that the current trustees, with the honorable exception of Oswald Stender, have betrayed the trust vested in them by the will of Princess Bernice Pauahi Bishop and should resign.
---

Published by Liberty Newspapers Limited Partnership
Rupert E. Phillips, CEO




John M. Flanagan, Editor & Publisher




David Shapiro, Managing Editor




Diane Yukihiro Chang, Senior Editor & Editorial Page Editor




Frank Bridgewater & Michael Rovner, Assistant Managing Editors




A.A. Smyser, Contributing Editor
---
---
© 1997 Honolulu Star-Bulletin
https://archives.starbulletin.com