Clock ticks on rail issue
A group presses its case to get its question on November's ballot
An anti-rail group is running out of time and options as it continues to push to create a ballot question attempting to stop the city's proposed $4 billion rail transit project.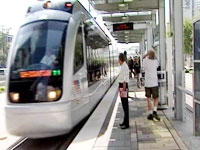 The state intermediate court of appeals is promising to rule Tuesday on Oahu's rail transit vote.
The issue has been tangled up in the courts for several weeks. A panel of three judges from the state's second-highest court, the Intermediate Court of Appeals, is expected to rule today in the case, which could force the city clerk to include Stop Rail Now's ballot question in the November election.
Stop Rail Now has failed, after a ruling from a lower court, to place a ballot question asking voters to create an ordinance banning the city from building a train or rail system. Meanwhile, it appears that a City Council-created ballot question on the rail system is moving forward unless the appeals court intervenes.
The judges gave no i hint through their questions as to what they might rule today, though they raised several concerns about siding with Stop Rail Now.
The case is expected to go to the Hawaii Supreme Court regardless of the appeals court's decision.
If the appeals court were to rule in favor of Stop Rail Now, the group's question would knock the City Council's version off the ballot because only one can appear.
However, if the Hawaii Supreme Court were to later overturn that decision, there is a chance that no ballot question would be valid because of deadlines to print ballots.
"Why is it more harmful to the voters of the City and County of Honolulu to leave your question off the ballot than to risk having no ballot question on the issue of rail transit?" Judge Katherine Leonard asked Earle Partington, attorney for Stop Rail Now.
Given the limited time left - the state Elections Office is expected to begin printing sometime this week - there would be little time to wait for the Supreme Court.
Partington said he would prefer that both questions appear on the ballot, and that, depending on later decisions, one of them could be deemed invalid later.
But the city and Chief Judge Mark Recktenwald said that would be confusing for voters and potentially problematic.
"We're not in favor of having two questions," said Don Kitaoka, deputy city corporation counsel. "Basically, it's impractical to (change the question) now. It's too late and it would be a huge burden on the city clerk."