CAMPAIGN 2008
Decision time
Mayoral candidates make a final campaign push before today's primary, with Hannemann's opponents hoping to force a runoff
STORY SUMMARY
|
READ THE FULL STORY
Ann Kobayashi and Panos Prevedouros spent yesterday trying to attract last-minute votes in the Honolulu mayor's race.

They are not only battling the clock, but also voter apathy. Election officials say absentee voting is low this year, and low voter turnout traditionally favors incumbents such as Mayor Mufi Hannemann, his challengers acknowledge.
Still, City Councilwoman Kobayashi and university professor Prevedouros expressed confidence that they can prevent Hannemann from getting more than 50 percent of the votes needed to win the race outright.
Today's statewide primary election also features mayoral races on Kauai and the Big Island.
On Kauai, there are four candidates for mayor to succeed Bryan Baptiste, who died in office in June. On the Big Island, nine candidates are vying to succeed Mayor Harry Kim, who cannot run again because of term limits.
LAURIE AU AND RICHARD BORRECA
---
---
FULL STORY »
City Councilwoman Ann Kobayashi and university professor Panos Prevedouros continued campaigning on the last day before the election yesterday, but an expected low voter turnout could give Mayor Mufi Hannemann the advantage in today's primary election.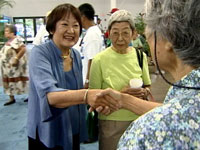 Mufi Hannemann, Panos Prevedouros, and Ann Kobayashi try to persuade voters for their vote before the big primary election.
Hannemann's challengers acknowledge that lower turnout typically benefits incumbents, but both expressed confidence that they could stop Hannemann from getting more than 50 percent of the votes needed to win the race outright.
"I think that the presidential election, the (City) Charter amendment questions and the (state) constitutional amendment questions in November will generate a lot of interest and a higher voter turnout," Kobayashi said yesterday while campaigning in Aiea. "A higher turnout benefits the challengers and I think a lot of our supporters will go to the polls."
Prevedouros, a first-time political candidate, said he believes Hannemann won't receive the majority of votes and that he would beat Kobayashi to face off with Hannemann in the general election.
"It would be good if I squeaked by to the general election because (Democratic presidential nominee Sen. Barack) Obama is running on the change platform, and I represent change," Prevedouros said while shaking hands at a seniors fair at Neal Blaisdell Center. "There seems to be a lot of people energized by this mayoral race. A lot of people who support me are older folks, and you can typically depend on them to vote."
Primary elections usually have lower voter turnouts compared to general elections. But this year, only about 13,000 Oahu residents voted absentee -- 4,000 less than absentee balloting in the 2006 primary.
Hannemann says his poll shows him ahead while Kobayashi says her poll projects drastically different results.
"We're very confident that our voters are going to come out tomorrow because we have the chance to end it in nine innings and not have to go any extra innings," Hannemann said. "I've set very high goals here. I want to go 50 percent plus one and our supporters recognize that."
Kobayashi and Prevedouros entered the mayoral race in June and July, giving them little time to campaign and voters few opportunities to see the three front-runners challenge each other in forums and debates.
The campaign focused largely on Hannemann's proposed $4 billion rail transit system, with Prevedouros rejecting the project completely and Kobayashi criticizing Hannemann's selection of the technology.
The campaign became contentious at some points, most notably at the only televised debate last week where Kobayashi called Hannemann a "bully."
"We've been under attack about our record with misinformation," Hannemann said. "People reject that. They don't like the negativism."
In her campaign, Kobayashi has criticized Hannemann's four years as mayor, saying she would create a more "open and honest" government. Her biggest difference with Hannemann is her stance on the transit system, saying that she'd prefer a rubber-tire bus over a steel-rail system because it is cheaper.
Prevedouros, a staunch rail critic, entered the race because of the rail plans. He proposes building more dedicated highway lanes for buses to alleviate traffic congestion.
Hannemann has received the endorsements of the largest labor unions and has raised the most money with more than $2.5 million in his campaign funds, giving him an edge in advertising.