More civil rights groups, legislators call for Johnson's resignation
STORY SUMMARY »
|
READ THE FULL STORY
More civil rights groups and legislators called for the immediate resignation of Hawaii Tourism Authority chief executive Rex Johnson yesterday for forwarding e-mails with racist and sexist content from his state laptop.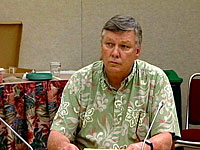 Some lawmakers, members of Japanese American Citizens League of Hawaii and the NAACP want Rex Johnson to step down from his HTA position but some say that the explicit emails do not reflect Johnson's character.
Johnson, meanwhile, was en route to Japan to deliver opening remarks to Japanese media as well as to meet with a marketing contractor and to attend the Japan Association of Travel Agents World Tourism Congress & Travel Fair.
Sen. Gordon Trimble (R-Downtown-Waikiki) added his voice to the fire yesterday, criticizing the HTA board for its inaction and failure to probe deeper into the matter when an auditor first discovered pornographic content among Johnson's e-mails.
Gov. Linda Lingle has already stated that Johnson should be removed after learning of the newest e-mails.
HTA, which ultimately has the authority to keep or fire Johnson, will hold a special board meeting on Sept. 29 to discuss his employment.
NINA WU
---
FULL STORY »
More criticism and more protests surfaced yesterday calling for the resignation of Hawaii Tourism Authority Chief Executive Rex Johnson because of racist and sexist e-mails forwarded from his state laptop.
The public protests came as Johnson got on a plane headed for Japan to meet with HTA's marketing contractor there as well as to attend the Japan Association of Travel Agents World Tourism Congress & Travel Fair.
Yesterday morning, several more civil rights groups joined the Hawaii chapter of the National Association for the Advancement of Colored People in urging Johnson to resign immediately.
"We cannot stand by and allow the Hawaii Tourism Authority to give credibility to what Mr. Johnson has been circulating," said Alphonso Braggs, president of the Hawaii chapter of NAACP. "We have lost confidence in his ability to objectively administer HTA's mission in an effective manner. We cannot accept such a person in a position of such great responsibility."
The NAACP was joined by members of the African American Association of Hawaii, African American Lawyers Association, Hawaii Women's Political Caucus, and Japanese American Citizens League of Hawaii - Honolulu Chapter.
"As the nation's oldest and largest Asian Pacific American civil rights organization, we are deeply concerned that Mr. Johnson just doesn't get it," said Karen Nakasone, board member and past president of JACL.
Braggs said if nothing is done, the group is going to protest in Waikiki on Sept. 27.
Johnson did not return calls from the Star-Bulletin yesterday.
HTA chair Kelvin Bloom said a special board meeting has been scheduled for 9:30 a.m. on Sept. 29 to address Johnson's employment.
The authority attempted to hold an emergency board meeting this week, he said, but was denied the request because of a law dictating meetings of state and county boards. The public protests will be taken into consideration by the board.
Gov. Linda Lingle, the NAACP, GirlFest (a women's group) and bloggers throughout the state have said Johnson needs to go since learning about the forwarded racial and sexist e-mails, some denigrating Sens. Barack Obama and Hillary Rodham Clinton, in addition to the pornographic e-mails that almost cost him his job.
HTA decided the first time to keep Johnson in his position, but reduced his annual salary from $240,000 to $200,000.
Yesterday afternoon, Sen. Gordon Trimble (R-Downtown-Waikiki) added his voice to those calling for Johnson's immediate resignation.
"It is inappropriate for Johnson to visit Japan as the Ambassador of Aloha," said Trimble. "There is no aloha in his misconduct and there is no aloha in demeaning women and people of diverse races. It is time for him to respectfully resign and say aloha to HTA."
Trimble, who was joined by Sen. Fred Hemmings (R-Lanikai-Waimanalo) and Sen. Sam Slom (R-Diamond Head-Hawaii Kai), said he did his own investigation and decided to come forward.
He also questioned why the HTA board did not dig deeper during its probe, and remained unaware of the sexist and racist content in addition to the pornographic e-mails.
Enough damage has been done, he said, and there should be no further delay.
Johnson received overwhelming support from members of the state's visitor industry and various legislators during the first ordeal.
He has apologized for the e-mails, but has not stated any intentions of resigning. Earlier this week, he told the Star-Bulletin that he wants to get back to concentrating on the state's critical tourism issues.
"It's just an unfortunate situation," said Eric Masutomi, chief planner of Outrigger Hotels & Resorts and a friend of Johnson's for 30 years. "Those e-mails paint Rex as a racist and sexist, but frankly, the Rex Johnson I know is none of those things."
He added that he hopes Johnson has an opportunity to have a fair hearing.
Keith Vieira, senior vice president and director of operations for Starwood Hotels, said HTA needs to do what's right.
"Personally, I don't think he's a racist or a bigot, and I don't think he's a bad guy," said Vieira. "But that's not the point here. They have to look at what's been done and make a decision based on - is this the right conduct for the person representing the state's No. 1 industry?"
Star-Bulletin reporter Rosemarie Bernardo contributed to this report.