---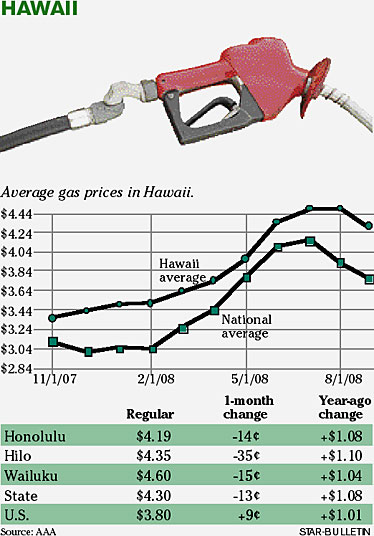 Gas prices decline statewide
Average prices for unleaded gas dropped across the state yesterday from last month, according to AAA.
The statewide average dropped 13 cents from last month, while rising $1.08 from a year ago. In Honolulu, the average gas price dropped 14 cents to $4.19 from last month, and rose $1.08 from a year ago. In Hilo, the price dropped 35 cents from a month ago to $4.35, and rose $1.10 from a year ago; in Wailuku, the price dropped 15 cents to $4.60 from a month ago, and rose $1.04 from a year ago.
Horizon Lines makes debt payment
Ocean shipper
Horizon Lines Inc.
said yesterday it is making a voluntary payment of $12.5 million on its revolving credit facility.
The debt payment follows a similar voluntary payment of $10 million made during the second quarter, and reduces borrowings on its $250 million revolving credit facility to $157.5 million.
"We continued to generate solid cash flow in our third quarter, which ends this coming Sunday, and we have elected to use some of the cash to continue to pay down debt," said Michael Avara, senior vice president and chief financial officer. "We currently plan to continue to pay down debt in the fourth quarter."
Horizon will report third-quarter results on Oct. 24.
Grove Farm wins GE award
Kauai's
Grove Farm Co.
was awarded a
General Electric Co.
ecomagination Leadership Award in Honolulu on Thursday for its sustainable new water resource for as many as 15,000 residents and visitors.
Grove Farm is collecting, storing and treating rainwater to alleviate rising water scarcity using GE's membrane ultrafiltration technology and a century-old reservoir and irrigation system. GE's ZeeWeed ultrafiltration system draws water from the Kapaia Reservoir and produces up to three million gallons of drinking water a day.
"Our broader goal is to implement sustainable technologies for renewable energy and food production," Warren H. Haruki, president and CEO of Grove Farm, said in a statement.
Isle coffee production up in 2007
The revised total farm revenue of isle coffee is estimated at $31.9 million for the 2007-08 season, the state Department of Agriculture reported yesterday. That is less than one percent above the revised 2006-07 season. The increase was the result of a 1 percent rise in production to 7.5 million pounds, which offset a 1 percent decline in average farm price.
Hawaii County produced 3.9 million pounds during the most recent season, 3 percent less than last year's 4 million pounds. Production from the combined areas of Maui, Molokai, Kauai, and Oahu increased to 3.6 million pounds. State yields remained unchanged at 1,200 pounds an acre.
Total acreage harvested increased 2 percent from last season to 6,400 acres.
The statewide revised farm price for coffee averaged $4.25 a pound for the season, 1 percent less than the revised 2006-07 season.
Ward Neighborhood hearing set
The state has scheduled a public hearing for
General Growth Properties
' Ward Neighborhood Master Plan at 5:30 p.m. on Oct. 15 in the Cupola Theatre at 1250 Kapiolani Blvd.
General Growth has proposed a 20-year transformation for the 60 acres it owns at Ward, which would demolish most of the existing structures, and transform the skyline with up to 4,800 more residences in mid- and high-rises.
The Chicago-based developer's application to the state Hawaii Community Development Authority was officially complete as of July 16. HCDA, which oversees development in Kakaako, has 200 days from that date in which to make a decision on the plan.
A copy of the master plan and of HCDA's staff findings are posted on its Web site at www.hcdaweb.org
Westin's Moana Lani spa to open
Moana Lani, a
Westin
Heavenly Spa, will open on Oct. 1 at the Moana Surfrider in Waikiki.
The 16,000 square-foot oceanfront spa will feature couples treatment suites, massage therapy rooms and body treatment rooms.