A new era for starbulletin.com
In a few days, we will be unveiling something we think you will find exciting -- the first entirely new version of starbulletin.com since the site first launched in 1996.
But don't worry. We're staying true to what has made the current site easy to use, unique and local. The new site will offer everything you have now and more -- and be just as easy to find your way around.
Easy to navigate
At first glance, the new starbulletin.com may seem quite different from our old site, but you'll see that we've kept our most popular features.
One thing readers have consistently said they liked about our site was having links to that day's entire edition at their finger tips.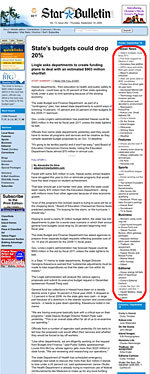 We agree and have kept it on the same part of the page.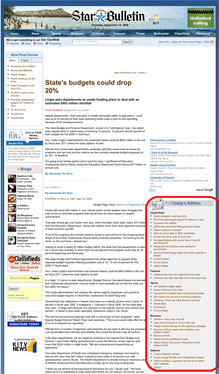 But that's no longer the only way to find what you're looking for. We've added a menu system at the top of each page so you can jump quickly to an index of any feature, regardless if whether it appeared in that day's paper.
As an example, let's say you missed yesterday's Kokua Line, and this is one of the days the column doesn't run. Now it's no problem – just pull down the News menu and click on Kokua Line ...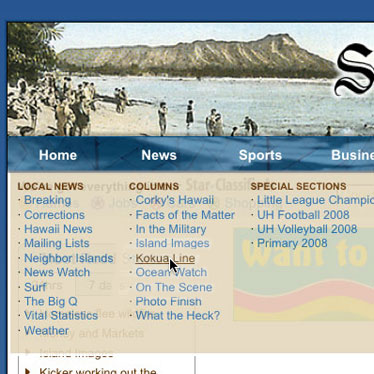 ... and you're taken to an index of the most recent columns.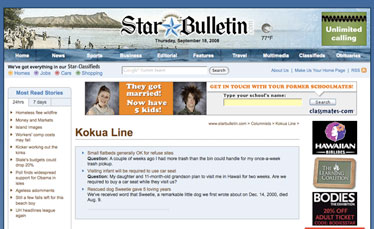 Our new home
Our new design also allows you to immediately see more of your favorite section than just a few headlines. Each section of the site has its own tab on the home page, allowing you to flip from one section to another without loading a new page.
Here, the home page is displaying the Top Stories tab ...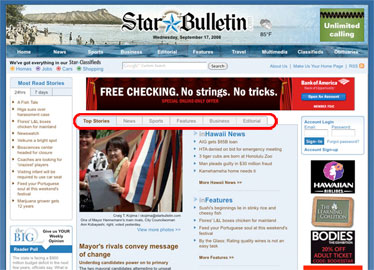 And here we see the Sports tab ...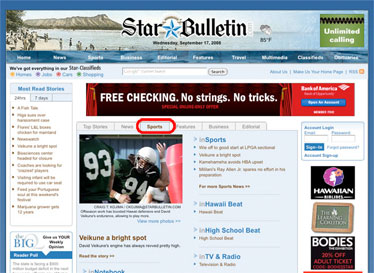 Image overhaul
Another change is in how we display images. Now you can see large versions of all the images for any story in a slide show.
Just click on a story's lead picture ...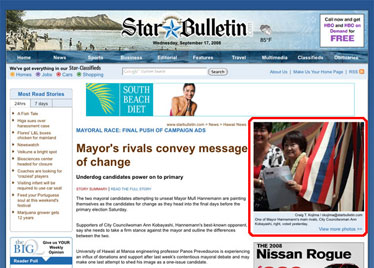 . . . and up pops a slide show of all the pictures associated with that story.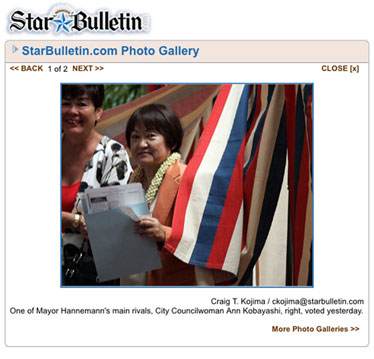 Another addition is an index of recent slideshows and videos.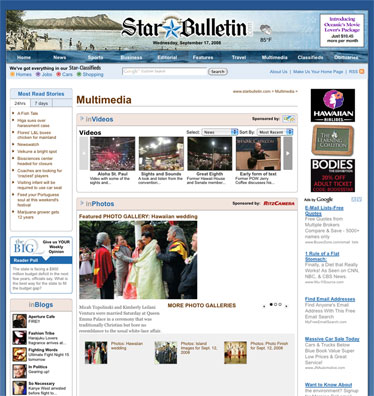 Want to know what's hot?
Check our new "Most Read Stories" index, on the left side of the page.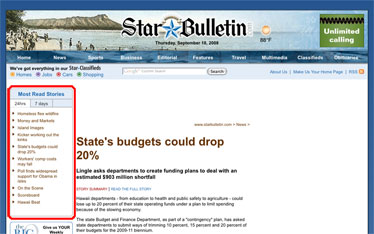 That's just a few of the improvements you will see in the new starbulletin.com. But our new system gives us much more freedom to add new features and improve old ones, and we've got a lot of ideas in the works.
But above all, this is still starbulletin.com, with all its personality and local flavor intact. We have rebuilt this site to better do what we've been doing all along – bring you the news of Hawaii with a local viewpoint and style.