| | |
| --- | --- |
| | Newswatch |
---
Ex-UH volleyball star enters plea
Former University of Hawaii All-American volleyball player Kim Willoughby pleaded not guilty to assault this morning in state court.

Kim Willoughby
According to an agreement, state Circuit Court Judge Derrick Chan scheduled trial for May 2009. Willoughby, 27, remains free after posting $50,000 bail.
An Oahu grand jury charged her with first-degree assault in September of last year in connection with an incident outside Pipeline Cafe in Kakaako on Dec. 16, 2006. The court held the indictment under seal until she turned herself in last week.
Willoughby plays professional volleyball in Italy. This summer she was a member of the U.S. Olympic volleyball team that won a silver medal in Beijing.
Kim has heart surgery at Queen's
Big Island Mayor Harry Kim is recovering after undergoing triple bypass surgery yesterday following his third heart attack.
Kim, 69, remains in the intensive care unit at the Queen's Medical Center after a "successful" three-hour surgery with no complications yesterday morning, according a statement issued by his office.
"He's under really good care here," said his wife, Bobbie. "The operation was successful, and it did what it was meant to accomplish."
Kim suffered his third heart attack last week - his second within one month. Kim's first heart attack was in 2005, and he was able to return to work within a couple of days.
Dixie Kaetsu, the acting mayor, said she expects Kim to take more time to recover this time.
"He's a very strong, healthy man," Kaetsu said yesterday. "We're confident that he'll be back before the end of his term."
Kim, who is not up for re-election, has been lobbying for community support calling for more state funding for Big Island hospitals, which are not equipped to handle heart conditions.
"The most that can be done here is to stabilize them, and then heart attack patients are sent to Honolulu," Kaetsu said. "This really shows that we need to have more capabilities in our hospitals."
THE MAKING OF A VOGGY DAY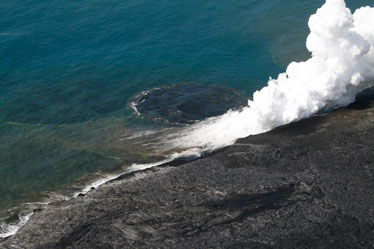 Trades expected to disperse vog
Vog should begin clearing up today after a weekend of hazy conditions, according to the National Weather Service in Honolulu.
"Winds will be picking up through out the day, and conditions will be getting better," said John Bravender, forecaster at the National Weather Service in Honolulu.
A high-pressure ridge over the state limited tradewinds over the weekend, leaving volcanic emissions in the air and leading to the hazy condition known as vog, Bravender said.
A high-pressure ridge will form north of the islands today, creating tradewinds that will clear out some of the vog.
Visibility was limited across the state to about seven or eight miles. Honolulu Airport and other airports had visibility below five miles at times, which can force planes to fly under different regulations, he said.
Feds add to clean-energy cash
The U.S. Department of Energy recently granted the state $500,000 for clean-energy projects.
"These grant projects will help study ways to modernize our electrical grids," Department of Business, Economic Development and Tourism Director Ted Liu said last week in a news release.
"This will be the first step in our renewable-energy program for supplying Oahu with electrical energy from other islands."
Combined with other grants and about $900,000 in private donations, the state has received close to $2 million for clean- and renewable-energy projects in recent months, officials said.
Projects are to focus on four clean-energy technology areas:
» Deploying undersea transmission lines to deliver wind and solar energy.
» Upgrading and expanding Oahu's transmission and distribution system to enhance reliability and stability.
» Evaluating the integration of electric vehicle storage into the electrical grid.
» Deploying a suite of energy storage systems to study both grid stability issues and bulk power issues raised by new technology.
Health projects get federal funds
The Community Clinic of Maui Inc. in Kahului will receive $758,710 from the U.S. Department of Health and Human Services to help complete construction of a new health care facility, U.S. Sen. Daniel Inouye has announced.
The grant is one of three totaling $928,000 awarded by the federal agency for health-related projects, he said.
Others include $118,886 to the state Department of Health for an ongoing project to investigate and control asthma in children living in rural areas and $50,000 to the Coalition for a Drug-Free Hawaii in Honolulu to help curb substance abuse.
| | |
| --- | --- |
| | Police, Fire, Courts |
---
Windward Oahu
Shark sighting shuts Waimanalo Beach
Lifeguards posted warning signs at Waimanalo Beach Park yesterday after a shark was spotted in the area.
At about 2:30 p.m. a beachgoer saw the shark in the water and notified lifeguards, an Ocean Safety spokesman said.
A lifeguard went out with a personal watercraft and saw the shark, but it swam away before the lifeguard could determine its size, the spokesman said.
The beach will be assessed this morning.
Waikiki
Driver allegedly aims his car at officers
A motorist allegedly drove at two police officers and caused $5,000 in damage to a police car after a routine traffic check early yesterday morning.
The Ewa Beach man, in his 20s, sped away but turned himself in at the police headquarters several hours later.
A police sergeant and two police officers stopped the man for an alleged traffic violation at about 4:30 a.m. at the Honolulu Zoo parking lot. The sergeant was in the patrol car conducting a criminal background check when the man allegedly reversed his car into the police car. The man then swerved his car toward the two police officers, who jumped out of the way, police said. The sergeant had the man's Hawaii identification.
The man turned himself in at about 8:30 a.m. and was arrested on suspicion of two counts of attempted murder and criminal property damage.
Honolulu
Crews revisit smoky blaze at golf course
A fire that caused $500,000 in damage to a maintenance warehouse Saturday continued to smolder yesterday across Nimitz Highway from Honolulu Airport.
Federal and city fire departments responded to a 4:30 p.m. call about smoke at the remains of the warehouse on the grounds of the Navy-Marine Golf Course. "This fire is very deep-seated due to the heavy timber," said federal Battalion Chief Victor M. Flint.
The 20,000-square-foot building, built in the 1940s, contained tractors, lawn mowers, a repair shop, tools and other equipment for the golf course. The cause of the fire was still under investigation.