---
CRIB NOTES
Been there, done that? Buy the shopping bag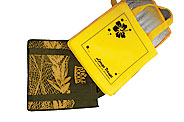 Eco-bags are the new T-shirt. Those "green" bags marketed at shops, poking at our subconscious to do the right thing, have popped up in island-style motifs.
Each has its store name, of course, along with its do-your-part-to-save-the-world message, just like T-Shirts. But what was once plain has evolved. A Longs Drugs version has hibiscus and honu silhouettes decorating hot pink, lemon yellow or forest green totes, and the newly-opened Whole Foods has a maile lei and fishing net on thiers. Yet to be spotted: one that actually says "Hawaii" as well, or "Kailua," "Kapolei" or "Honolulu" - great for tourists to pick up and reuse when they get home, or locals to just carry around and represent.
Averaging 99 cents to $3.99 for an insulated version, buy one from here, there, everywhere and keep a few in the car for last-minute grocery shopping.
Gifts for troops show you care
Donations for holiday care packages for Hawaii troops stationed overseas will be collected at Windward Mall from 11 a.m. to 5 p.m. Sept. 21.
Local treats such as Kona coffee, mochi crunch, macadamia nuts, crack seed, cookies, cuttlefish, University of Hawaii logo wear, Hawaii calendars, slippers and small holiday decorations are requested. The collected items will be mailed through Operation Homefront.
Visit www.windwardmall.com or call 235-1143.
Entries sought in AIDS challenge
Artwork, poetry, writings and short films are being solicited from middle- and high-school students on the subject, "How Will You Be a Leader in the Fight Against AIDS."
Entries in the Youth Leadership Challenge are due by Nov. 3 and can be mailed to the Life Foundation, 677 Ala Moana Blvd., Suite 226, Honolulu, 96813, or submitted online at www.worldaidsdayhawai.org.
Winners will be recognized on World AIDS day, Dec. 1, at St. Clements Church.
Call 521-2437.