Schnabel gets 20 years
Visitor's Slaying: Confrontation in Nanakuli park
Less Schnabel Jr. apologized yesterday to the mother and sister of the man he killed with one punch last year in a Nanakuli Beach Park parking lot.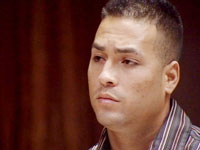 The death of a 34 year old visitor Chris Reuther led to national coverage and his mother's hopes for safer parks.
"I would give anything to be able to undo it and give them back their son and brother," he said.
Schnabel, 23, also said he can accept whatever punishment he is given because he has found God and knows God has a plan for him.
Circuit Judge Michael Town ordered Schnabel to serve 20 years in prison for manslaughter for causing the death of 34-year-old Christopher Reuther, who was visiting Hawaii for the first time to consider studying environmental law at the University of Hawaii.
Schnabel's mother and aunt pleaded with Town for leniency and said Schnabel has changed and is not the monster others have portrayed him to be.
Town told Schnabel if he really has changed, he should be a model prisoner.
Under state sentencing laws, Town's choices were the open 20-year prison term or up to 10 years' probation plus up to 18 months in prison.
"We are not unhappy with the sentence in and of itself," said Schnabel's lawyer, Deputy Public Defender Debra Loy. "We just feel real bad that the law doesn't allow for a sentence in between these two extremes, and we hope the parole board will address that."
A state jury found Schnabel guilty of manslaughter in July for recklessly causing Reuther's death. Loy said Schnabel was not aware his punch could be fatal.
Deputy Prosecutor Darrell Wong disagreed.
He said a Family Court judge found Schnabel guilty in 2003 of assaulting Cameron Gernhard with a sucker punch when both were 17 years old. During that trial, Schnabel heard a physician testify that the punch could have killed Gernhard, Wong said.
Gernhard said the punch damaged his left eye and fractured the portion of his skull surrounding it, requiring four surgeries. He said four of his teeth were pushed in when he was kicked in the face after he fell to the ground. And, as the state alleged in the Reuther case, Gernhard said the punch was unexpected and unprovoked.
"The only thing I remember seeing was a girl's eyes, kinda behind my car. Her eyes got big, and then after that I was out," he said.
Wong said the Family Court judge ordered Schnabel held at the Hawaii Youth Correctional Facility, where he stayed until he turned 19. During his stay, Wong said, Schnabel assaulted another juvenile at the facility even after he had completed an anger-management treatment.
Loy said Schnabel denies punching Gernhard.
Schnabel said he was high on drugs when he punched Reuther April 22 last year and that Reuther's death was the turning point in his life. He said he does not use drugs anymore, has learned to manage his anger and has the support of his family, which includes a 3-year-old son.
Reuther's mother, Judy Wilson, said her son loved children of all ages and that they loved him.
"He would have been a wonderful father had he been allowed to live long enough to get married and to have a family of his own," she said.
Wilson said the grief and stress caused by her son's death caused her breast cancer and the pending divorce of Reuther's sister.