Whole Foods hosts coming-out party
A big crowd turns out to witness the opening of the national chain's first store in Hawaii
The doors to the first Whole Foods Market in Hawaii opened at 7 a.m. yesterday at Kahala Mall to a flood of customers following a traditional bread-breaking ceremony.
"It feels great," said Michael Besancon, president of Whole Foods' Southern Pacific region as shoppers milled around him. "It's been a long journey, but seems to have been tremendously successful."
WHOLE FOODS COMMUNITY SUPPORT DAY
» When: Wednesday

» What: A day when 5 percent of Whole Foods' net sales will be donated to the Kokua Hawaii Foundation's AINA IS Program, teaching schoolchildren about nutrition and where their food comes from.
It has been more than seven years since the Texas-based natural foods retailer first eyed Hawaii as a place to expand, and more than a year since the store's Hawaiian blessing.
A group of about 150 shoppers were eagerly waiting to get in the front door, some since the break of dawn.
Dozens continued to pour in throughout the morning to sample the store's free offerings -- from coffee to gelato, pizza, cheese and smoked brisket.
The numbers swelled toward noon, creating an elbow-to- elbow crowd.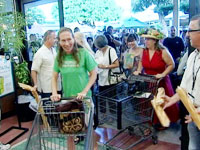 More than 150 people rushed through the doors of the new Whole Foods Store after the breaking of the bread.
Among the first customers in line were Whole Foods fans Christine Lecklie of Portlock and Carlene Damon of Kahala, who donned specially made hats adorned with recycled flowers and produce for the occasion.
"I've been waiting for 10 years for (Whole Foods) to come," said Damon, who has shopped at the stores in California, Texas, Florida and New York. "I stayed in hotels near Whole Foods."
Damon is a die-hard Whole Foodie, in part, because she likes healthy foods, but also because of her philosophy of supporting local and organic goods.
"On an international level, they do their best to be sustainable," she said.
Among her purchases from Whole Foods Market were a fresh cut of rainbow trout, local mangoes, Greek yogurt, pome-granate juice and homeopathic remedies for headaches.
She also received one of Whole Foods' Better Bags, a reusable tote, as a gift with her purchase.
The 28,670-square-foot Whole Foods offered a colorful display of produce -- from a wall of green lettuce to stacks of orange carrots, piles of glistening mangoes, golden papayas, lilikoi, red dragonfruit and green starfruit.
Near the front entrance, the gelato bar, with different flavors laid out in pre-made scoops, was a popular hit, as was the Allegro coffee bar, bakery, hot foods bar and prepared foods section.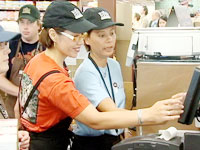 The hundreds of customers who packed Whole Food Market were not the only ones excited the organic grocery came to town.
At the back of the store, the silvery gleam of a large opah (moonfish) was on display with other catches from the ocean.
"It's just visually a wonderful presentation," said Carol Cersosimo of Ala Moana, who goes to exercise class at Kahala Mall in the mornings. "I'm thrilled with all the ready-made foods."
She said it was going to be her regular stop after class.
Marilyn Tamamoto, who drove in from Waipio Gentry at 4:30 a.m., said now she will no longer have to lug back Whole Foods goods in her luggage after trips to the mainland. In her shopping cart: fresh salmon, golden beets, Hula raw unwashed sugar (a brand she hasn't seen before), and a broccoli crunch salad from the salad bar.
"I'm waiting for them to come to Pearl City," she said.
Andy Doka, of Andy's Bueno Salsa, proudly pointed out his product on the shelf at Whole Foods Market.
"It's a pretty big deal," he said of his homemade salsa, which he sells to natural food stores and restaurants.
Next to Doka's salsa was a small story card explaining how customers still asked for it after his Mexican restaurant in Waimanalo closed several years ago.
Similar story cards on local vendors can be found throughout the store.
Besancon said about one-third of the items at Whole Foods are local, and that the store hopes to carry more as production increases.
Some producers, such as MA'O Farms of Waianae, are expanding in order to supply Whole Foods. MA'O was selling collard greens out front, which were being braised by chef Ed Kenney of the Town/Downtown restaurants.
"I like it -- it's something different," said Elizabeth Oyabu of Honolulu, a first-time shopper. "It's nice and clean, and they explain when you ask questions."
Oyabu, a regular at the Kapiolani Community College farmer's market, said she supports local produce because her father was a farmer who grew tomatoes and eggplants on the slopes of Diamond Head.
When asked whether she minded the higher prices, she said: "It has to be over the regular price because they take extra care. I don't mind."
Over at Umeke Market just down the street, however, it was very quiet yesterday morning. Only a small handful of shoppers ordered items from the deli while the rest of the store remained empty.
Many natural foods stores in Hawaii have been bracing for the impact of Whole Foods' arrival -- which they believe will initially result in a drop in sales, but also increase the overall consumer interest in organic products down the line.
Three more Whole Foods stores are planned for Hawaii over the next two years -- at Kahului, Ward and Kailua. The store hours at Kahala Mall's Whole Foods Market will be from 7 a.m. to 10 p.m. daily.