---
Horizon lowers fuel surcharge
Following in the footsteps of its larger rival,
Horizon Lines
notified customers yesterday that it will reduce its fuel surcharge for ocean shipping between the mainland and Hawaii by 4.75 percentage points to 37.5 percent from 42.25 percent, effective Sept. 21.
The state's second-largest ocean shipper also said it will cut its surcharge between the mainland and Guam by the same amount to 39 percent from 43.75 percent on that same date.
Horizon made the announcement just more than a week after it implemented a fuel-surcharge increase of 4 percentage points to 42.25 percent for those routes. The reductions are the largest since fuel surcharges were implemented nearly a decade ago.
Last Friday, Matson Navigation Co. said it would lower its fuel surcharge by 4.75 percentage points to the same amounts that Horizon matched yesterday. Those new surcharges also go into effect Sept. 21. The reduction by both shippers follow nine straight increases since the surcharge was last lowered in January 2007 to 17.5 percent from 18.75 percent. Both Horizon and Matson had increased their surcharges four times this year.
A&B sells California retail center
A&B Properties Inc. has sold a 67,730-square-foot retail center in Long Beach, Calif., to
Regency Centers LP
.
The subsidiary of Alexander & Baldwin Inc. said it intends to reinvest the proceeds from the sale of Marina Shores Shopping Center through tax-deferred Section 1031 exchanges. The purchase price was not disclosed.
Marina Shores is comprised of three buildings on Pacific Coast Highway adjacent to Long Beach Marketplace. Anchor tenants include Whole Foods, Petco and Boater's World.
A & B's commercial property/investment portfolio now comprises 6.9 million square feet of retail, office and industrial space in Hawaii (22 properties) and eight mainland states (22 properties), including six office, industrial and retail properties in both Southern and Northern California.
Aloha Air Cargo quiets planes
Aloha Air Cargo said it has installed hush kits on its full fleet of airplanes to reduce noise emissions and meet Federal Aviation Administration noise-compliance regulations.
Installations of the hush kits is the first in a series of improvements and enhanced services that Aloha Air Cargo, now owned by Seattle-based Saltchuk Resources Inc., has planned.
Planet Hollywood adding BUCA
Planet Hollywood International Inc.
said yesterday that its wholly owned subsidiary, BUCA Financing LLC, has completed the initial public offering period of its tender offer for all outstanding shares of
BUCA Inc.
, which operates Italian-American restaurants under the name Buca di Beppo.
Planet Hollywood said it has begun a subsequent offering period to buy the remaining untendered shares of BUCA's common stock. That offer period will expire tomorrow. With the purchase of the shares in the tender offer, Planet Hollywood will have enough voting power to approve the merger and BUCA will become a new brand in Planet Hollywood's restaurant group.
Planet Hollywood has one Hawaii location -- a movie-themed restaurant in Waikiki -- while Buca di Beppo's lone restaurant in the state is at Ward Entertainment Center.
TAKING NOTICE
Appointments, promotions
» N&K CPAs has announced the following promotions:
*
Melissa Tam
to audit supervisor from audit senior. She joined the firm in July 2005.
*
Angela Pavia
to tax supervisor from tax senior. She joined the firm in Jan. 2005.
---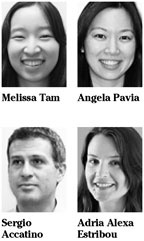 ---
» Architects Hawaii has announced the following promotions:
* Sergio Accatino to project architect. He joined the firm in 2004 as a construction administrator with 12 years of professional experience in Italy, France and Tonga.
* Carol Kleppin as CAD systems manager. She has more than 20 years experience in architecture and AutoCAD.
* Mariel Moriwake to designer/drafter II. She joined the firm in 2005 and is a LEED (Leadership in Energy and Environmental Design) accredited professional.
* Aaron Wagner to building information modeling manager. He joined the firm in 2005 as a designer/drafter II with more than six years of experience in architectural drafting and design.
» The Women's Fund of Hawaii has named Adria Alexa Estribou as executive director. Her experience includes grants administrator/grants writer at the Oceanic Institute, grants writer at the Domestic Violence Action Center, facilitator and training manager at EPIC Inc., and associate director of the Pacific and Asian Affairs Council.
---
BUSINESS PULSE