| | |
| --- | --- |
| | What the Heck? |
---
Bash at the Tower leaves mayor a little shy
I was hanging behind the stage at Aloha Tower Aug. 30 when in walked, one after another, Sean Na'auao, the Cruz brothers, Cecilio and Kapono and the mayor.
All eventually took the stage, and all except Mayor Mufi Hannemann sang. "I was intimidated," said Mufi. "When you have to follow C&K, you keep your singing in the shower."
That was only a fraction of what Amy Hanaiali'i managed to put together as a launch party for her new CD, "'Aumakua."
"It's the first time I've ever had a launch party like this," she told me. Maybe the first time anyone has ever had a party like this.
Between 4 p.m. and midnight, 26 acts took the stage, 60 or so musicians (nobody counted), the cream of Hawaiian music, on a Saturday night, playing for free as a benefit for Punana Leo.
"Better than the Hokus, yeah?" said KCCN's Lina Girl, who emceed.
Outside of a questionable decision to sing along with prerecorded orchestra tracks - "I couldn't afford the whole orchestra," she explained - Amy was the star of an evening that also included a syncopated "Happy Birthday" sung by Sean Na'auao to Amy's brother, Eric. A contest between Raiatea Helm and all four members of Ho'okena to see who could sustain the notes of "Alika" the longest. (Helm won.) And, finally, a bravura performance by the Jimi Hendrix of the Hawaiian guitar, Kamuela Kimokeo of the group Pili'oha.
Ran into Hawaiian attorney Beadie Dawson and her daughter, Donne, who's state film commissioner. "I came to hear Amy sing one or two songs," said Beadie. "And, look, I'm here till midnight."
Mayor Unintimidated
Speaking of the mayor, did you catch his moment on national TV, with Neil Cavuto on Fox Business Network?
At the Denver convention, Cavuto's producer asked Hannemann's wife, Gail, "Who is the tall guy who seemed to know Barack Obama?" Suddenly, Hannemann found himself sparring with the clearly anti-Obama Fox anchor.
Hannemann held his own, denying that Obama had hung out on a private beach in Hawaii and defending Obama's economic policies. "You explain his policies better than he has," said Cavuto. "You should be running."
Tempting as it might be to have Mufi singing "Honolulu City Lights" on a national stage, he's probably better off running for mayor.
Putting Life in Focus
As friends and sponsors gathered at the opening reception for Project Focus last weekend - at Macy's, with waiters from Alan Wong's Pineapple Room passing pupus - Mark Patterson, the warden of the Women's Community Correctional Center, looked sharp in black suit.
"I have guards here, but you'd never pick them out," he said. "Five of the women are still mine. They earned the right to be here tonight."
What women? Project Focus puts cameras in the hands of at-risk kids, ages 9-17, to teach both photography and life skills. This year the 12-week project worked with kids who had moms in WCCC. Some of the moms are now out, some are in halfway houses, and a few are, as Patterson puts, "still mine."
The photos were, as usual for Project Focus, both well-done and touching, as much about the mother-child bond as about photography. Both the kids and moms mingled easily with the VIP crowd of sponsors, friends and supporters, partly because Macy's let both the children and the moms pick out new clothes before the event - and provided the moms both hair and make-up services.
Well-dressed and coifed, mom Jennifer Cabaccang, who still has a few months of a sentence to serve, danced a hula while Bobby Modero played.
Afterward, she hugged her 10-year-old son Jaydon. "Having a good time?" someone asked her. "It's my 27th birthday," she said. "Gonna celebrate."
Predatory Pricing
More than 30 print, TV and radio reporters are already rehearsing the first number for this year's Gridiron Show. Called "Do You Hear the People Bitch?", it's take-off on an anthem from "Les Miserables," reworked to be about the rail debate.
"That's because like Les Miz, the rail transit story is epic and overwrought," notes KITV's Keoki Kerr.
The annual benefit satire-fest, starring TV, radio and print reporters, runs Oct. 24-25, two evening performances and a Saturday matinee. Tickets go on sale Tuesday (HonoluluBoxOffice.com). Last year the shows sold out in less than two weeks.
This year's Gridiron theme is "Predatory Pricing." In line with that, high-end tickets have been jacked up to $65.
Photographic family
Three generations of Noyles opened a exhibition of their work at the Canon Gallery last week.
Entitled "166 Years of Photography," it includes 3-D photos by grandfather Ken, stunning commercial work by father Ric (check out the $100,000 fur coat on the snows of Mauna Kea) and surf photography by son Zak, now 24.
Zak began his surf photography career in high school by drowning the family video camera. He took it out in a faulty secondhand "waterproof" housing and returned it immersed in water.
Says Ric: "I bought him a $50 camera at the swap meet, and said, 'Why don't you start with this instead?'"
Improv Finds a Home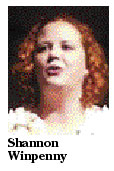 There's a gem of a new theater in a Chinatown storefront. Last week, improv teacher and actress Shannon Winpenny and her friend Kim Potter opened Laughtrack Theatre on Bethel Street, across from the Hawaii Theatre, for classes and performances.
The VIP preview last Wednesday was joyous, with wine, pupus from Soul de Cuba and a performance by First Class, an improv troupe formed by Winpenny's students.
No one seemed happier to have the space open than Kim Potter's father, Gary, who not only helped finance the venture, but personally built much of the interior.
"For eight months, he's had to get to Chinatown by 6:30 every morning to find street parking," said Kim. "He's just glad to be done with this job."