---
HIGH SCHOOL ACTION HEATS UP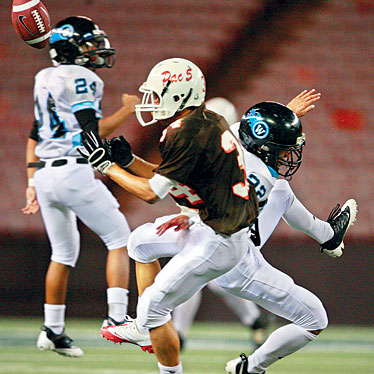 HAWAII
Rainbow Wahine sweep Wyoming
Wyoming has had no success against Hawaii in nine previous meetings.
Nothing has changed since the Cowgirls' last visit to Honolulu 12 years ago.
That Western Athletic Conference volleyball match lasted about an hour as the Rainbow Wahine rolled, with the Cowgirls totaling just nine points in three games.
Last night, No. 11 Hawaii again made quick work of Wyoming, needing only 84 minutes to complete a 25-15, 25-10, 25-18 sweep at the Stan Sheriff Center.
Redshirt freshman hitter Stephanie Ferrell, in her first career start, put down a match-high 13 kills as the Wahine improved to 3-2 overall, 2-0 in the Volleyball Challenge.
The tournament continues today with No. 12 Minnesota playing a doubleheader, taking on Cincinnati at 11 a.m. and Wyoming at 1 p.m. Admission is free.
The Challenge concludes tomorrow with the 5 p.m. match between Hawaii and Cincinnati.
"I think Cincinnati will have to play real well, shut down Hawaii's outsides," Wyoming coach Carrie Yerty said. "That will be tough." » Full story
PACWEST PLACE
Mapu breaks record for BYUH
Senior setter LeeAnn Mapu set a Brigham Young-Hawaii women's volleyball hitting record despite the Seasiders' loss to UC San Diego last night in La Jolla, Calif., 16-25, 25-18, 25-23, 27-25.
Mapu had 13 kills in 16 attacks with no errors for an impressive .812 hitting percentage.
The Seasiders struggled against undefeated Cal State-LA earlier yesterday, losing 25-22, 25-21, 25-15. Losalie Faka'osi led BYUH with eight kills, while Tanza Buroker and Agnes Tuilevuka added seven apiece.
» HPU lost to Sonoma State in four sets, 24-26, 25-8, 25-13, 25-19 last night at the Central Washington University Invitational.
» Northwest Nazarene defeated Chaminade 15-25, 25-15, 22-25, 25-17, 15-9 in Ellensburg, Wash. Trina Kauliakamoa and Courtney Lorusson had 13 kills each for the Silverswords.
But Chaminade could not overcome Central Washington earlier yesterday, falling 25-18, 25-18, 25-16. Kauliakamoa had 16 kills and nine digs for the Silverswords, who dropped to 1-6 for the season.
Hilo men win soccer game
The UH-Hilo men's soccer team defeated Academy of Arts 3-0 in a match played at Keaau.
The Vulcans got goals from George Ichimaru, Drew Geis and Carlos Lopez to improve to 3-1 for the season.