COPTER CRASH
Coast Guard copter crashes after engine-upgrade project
Spurred by a high incidence of in-flight engine loss in its HH-65B Dolphin model helicopters, the Coast Guard began a program four years ago to replace engines in 95 aircraft.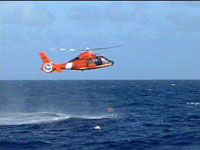 Coast Guard Officials worked throughout the day to recover the wreckage of a dolphin rescue helicopter.
Yesterday, while the investigation was under way of the modified HH-65C Dolphin helicopter that crashed Thursday night killing at least three of its four crew members, Coast Guard spokesman Petty Officer Michael De Nyse said the maintenance history of the copter -- with the tail number 6505 -- was not available.
Both the Federal Aviation Agency Administration and the National Transportation Safety Board said they do not investigate accidents involving military aircraft, vessels or vehicles.
Thursday's accident, the first fatal Coast Guard aviation crash in Hawaii since 1982, occurred while the crew of the HH-65C was performing small boat hoists with a 47-foot motor lifeboat. This routine exercise prepares aircrews -- and boat crews -- for hoisting injured persons from a boat to the aircraft.
Hawaii Coast Guard officials, in unveiling the first of four "Charlie" model Dolphins with its two rebuilt engines in September 2006, said the upgrade of the agency's 95 helicopters was included in its Deepwater Programs at a cost of $355 million.
The engine replacement program was completed in October.
Rear Adm. Sally Brice-O'Hara, then commander of the 14th Coast Guard District, said the changes amounted to $3.7 million for each helicopter.
The goal of Deepwater was to replace and modernize the Coast Guard's aging fleet of deep-water-capable ships and aircraft, she said. It is the largest and most complex acquisition effort in Coast Guard history.
She noted that engine reliability in the second generation or Bravo model of HH-65B helicopter had become an issue. The Coast Guard has said that there were 174 power losses in 2004 compared with 55 in the previous three years.
Before the engine conversions began in 2006, the Coast Guard said, power loss had happened at least once with one of the four Bravo HH-65 helicopters assigned to Barbers Point.
The Charlie model's two engines were upgraded with Turbomeca Arriel 2C2-CG turboshaft engines, providing 40 percent more power, along with its main transmission gear box and cockpit systems displays.
The increased power meant it could carry more weight -- increasing to 9,480 pounds from 9,200 pounds, the Coast Guard said.