COPTER CRASH
Work reflected love for the sea
In his 17-year Coast Guard career, David Skimin took part in numerous rescues, but "he wouldn't tell us any of the stories," said his brother, James Skimin of San Bernardino, Calif.
"Those Coast Guard guys are humble about what they do."
James Skimin
His brother, Coast Guard Petty Officer 1st Class David Skimin, was among those killed Thursday in a helicopter crash
Coast Guard Petty Officer 1st Class Skimin "loved what he was doing, and he loved the ocean."
Skimin, 38, died Thursday night when a HH-65 Dolphin rescue helicopter crashed into the ocean during a rescue training exercise about five miles south of Honolulu.
Lt. Cmdr. Andrew Wischmeier, 44, of Fort Lauderdale, Fla., one of two pilots aboard, and Petty Officer 2nd Class Joshua Nichols, 27, of Gloucester, Va., flight mechanic, also died. The search continues for a fourth crew member, who was also a pilot.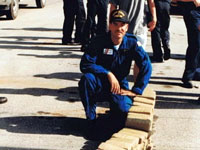 Three of the four crash victims have been identified and relatives speak about how these men loved the ocean.
Skimin served as the rescue swimmer in the crew of four. He had been stationed in Hawaii for the past four years, and eight of the past 10 years, said his brother. His wife and 14-year-old child live in Hawaii.
James Skimin said his brother competed in paddleboard tournaments, including a race between Catalina island and the California coast. "He would kayak down the Colorado River, he would surf in 40-foot waves. Every time he was doing something daring, I would tell him be careful.
"Those Coast Guard guys are humble about what they do," he said. The last time the family was together, for his December wedding in California, "We were berating him to tell us stories. He would tell funny stories, but he wouldn't tell me anything serious.
"The word that comes to mind is perfect. He tried surfing and was good at that. Skiing, snowmobiling -- he did it with perfection without trying. Whatever he did, he did it perfectly."
"The Coast Guard guys know the nature of their job. They were doing their job, and (the crash) was part of life."
Skimin said services have not yet been set for his brother.