---
HAWAII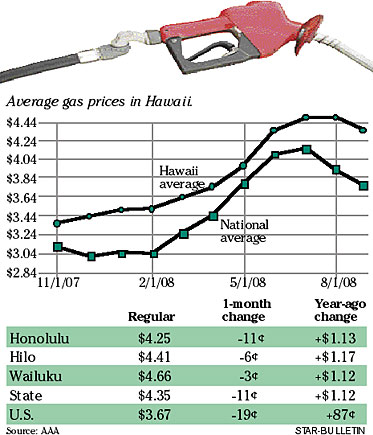 Isle gas prices continue to drop
Yesterday's average gas price in Honolulu was $4.25 a gallon for unleaded, down 11 cents less than last month and $1.13 higher than this time last year. In Hilo, the average price was $4.41 a gallon, five cents less than last month and $1.17 higher than last year. The average price in Wailuku was $4.66 a gallon, down three cents from last month and $1.12 higher than last year. The statewide average was $4.35, down 11 cents from a month ago and up $1.12 from last year.
Hawaiian Airlines August traffic up
Hawaiian Airlines
said yesterday its passenger traffic for August increased 12.6 percent from last year. The carrier hauled 725,272 passengers last month, while recording 684.7 million revenue passenger miles, or one paying passenger transported one mile, down 4.2 percent from last year.
The increase in passenger numbers is the result of Hawaiian's expansion of interisland operations, while the lower average load factor reflects a lower transpacific load factor from higher fares, the carrier said.
Available seat miles, or one seat transported one mile, totaled 833.6 million, 2.3 percent higher than last August, with a load factor of 82.5 percent, 5.6 percentage points lower than last year.
Isle travel firm offers savings
In an effort to create more demand for the slumping Hawaii market, the state's largest wholesale travel company is offering travelers from the mainland an opportunity to save $450 on trips to Hawaii through February.
Pleasant Holidays LLC is offering one air credit per booking on five-night minimum stays at more than 20 participating hotels and resorts. The credit is valid for travel on any airline from any U.S. city to Hawaii.
Travel must be booked from Monday to Oct. 8 and be completed by Feb. 28, 2009. Vacations must include air, hotel and Pleasant Holidays' Travel Protection Plan. Some blackout dates and restrictions apply.
Sample five-night vacation packages begin at $479 per person from San Francisco; $505 from Los Angeles; $529 from Seattle; $889 from Denver or Houston; and $919 from Chicago. Travel may be booked online at www.PleasantActivities.com.
SBA opens award nominations
The U.S. Small Business Administration has opened nominations for the SBA Small Business Awards for 2009. As part of the annual celebration of National Small Business Week, SBA recognizes outstanding small business owners, entrepreneurs and advocates for their contribution to economic vitality.
Any individual or organization may submit a nomination by Nov. 14 at the Hawaii district office at 300 Ala Moana Blvd., Room 2-235. For printed nomination forms or more information, call Jane Sawyer at 541-2990, ext. 205, or e-mail jane.sawyer@sba.gov.
PACE program opens on Maui
Hale Makua
, a provider of home and community based health care services, has opened the only PACE, or Program of All-inclusive Care for the Elderly, in Hawaii on Maui. Maui PACE is one of 14 national rural programs of its kind, offering seniors services to address medical, rehabilitative and social needs. Maui PACE is made possible by a partnership between the state Department of Human Services, the Centers for Medicare and Medicaid Services and Hale Makua.
The center is open from 7:30 a.m. to 4:30 p.m. Monday through Friday, and operates out of Hale Makua's Kahului location at 472 Kaulana St.
WORLD