New wave on horizon to take over Pipeline
NONE OF THE players involved will talk on the record, but it appears Honolulu's largest stand-alone nightclub is in the process of changing ownership.
Multiple sources have confirmed that local retailer and promoter Greg Azus will take over at Pipeline Cafe once paperwork is completed this week. It's no secret the club has been on the market for months, but nothing had been announced by the time this column went to press.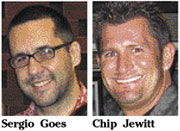 Current owner Chip Jewitt had no comment when reached by phone, but said he expected to make a formal announcement Thursday. In addition to Pipeline, Jewitt owns Kimmie's Cantina near UH-Manoa along with Red Lion Waikiki and the club formerly known as Scruples (more on that in a minute), and plans to open Aria Restaurant and Lounge at the Century Center later this year.
Azus, who has promoted events at Pipeline under the On Stage Hawaii banner and owns Hawaii's Natural High in Waikiki, also refused comment when reached last week and did not respond to follow-up calls.
Still, change is already evident -- Pipeline advertised an "inventory liquidation" party on Sunday and announced new themes for its Tuesday and Friday weeklies (see Nightcrawlers for details). The addition of stand-up comedy on Wednesdays (see Page 7) is another sign the club is heading in a new direction.
While I'm told industry veteran Jed Roa will stay on to manage day-to-day operations, co-owner (and Chip's brother) Chris Jewitt will oversee the transformation of Scruples into Play Bar Waikiki. Formerly owned by Fred Piluso, the club has been a mainstay on Kuhio Avenue for more than 20 years.
Despite all the changes, Pipeline continues as one of Hawaii's top concert destinations for both local and mainland bands. California-based rockers Thrice will play on Friday, followed by Simple Souls, Ten Feet, Kahakea and Pohaku on Saturday; doors open at 6 p.m. for both of these 18-and-over shows ...
IF YOU MISSED "Beer Fest" during July and August at Ryan's Grill, don't sleep on this month's "Tequila Fest" at Ward Centre neighbor Compadres Bar and Grill through Sept. 15.
One of the highlights of this annual tribute is "Rick's Tequila Fountain of Pain," with $5 shots poured from 4 to 7 p.m. daily. Something called a "paddle shot" will also be on sale for $15 from 11 a.m. to closing, along with special menu items by Compadres' Raul Puga.
Next week's highlights: Check out Tuesday's "Taco Tuesday Taco Eating Contest," followed by $5 "Waboritas" and live entertainment by Kahakea from 4 to 7 p.m. Wednesday and Free Sound live from 4 to 7 p.m. Sept. 12 ...
JUST WHEN I thought I had come to terms with the July death of Sergio Goes, a photo of the acclaimed local photographer and his young son brought the feelings rushing back.
It's a necessary reminder, because friends and family have planned a celebration of Goes' life from 5 to 9 p.m. Sept. 14 at Waterfront at the Aloha Tower. All money collected that day will be donated to a trust fund established in the name of Gabriel Kapuni Goes.
In addition to an exhibition of Goes' work that will be available for purchase, the evening will include music by Mike Love and The Girlas. Giinko Maraschino and Samadhi Hawaii are also scheduled to perform.
I'm also told Goes' film, "Black Picket Fence," will be screened at thirtyninehotel on Tuesday at 8 p.m. Call 599-2552 for info ...
WEEKEND PICKS: Artist Groove Network takes over First Friday at Epic Restaurant, hosting a 21-and-over monthly that starts at 10 p.m. Deejay Betty will serve as resident DJ, with special guests also expected to show ... The Vertical Junkies kick off a new weekly on Saturday at a venue perfectly suited for the 18-and-over following these guys enjoy. The Shack Waikiki will host "Surf Shack Saturdays," a party guaranteed to conjure up memories of previous VJ bangers at the Hard Rock Cafe and Lulu's ... Funky4Corners and Ill Est. team up to host "Sunday Night Cypher" at CW's Nightclub. According to a flier, "all b-boys, b-girls, writers, emcees, djs and any hip-hop lovers and enthusiasts" are invited to this 21-and-over weekly that starts at 7 p.m. DJs Kutmaster Spaz and Sir Style will man the decks; local rapper and Hot 93.9 night jock Krystilez will host ...