Pipeline Cafe gets a new owner
Local retailer and event promoter Greg Azus has completed a deal to purchase
Pipeline Cafe
, ending months of speculation over the popular Kakaako nightclub. Purchase price and terms of the multiyear lease signed this week were not disclosed.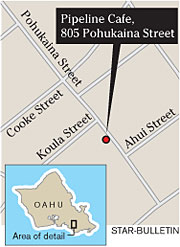 The club will keep its original name and remain open for business through the transition, according to Azus. Former general manager and co-owner Chris Jewitt will depart Pipeline to oversee the transition of Scruples Beach Club into Playbar Waikiki, while nightlife industry veteran Jed Roa will remain to handle day-to-day operations under the new ownership.
"It's a good opportunity right now," Azus said yesterday. "But at the same time, it's a challenge ... we need to roll up our sleeves and change things around."
Azus, who moved to Hawaii at the age of 20 from Chicago, is well-versed in retail, and added concert promotion to his repertoire in 2001.
While attempts at magazine publishing and running a deli failed, Hawaii's Natural High, a retailer and smoking accessory shop, has thrived for more than a quarter-century. On Stage Hawaii, which started out as another retail operation in Waikiki, evolved into a means to bring Azus' favorite stand-up comedians and rock bands to the islands.
Pipeline has been a favorite location for concerts ever since its opening in 1999. The Dance Hall Crashers, Dave Wakeling, Jack Johnson, Common, Gregory Issacs and Sum 41 are among the bands to have played at the venue, which underwent renovations over the years to turn it into the two-story, four-room behemoth it is today.
In recent years, however, the club has seen attendance drop off at weekly parties. Azus already has addressed the situation, replacing dollar drinks on Tuesdays with "After the Point After," a tribute to defunct club The Point After with former resident DJ Mikie D spinning '70s and '80s hits. "Foreplay Fridaze," a mainstream club night that used to consistently draw more than 1,500 people every week, has been replaced by the Latin-themed "Carnival Fridays."
In addition to new parties, plans call for an overhaul of Pipeline's kitchen and the addition of a Hawaii's Natural High retail counter near the front entrance. Azus also hopes to get the club recognized as an official Ticketmaster outlet in the near future.
"We'll also continue to do a lot of fundraising and graduation parties," said Azus. "We'll offer good value, good acts and good ticket pricing ... we want to make it a pleasant experience from the time they walk in the front door until the time they leave."